Well it's done! Took a bit to cram everything in there but the new Calig PU's sound great. Used a super pot from rsguitarworks, along with a cts 500k taper tone pot and a .022 rs guitarcap. Included a tusq nut. Nice project (my first). Used the 50's mod for the tone cap.
One thing is strange though, and that is when on the treble side of the switch, the tone turns the volume down. The switch is still original, has some static, and did that before the upgrades.... bad switch?
Before:
And after:
New strings: (Epiphone SG Special)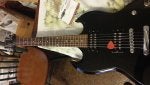 I picked this up off of craigslist for $45 with a non-working PU. The tech at the guitarshop ungrounded that for free, but I wanted to upgrade it anyway. Now it sounds great!