Joined

Aug 6, 2018
Messages

137
Reaction score

57
Some time ago I found this diagram online.[1]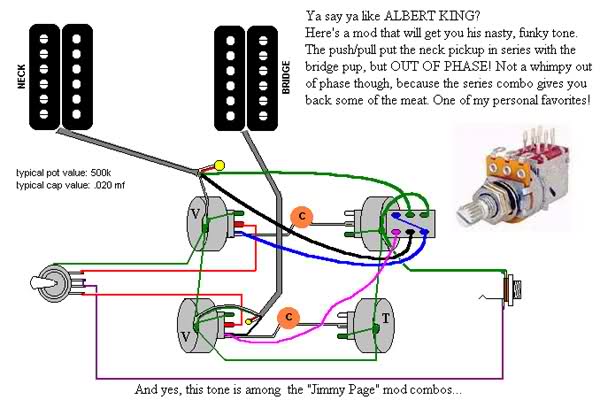 What I'd like to know is: Is that
really
serial wiring of humbuckers? Or, would there be a more accurate way to describe that?
The reason I ask: I've seen other serial humbucker diagrams which are more plainly serialized. For example,[1]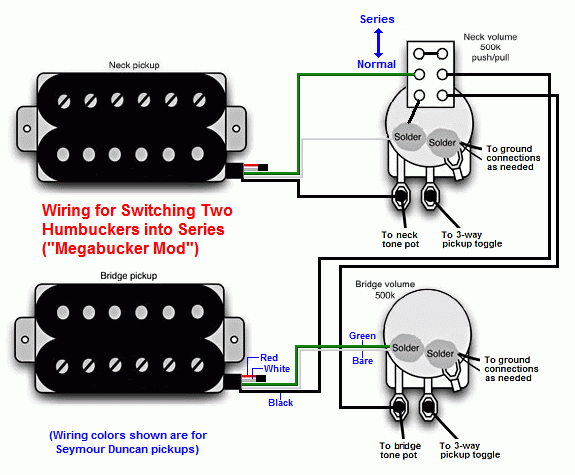 The thing is: When I wire that version of serial, it cuts off one pot. It's clearly different than the first one. Plus, when I tried that one with oop... I didn't like the sound as well as the first one. That truly serial wiring sounded a bit loud. I
really
liked the sound of he first one (oop + "serial").
I've always been unable to grasp electrical wiring. I was wondering if someone could explain what that first ("Albert king tone") diagram is doing, in what way is it serial? (Or in what way isn't it?). I'm implementing it in my guitar and would like to describe it correctly. If that's not really serial, I'd like to avoid referring to it as such. Is there a better term to describe that?
Thanks in advance!
[1] I don't recall where I found that. I "tineye" reversed searched for it. But, nothing stood out as a source.
[2] Source: DuhVoodooMan's site, page archived:
https://web.archive.org/web/20180912002821/http://duhvoodooman.com/musical/humbucker_mods/humbucker_mods_2.htm
[If this should have been posted to the sticky "Wiring Library," I won't be offended if a mod moves this. I wasn't sure.].
Last edited: