I attempted to do the binding last night. I use the Weld On glue that Stew Mac sells for the job. I would have used ex nihilo's binding bits mixed with acetone glue but I already had the Stew Mac stuff. I only bound to the cutaway so the binding job isn't complete.
When I pulled off the tape this morning everything seemed ok. I had a lot of squeezout below and above the binding. I started the process by using a sanding wheel on my Dremel to get the top of the binding close to the top of the guitar. I then used a scraper and sand paper to make it flush. there were no major gaps or anything so the top turned out ok. The problem came when I attempted to make the binding flush with the side of the guitar.
On the side the binding was sitting just proud of the wood. I used sandpaper and a scraper. For whatever reason after I'd sanded the binding flush including sanding the glue squeezout the binding isn't the same thickness all around. This is especially true in the waist area.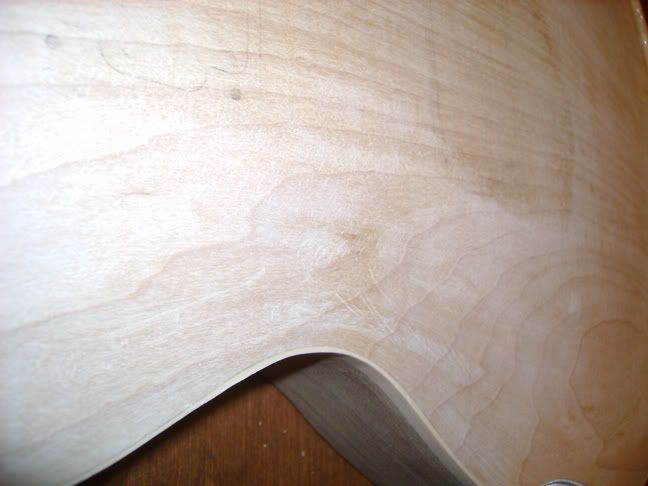 I'm not going to lie, this flaw will probably drive me nuts. My options are the following:
1. Don't worry about it and this guitar becomes a "players guitar".
2. Route out the old binding and start again using one of the following tools:
Stew Mac Binding Router Guide

True Channel Binding Router Jig
Precision Edge Guide for Stew Mac Dremel router base
(I already have the router base)
I'm wondering if it's possible to become proficient with first and third options with practice. I know others have struggled with these tools.
I'd like to avoid buying the TrueChannel jig since it's so expensive. However, if I have to I will drop the money so that I can have a binding channel that doesn't bug me.
I need to make a decision tomorrow so I can order whatever parts I need as well as new binding. I figure if I'm going to redo the channel there's no point to finishing the binding job around the cutaway.
Thanks for any help in advance.