Hi Everyone,

First, I wanted to thank everyone here at MyLesPaul who has been very supported of WB Pickups. I would also like to thank Alex and Flick for welcoming an open forum for all of us guitar, pickup & accessory builders to showcase our stuff and to talk shop.

Since next month will be our official year that the WB web site was opened, I have decided to offer all the MyLesPaul members a WB introductory discount.

For the next 30 days (Today thru Oct 2nd) WB Custom Pickups: guitar pickups wound by hand is offering all active (have at least 5 posts) MyLesPaul members a 20% off on all of our base model humbucker pickups. Excluding the 6707's.

If ordering sets, Free shipping to members in the US. International Shipping will be discounted by 5 % for international members. Individual pickup purchases does not include free shipping or the discounted international shipping.

So here's the discounted prices for the MyLesPaul members only.

Vintage Tuned Paf's, VTP Hot's, Reverends, Heaven Sets will be =

$172 with your choice of Zebra or Black no covers.
$196 with Nickel Covers
$204 with Gold Covers

For the Firewaters, Heaven & Hell, UV20's will be =

$176 with your choice of Zebra or Black.... no covers
$200 with Nickel Covers
$208 with Gold Covers



All your choice of either 4 conductor wire (for splitting) or braided 2 conductor .



To order pickups email me at info@wbpickups.com . Include your name & your MyLesPaul membership name & address w/phone number. Include your choice of pickups you want with the color, wiring & covers. We will email you a invoice from paypal to pay.



First 15 orders will also receive a coupon for a free T-Shirt. Coupons for free T-Shirts can be redeemed in October when the shirts will be in stock.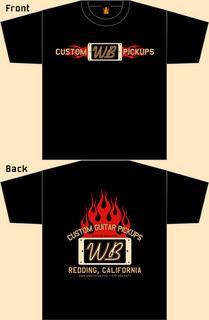 Thank you everyone again...

Will