Joined

Jan 16, 2009
Messages

1,090
Reaction score

397
I know its been a while, and he is such a great instrument. I thought I would share a few pics again. There are many here that are not aware of this great, historic instrurment. He has been enjoying his privacy. I have not played the guitar for a while ( have started in the last month or so again) since my wife had passed away late 2012. Much too young...But we must deal with the hand God has given us.... I am also posting a link to a thread that was closed ... I think there were others.. The thread was moved around, but I had kept a link. Enjoy the few pics. Whatever you feel about the guitar. I think it is one of the best, if not the best looking burst out there with a TRUE rock n roll history and legacy. He has seen the inside of more Stadia then many people here. He has toured the world.... With some pretty famous players..... One co-wrote hotlegs, owned him for quite some time. Another sold Jimmy Page one of his favorite guitars, and jammed with LZ while they were filming outakes to Song remains the same and he founded the Babys. He owned him for about 17 years......if my memory serves me right...
Anyway, enjoy...Oh it is Friday and there is a full moon out too... Lets see where this goes..
Oh. I almost forgot... Plays like no other I have played... Almost plays himself... Sounds like Angels singing...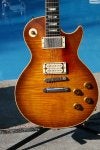 http://www.mylespaul.com/forums/other-les-pauls/127851-waldstein-14-a.html