Joined

Apr 5, 2021
Messages

43
Reaction score

18
Felt like posting about her. Everyone always says Susanna Hoffs is the Bangles, Susanna Hoffs is a powerful guitarist etc...but nobody I know ever talks about Vicki Peterson.
She mostly played a Gibson Les Paul on some of the Bangles biggest records..."Different Light" and "Everything..." but I have also seen her play a Fender Telecaster, a Fender Coronado, an Epiphone Casino 12 String Electric guitar and a Fender Stratocaster.
She owned about 4 or 5 Gibson Les Paul Electric guitars (about 3 of them were stolen and never recovered) and I remember that her fiancé Bobby Donati, who died Of leukemia in 1991 was an avid guitar collector and owned several Fender Bass VI, Fender Telecaster and Gibson Les Paul Electric guitars. I also remember that some were auctioned off and that she had Daisy Rock Girl Guitars create a Gibson Les Paul-like model for her. Here is a picture of that Daisy Rock Girl Guitar Les Paul: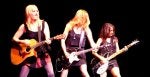 nice to see Debbi Peterson playing a Taylor acoustic guitar. She usually plays Gretsch drums. As for Susanna Hoffs, she has played a Gibson Les Paul, a Fender Telecaster and a sunburst Fender Stratocaster (used for the recordings of All Over The Place. Not sure what model Fender Stratocaster it is, but not sure if Susanna Hoffs owned a Fender Stratocaster or if it was rented/borrowed from someone. She played it on the Johnny Carson Show In 1984.) Susanna Hoffs moves on to those Rickenbacker and Guild 12 string Electric guitars, initially at the request of Vicki Peterson. It would be nice to know if Vicki Peterson still owns a sunburst Gibson Les Paul. I think she used it when she toured with the Go-Gos in the 1990s. A quick Google search for "Susanna Hoffs gear" and "Vicki Peterson gear" don't really mention much. The inside sleeve of All Over The Place shows Vicki Peterson playing a Gibson Les Paul. I have also written to Vicki Peterson and Susanna Hoffs but neither one has written back.
Here is that picture of Vicki Peterson playing a Gibson Les Paul in the picture sleeve for All Over The Place:
Let me know what you think of the Bangles guitar gear. Thanks