Joined

Dec 20, 2009
Messages

1,066
Reaction score

798
A recent discussion here spurred me to get back to setting up a tone cap survey I've been meaning to do for a while. Since there seems to be quite a good number of capacitor aficionados here I figured it as good a place as any to start.
Here's the most recent test box -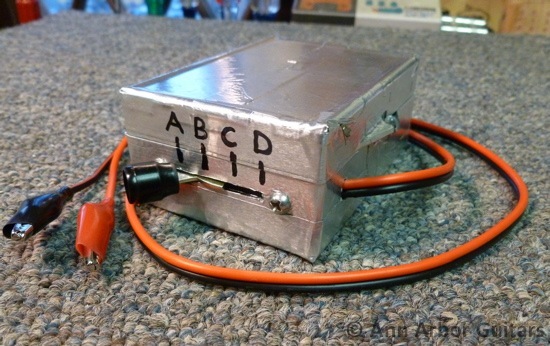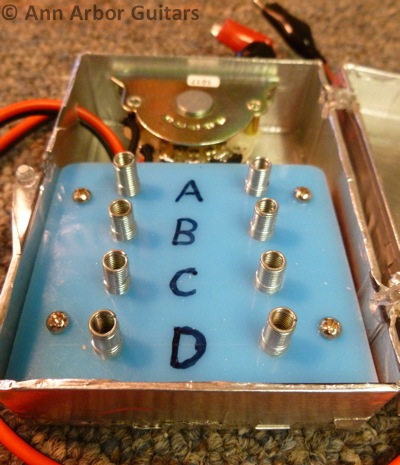 The testing procedure is quite simple. We take a guitar, disconnect the tone cap, and hook up the alligator clips of the test box in its place. Take one tone cap specimen of a particular type (like a NOS PIO) to be tested, and measure its value. Then we go through a box of extra caps of another type (cheap standard ceramics or polyesters) and measure values until we find three of that type which match the test specimen to within a given tolerance (a factor yet to be determined).
Then each cap is marked with a number, 1-4. An assistant not participating in the survey will draw cards to randomly determine which number cap will be installed in which lettered position of the switch box. Then the listening tests will begin.
These tests may consist of a single player playing the guitar with the aid of an assistant to switch the capacitors in real time as they play. Or they may include a group of listeners with a single player. In either case, the listeners'/player's task will be to try and recognize which position contains the capacitor type different from the other three. If done in a group this will have to be done silently by marking survey cards (no sharing answers
).
After the first test is completed the four caps will be removed and randomly drawn and reinstalled again, then the test repeated at least two, perhaps three more times.
Now here is where it gets cloudy. There are so many variations beyond this simple format the testing could take. What type of guitar and pickups? What type of amp, settings, playing style? What tolerances should be deemed acceptable to ensure value errors are not effecting the goal of comparing material types?
It's possible that I may have to answer some of these questions before going too far in surveying for material type alone. Identifying where a reasonable difference limen (just noticeable difference) may lie in value could be easily tested with this rig as well, starting with three perfectly matched caps (or as perfectly as possible) compared to one that is 2% off, then moving up to 5%, or 10%, until we find a difference which can be reliably identified as such. Likewise, this type of testing may prove useful to identify a rig/style/setting combination which makes identification of differences most easily noticeable. Of course then we get in to issues such as time such testing would take, or listener fatigue from prolonged complicated test sessions, etc.
So beyond that, I suppose I'm bringing this up mainly for two reasons. First is to invite any who may like to participate in such a survey to do so. I will bring the test box and a bin of caps in to the music store in Ann Arbor I am now working through, so that availability of the test can be as flexible as possible. I would still have to be present to set up the test, so appointments will have to be scheduled, but I should be fairly flexible here. Likewise, if there are ever any group gatherings in the area I may be interested in stopping in for a quick survey.
Second reason is of course to invite reasonable and constructive criticisms of the test method. Once parameters like cap value tolerances or guitar/amp settings can be refined, it seems to me a near bullet-proof system to compare the effects on tone of different cap construction/materials. Still, bullets will no doubt fly, so I'd like to get some ideas of what directions they may be coming from. The more concerns are aired, the more the test methods can be refined to make sure these concerns are addressed, and hopefully make the results all the more reliably and trustworthy.
And just to be clear, I'm not trying to stir any pots here, prove any points, or prefer any outcome. Just doing some honest testing, impartial to the direction of results, so long as they are as honest and objective as possible.
So let me know what you think, whether you want to come and give the survey a shot, or have any suggestions on how the methods may be improved.