smiling politely as they dream of savage things
V.I.P. Member
Joined

Jan 21, 2010
Messages

87,175
Reaction score

267,932
So GTA V reignited some passion for sandbox games. I really haven't enjoyed them since Vice City in the 90's.
But GTA V was awesome, but the missions were over too quick! What to do?
Well like any fiend who's jonesing I ran out and got GTA 4 (which also came with 2 other GTA half games: The Ballad of Gay Tony and The Lost and the Damned.)
I also grabbed Sleeping Dogs, Saints Row 3 and Saints Row 2, Red Dead Redemption (and all it's DLC), Vice City (for PC)
...So basically I got a hold of every "Sandbox" style of game I could find.
These sandbox games feel like the whole package to me. Not just because of it's non-linear playstyle, but because you actually have a "house" with "cars" and "clothes" and you drive to your missions.
Something about that, plus having a city to explore and try to break (especially seeing what the programmed physics are capable of) is just a lot of fun. (can you stop the train? Can you fly a plane through a tunnel?)
So in case anyone else is interested I thought I'd type up some observations about these games. What they do right, what they do wrong, what I feel they do better then the original GTA R*ckstar games do, and why at the end of the day I still think GTA 5 is the most amazing of the bunch.
First up:
Vice City for PC:
Haven't played it too much because I don't have a PC controller, but it's been fun to revisit the city and drive around. The bright colors and 80's music has a great vibe to it that permeates the entire game. I got 100% playing this on Playstation when it first came out. To say I loved the game would be an understatement. ..the graphics haven't aged well though, but it's still fun and playable.
Red Dead Redemption:
Some people call this GTA in the old west, and that's a pretty apt description for the most part. This is a really fun game and the graphics and story are really nice. It definitely has a 'spaghetti western' feel to it. The aiming mechanics are almost too easy (auto target) and with the inclusion of a dead eye/bullet time like system it's pretty easy to waste groups of people. Great game but you have to be in the mood for it. If you're not in the mood for the Old West, riding a horse across a prairie to get to a mission isn't as fun as drifting a sports car around corners.
GTA 4 and the side games (TBoGT and TLatD):
I'm torn on this game. On one hand it's a good story with interesting characters, and it
is
a GTA game so the quality/programming is pretty high.
However the colors in GTA 4 (of which there seem to be four: Orange, Brown, Grey, and Black) can quickly get annoying and oversaturated looking, especially depending on the camera angle and sunlight at any given moment.
Also the cars handle very "heavy" and bounce around. R*ckstar wanted them to seem more realistic. Well,...they do,...they slide out around corners and depending on your speed it can take forever to stop. It's not arcade style driving and it's not very fun,....though it can be satisfying when you pull off a great high speed chase and don't wreck your car.
TBoGT seems to fix the color issue, it's not oversaturated and orange, and the colors are bright and fun in this version. They also seemed to remember that GTA games used to be "FUN!" and not bleak, and brought back some of the crazyness of previous GTA games in moments like,....piloting a Gold Plated Attack Chopper or shooting a shotgun that uses exploding bullets. Not too over the top, but compared to GTA 4 and TLaTD it was fun to see colors again.
TLaTD is a fun game,...very, METAL!

It's basically like a Sons of Anarchy game built with GTA 4 software. It was a fun game though dark and bleak, but it was interesting that The Diamond Heist is in all 3 games, from 3 different points of view.
I'd not seen something like that done in a game before, and I have to admit it was a good storytelling trick and maybe even pushed the boundaries of the type of storytelling a game can pull off.
GTA 5:
Amazing, fun, crazy, good missions, tons of stuff to do, beautiful looking graphics, 3 characters to play with (4 if you count "You" as your online character.) GTA 5 is a lot more fun then 4, and it's not bleak and depressing looking with all the beaches, mountains, etc. There's a lot to do, it's all fun and it looks good. Driving is arcade style and is a lot of fun and very fast.
Ok so that's all the "Real Offical R*ckstar" created games that I've played lately,.....but how are the Clones?
Sleeping Dogs:
GTA in Hong Kong? Yup.
I wanted to like this game, and I did. More then anything I just wanted to walk around Hong Kong as a virtual tourist. I told myself the game would probably kind of suck since it's not a "real" GTA game, but I still wanted to try it.
Well, it didn't suck. And some things I think they outdid R*ckstar with.
The game is bright and colorful and the characters are interesting. The attention to detail on the melee system is great, very much like Batman:Arkham Asylum in that you have combos, counters, and you can upgrade your moves. The official GTA games don't come close when it comes to melee combat, they're very Gun-Centric.
The driving took some getting used too. It's not realistic and the cars don't feel like they have any weight. They're a little "floaty" feeling, if that makes sense.
The game was a lot of fun though and the parkour/free running elements, jackie chan chases, and hand to hand combat were awesome.
The story was really good as well and some of the finishing moves were ridiculously brutal.
There is a sequel in the works called Triad Wars that I'll be looking forward to.
Saints Row 3:
How did this game never get mentioned to me? It's a silly game, but a great one. Good graphics, decent story, ...ridiculous amounts of fun.
The weapons and vehicles are great,..and some of the vehicles (like the VTOL) are just awesome. Transforming helicopter/jets.
Amazing level of customization, literally you can make your character look and sound however you'd like. Male? Female? Straight? Gay? Fat? Skinny? Different ethnicities,...etc. It's just a staggering amount of choice. By the end of the game I really felt like I'd created a character and been through a crazy game with it.
...and any game that lets you buy a 4 foot purple dildo and beat people to death with it is a pretty crazy game.
Saints Row 2:
I'd been debating picking this up since it's an older game. But when I activated Saints Row 3 online pass, it offered a free download for Saints Row 2!!! Hell Yeah!!! ...I have to say that was awesome and it really made me like Volition (the people making the Saints Row games.) I just thought that was a really cool move. And I'm liking the game so much I think I will buy it, so I can have the actual physical media/artwork.
SR2 also has an insane level of character building. Neither of these games stick you with a generic character, you build your own, which is pretty awesome and makes it feel like your character. Plus it's neat because you know chances are everyone's game is going to be a little different because they personalized it.
So being a fan of the "Girl Who Played With Fire" trilogy I wondered if I could recreate cyberpunk hacker Lisbeth Salander as my character?
I'd have to make her somewhat mannish and tough, so I picked a "walk" that was for a guy. Made her somewhat flat chested, tried to pick clothes that reminded me of the movie, gave her a black mohawk and took off the eyebrows (in the remake Salander doesn't have eyebrows,...I like the remake as well so I took that visual element),...also how impressive that the game lets me take off a womans eyebrows?

I got her some steel jewelry and 2 black pistols and pierced her ears.
Now I just have to hope I can find a store that does eyebrow piercing, and hope the tattoo shop has a dragon backpiece.
So this is what I came up with....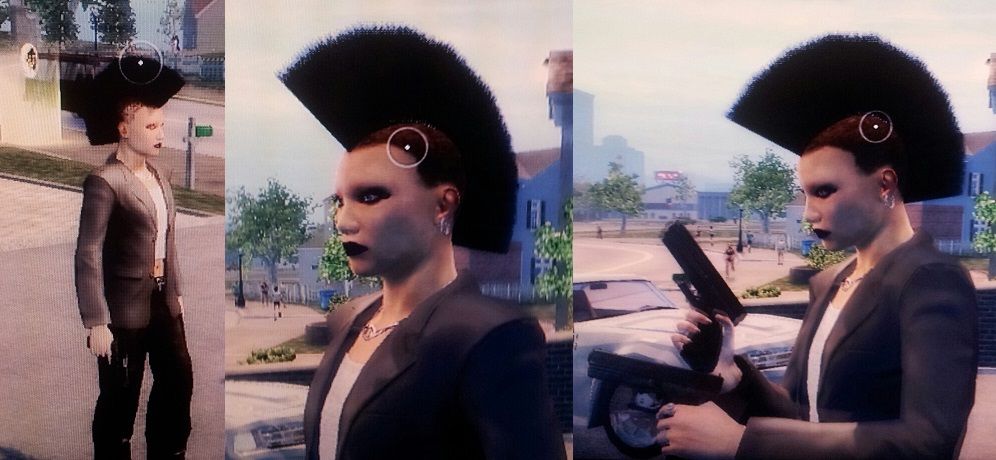 I think I came very close and it certainly has the look and feel of that character.

But how is the game? It's actually really stupid and fun. It reminds me very much of GTA3 and GTA:Vice City just in the sheer amount of stuff there is to do, the size of the map, and just the general level of goofiness and humor the game has. The game makes fun of pop culture, other games, movies,...everything. And some of the mission are so juvenile they reminded me of the kind of fun the early GTA games were before they got all serious. For instance one of the challenges is stealing a Septic Tanker and driving through a neighborhood literally spraying sh*t all over the houses and people to lower property values. When the cops show up they are fair game as well.

And the rival gangs are so cartoony and colorful, each gang having it's own colors and look. (The Saints Row gang colors are purple.)
But that rival gang aspect and the looks of the different gangs and the different areas they control really remind me of Vice City as well.
The cars handle well and fast, and they don't feel light or floaty.
Initially it took some time to get used to the SR2 control scheme, it's more the way the old GTA games were which I'd forgotten about. ('X' is gas, 'square' is brake.) But after going through the options I was able to set up the controls more how I like and am used to now. (gas and brake on the shoulder buttons.)
The game feels more like strafing which is also something I'd forgotten about the earlier GTA games, but it came back quickly.
All in all Saints Row 2 is a blast!! Way more fun then I was expecting. Not a serious game at all. Just cartoony, over the top violence that puts a big stupid grin on your face. One mission I was a bodyguard to a star. When crazy fans would get too close you can pick them up and throw them. ...there happened to be the helicopter the star arrived in still sitting there,...blades a whirlin',...and I thought,
"I wonder if I can throw them into the blades?"

..I could,..and it was kind of awesome.

Also the Saints Row games and the Sleeping Dogs game I feel has a better map/waypoint system then GTA. You can keep your eyes on the road more and flip back and forth from road to map less then in GTA.
And you don't have to constantly tap 'X' to run like in GTA, there's dedicated sprint buttons.
Those 2 things I think the clones have surpassed GTA with, the map system and the sprint system.
So concluding, should anyone be interested in trying these out....
GTA 5: Awesome, worth every penny. Beautiful graphics and 'big screen movie' feel.
GTA 4: Good if you're really interested in the series, but easily avoidable and somewhat depressing visually.
GTA 4/TBoGT: Fun game that does what GTA used to do. Be big and loud and colorful with a crazy cast of characters.
GTA 4/TLaTD: Sons of Anarchy,...the video game.
(Note: All three GTA4 games have a heavy, "realistic" feel to the driving. Not arcade style and fun.)

Red Dead Redemption: Take one part Pale Rider and The Outlaw Josie Wales, mix with GTA formula, shake liberally, serve warm. Fun game with great graphics and story, but you really have to enjoy the Old West or Western movies or it's most likely not going to be fun for you.
Sleeping Dogs: Take the GTA sandbox and make a Jackie Chan movie out of it and this is what you get. Good graphics and story with a lot of Hong Kong elements like kung fu and Triads and free running across rooftops.
Saints Row 3: Very slick game, interesting story, very bright and colorful with colorful cast. These S-Row games really remind me of the old days of GTA, where it was just bright and a little goofy. The game only takes itself as seriously as it has to.
Saints Row 2: Almost the throwback to the group and one I didn't think I'd like nearly as much as I am. I thought the graphics would look too dated but they don't. I thought it would be a poor GTA clone (and to be fair it IS a GTA clone) however it's not a poor one, it's a really fun one.
The character customization in both Row games is really mind blowing. From forehead height to the space between the eyes to the shape of the jaw,...
EVERYTHING
is customizable on your character. Themselves, their clothes, their cars, their houses, their guns,.....everything. ...that's pretty awesome and really makes it feel like 'Your' sandbox.
These games have all been a lot of fun and each does something a little differently or better then the others.
And really the most fun is inviting friends over and playing the game in a group and just trying to come up with scenarios and exploring them.
Can I stop the train with a bus?
Can I cause an explosive chain reaction with 20 cars?
Can I launch a car into a building?
....and on and on,...coming up with ideas and exploring them is the funnest part of these open world games.
....and the random events that just happen as the city goes about it's business. Like watching 2 pimps beat up a ho, then fight each other, then get in a shoot out with the police,...all while the ambulance is racing up to save the ho but running people over in the process,...and other cars causing accidents because all this is going on in an intersection,.....
...then you just hit the whole clusterf*ck with a LAW rocket and laugh you ass off.
Unscripted,....but fun as hell.

Anyway, hope some of you take some time to enjoy these fun games, let your imagination run wild, and rule the sandbox.