Joined

Nov 5, 2010
Messages

8,963
Reaction score

10,870
Right then…
…I am still struggling to deal with my cocobolo allergy, but want to build when I can. Therefore, the Drama Queen is on temporary hold and I am working on another couple of projects. I started making a thinline telecaster for one of my brothers and put the thread on the sister site for luthiers
here
. It's mostly done, but the strongest feeling I've felt throughout the build is of wanting a guitar just like this.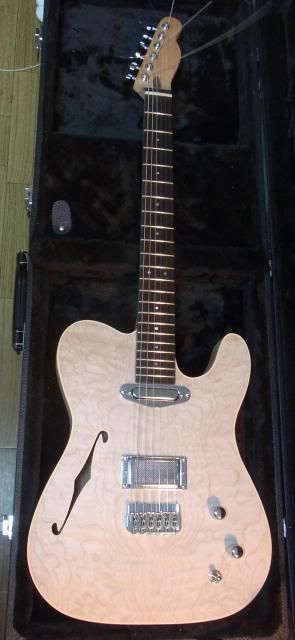 Therefore, I decided to make a second one of these for myself, using similar materials and almost identical construction and layout. The specs are as follows:
Honduran mahogany neck with quilt at the back of the heel and headstock
Macassar 22-fret fingerboard
African mahogany body
Quilt maple top (on the way)
Bound body and f-hole
Hipshot bridge and tuners
My own pickups – tele at the neck and humbucker at the bridge
A rather special nut
One other thing – we all have our heroes. People we look up to and admire. There are many luthiers on here who I see as far beyond where I can ever travel in terms of skill, and many who have offered advice, encouragement and inspiration. Roman Rist is astonishing, for example, and it's not hyperbolae to say that we all owe him a massive debt. The same is true of BCR Greg, Doug Kauer, DGN, Tom Bartlett, Bruce Bennett, HEL Shane, Sully, Gator, SG Lou, Black Water, Jay Jillard and dozens of others who I won't attempt to list for fear of missing names and excluding someone. The closest thing I have to a mentor amongst this pantheon, however, has always been Freddy G.
He's a perfect example of what a craftsman should be. Honest, skilled, hardworking, humble, multitalented…the list goes on. He's a professional sound engineer, player, repairer, refinisher and builder of superb acoustics and electrics – there's very little he can't do. He's given me great advice on my pickups and building in general, both on the forum and via PM - never mind the fact that I was just some dodgy guy starting out in my apartment. This amazing luthier, who has worked with Jeff Healey and Alex Lifeson, amongst others, has taken the time to offer his wisdom when I was stuck and help me (as well as many others) to stumble down the guitar building road.
Therefore, this build, in which I hope to make an instrument come to life using the best materials and techniques I possibly can, is dedicated to our own Mr. Gabrsek. The resultant guitar – should it be suitably worthy - shall be known as "The Freddy".