Joined

Jun 4, 2012
Messages

2,527
Reaction score

3,119
The Making of a Gibson Custom Guitar
Ted Drozdowski
|
02.19.2009
It rains inside the
Gibson Custom
Shop.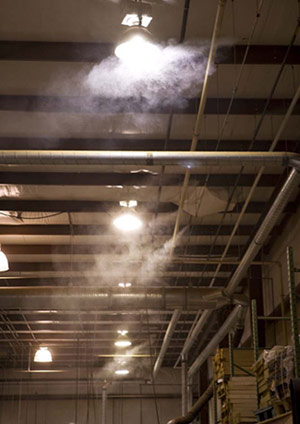 Well, maybe the right word is "mists," because the light spray that descends from a series of pipes spanning the ceiling is just enough to moisten the air. It keeps the inside of the building off Nashville's Elm Hill Pike at 45-percent humidity, to preserve the quality of the exquisite woods used in the iconic guitars made there:
Les Pauls
,
SGs
,
L-5s
,
Flying Vs
,
Super 400s
and many more. They are instruments that either helped define the sound of popular music or point the way to its future.
The Custom Shop is the company's most visible and vital link to its historic past — a flashback to an era when talented craftspeople made enduring instruments by hand. The truth is, that era never really ended at Gibson. Especially at the Custom Shop, where only a few key processes are streamlined by modern technology. If company founder Orville Gibson walked into the nondescript Custom Shop building today he'd see many of the procedures he started done in exactly the same way. Binding is still laid in and glued by hand. A carver that used to be powered by steam carves the tops of hollowbody guitars like the
Switchmaster
and
L4-CES
. High-gloss finishes are hand-buffed to perfection. Necks are smoothed to their ultimate contours by specialists using sandpaper.
HOW WOOD BECOMES MAGIC
The most essential element of the Custom Shop's guitars — besides quality or craft — is wood: mahogany; spruce, maple, and holly from Canada, the Pacific Northwest and the Northeast. And it's kept stacked on shelves and pallets just inside the shop, right behind the wall that separates ready-to-ship guitars and the factory floor.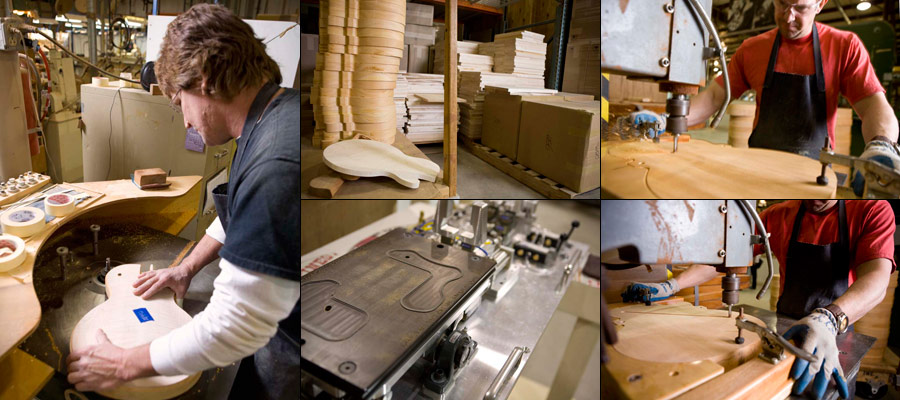 At the Custom Shop, programmable machines in the rough mill initially carve the necks and the bodies of some models. But all begin as blocks of wood on the Custom Shop shelves and are cut to shape and routed for various pickup configurations, electronics, etc., on site.
As you would expect, most jobs are highly specialized and require the expertise of staffers like Richard Ickes. The dean of the wood shop with 36 years of service, Ickes came to Nashville with the company when it moved from Kalamazoo, Mich., in 1985. Although Ickes pinch-hits throughout all the woodworking areas of the plant, he's best known for painstakingly carving the tops of hollowbody archtops like the L-5 and L-4 on the very carver he used in Gibson's original location.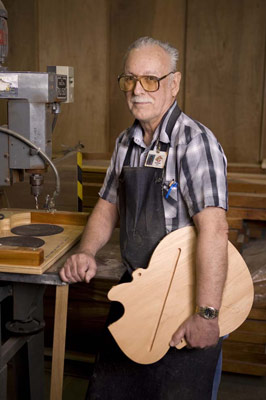 "They had these same machines way back in the 1930s, and I learned on them," says Ickes. "They were originally steam powered, but were converted to electricity before I came on in 1973. It takes a while to get the hang of them, but it comes. You learn how to change the fixtures that get fitted in place on the table of the machine. And you make all the adjustments by hand to get the correct radiuses and curves and thicknesses of the tops, and then guide the carving."
After the tops are carved they still have uneven surfaces. Those are belt and hand sanded to smoothness and then the bracing that supports the tops is hand-cut and shaped from strips of wood to exacting specifications for each model, and glued in place.
The wood shop is also where the sides of hollowbody guitars — maple, mahogany or laminate strips cut to vintage spec depths — are soaked in a warm-water-based solution and then bent and dried on metal forms. Then the side, tops, and bottoms are glued together and bound in place with rope-like strands of cloth while they dry and set.
Between Ickes' vintage lathes — the same machines that were used to make
Wes Montgomery's L-5
and the Custom Shop's binding area are the computer controlled machines that cut and route out Les Pauls and other solidbody classics that comprise most of the facility's orders.
TLC FOR NECKS AND BINDING
Next to the wood shop are various stations of the neck making process. After the necks are rough cut they are smoothed and sanded. Two small holes are drilled into their faces to anchor the fretboards, and a channel running the length of the neck is made for the truss rod.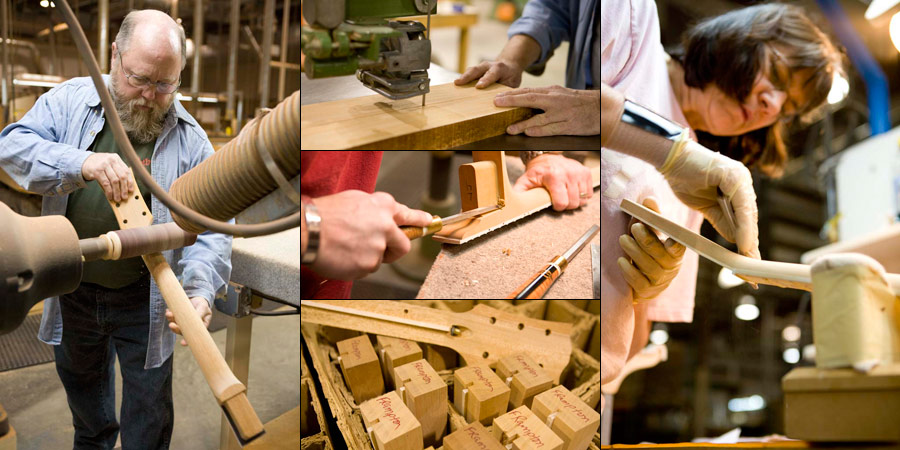 Fretboard woods — typically rosewood or ebony — arrive at Gibson cut roughly to shape. They are trimmed to fit specific models and fitted with fret wire, and then seated and glued to the necks. The glued neck and fretboards are bound with cloth strips they hang on a circular metal tree to dry and set. But before that can happen the truss rods are placed in the neck channels, which are then covered with a thin strip of maple.
Every bit of this process is done by hand. And every guitar player knows how important a guitar's neck is to its overall playability, so there's no room for carelessness or corner cutting. The necks and fretboards are cleared of excess glue, rough fret edges, sawdust, and any other imperfections at various points in the manufacturing process before — and after — they are seated and set into bodies.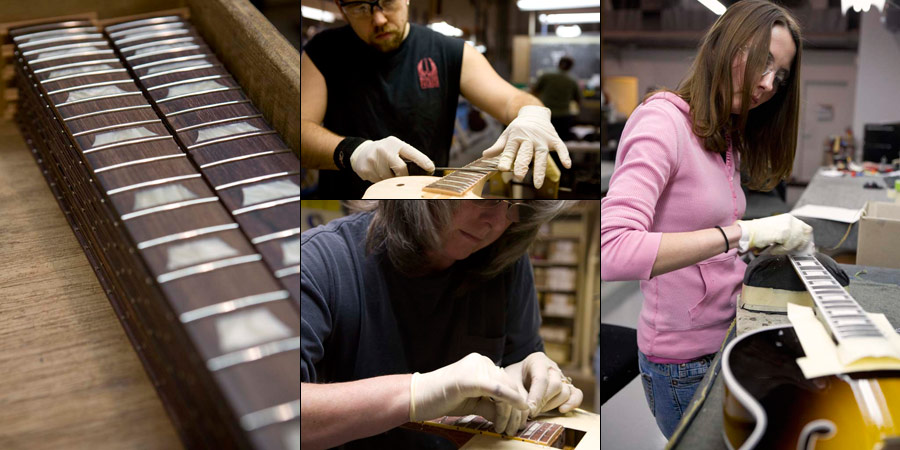 Guitars and necks that require binding, which lends many classic models extra beauty and style, make a stop for one more procedure before that binding is applied. The "rabbet" channels that accommodate the binding are cut along the edges of the body and neck where the decorative binding strips will be applied. Some guitars require binding on the inner edges of their f-holes, as well.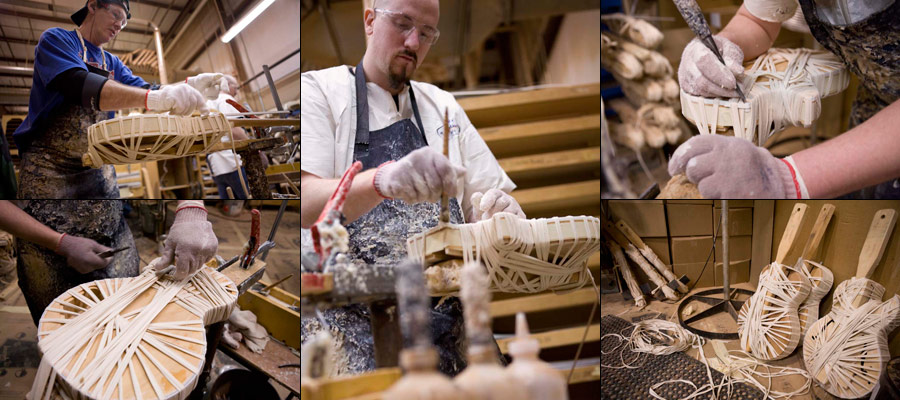 The binding station looks like a scene from a "Mummy" movie. Workers in white apply the biding to the rabbet channels with glue and once it's seated they wrap the guitars head to toe in white cloth stripping — much like Boris Karloff was wrapped in the classic 1932 monster flick. They are surrounded by dozens of guitars on racks: mini-mummies drying and setting to prepare for a very different kind of immortality.
BODY SANDING AND PICKGUARD TRICKS
The precision that five-year Gibson man Lenny Henderson brings to sanding is amazing, but watching him do his job can also give a guitarist the heebie-jeebies. Henderson is a player himself, and if his hand slipped off the cloth he uses to manipulate a giant sanding belt to smooth and contour the bodies of Les Pauls, Vs, and other solidbodies … well, he could possibly lose more than his calluses.
But Henderson's a pro. He pushes down on the belt — enhancing the gentle arch of a Les Paul's top — with grace and confidence.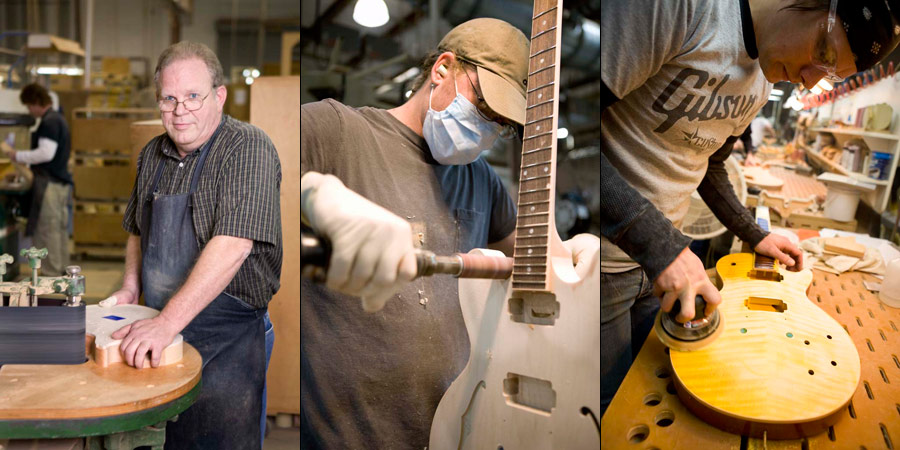 "This job does require a lot of eye/hand coordination," he relates. "I have to make judgment calls constantly about how the surface looks and feels, and make sure the belt gets applied properly. If I make a mistake, there's no doing this over. So I need to really know what different models look and feel like. Being a player gives me perspective."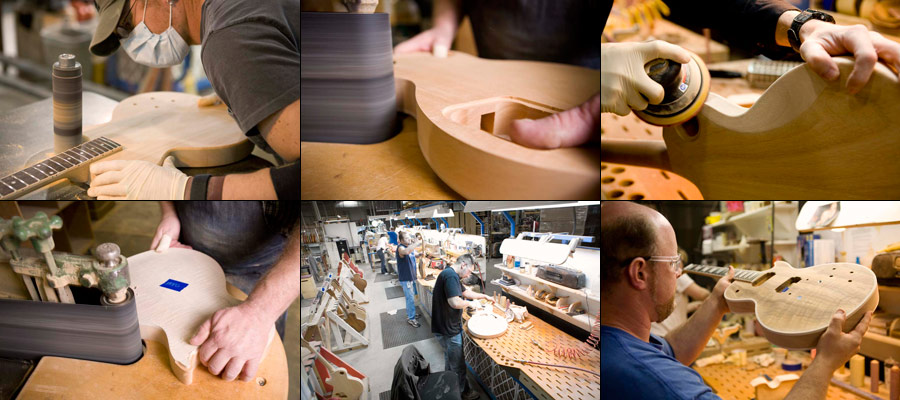 On the other side of a small wall, Darren Haston is cutting out pick guards. But it's not as easy as he makes it look. The blades must be well maintained, the presets carefully dialed in, or the plate material with have burrs or shatter. And then there are specialized jobs.
"I just got done cutting some Flying V pickguards for Lenny Kravitz," he explains, holding up a few gorgeous examples made from a gold, mirror-like composite. "Flying V pick guards are a little hard anyway, because of the complexity of their shape, but material like this is brittle so it has a tendency to shatter. You might need to go through six or seven sheets to get two guards. And then I needed to hand buff the edges, because they have rough, sharp spots in them, but now these are pretty gorgeous."
NECK FITTING AND COUNTERFEITING
"People think that everything is automated in a shop like this," says Patrick Keeter, "but the truth is it's all messy and hands-on, and that's the way it needs to be to do it right."
Keeter's job is broad. Although his department's designation is "Neck Fit," he and his crew also examine the quality of everything that's been done so far — essentially every aspect of neck, fretboard, binding and body work. And, of course, this is where neck tenons — typically extra long in keeping with the vintage design standards that are the Custom Shop's stock-in-trade — are fitted into body cavities and, once perfectly snugged, glued in place.
Neck Fit is also where the transponders that are standard equipment for every Custom Shop guitar are inserted into a tiny hole drilled in the neck tenons, which makes removal virtually impossible after the necks and bodies are glued together.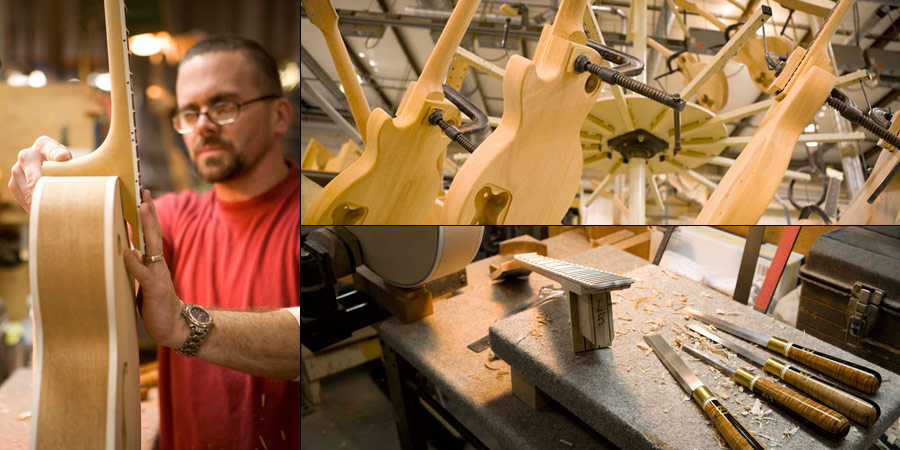 "In 1999 we started doing this with the R-9s," he explains. "Beginning in 2000 they've gone into every Custom Shop guitar."
Mark Case, a member of the Custom Shop's sales force who you're likely to see at guitar shows or other special exhibits, says each transponder — about half the size of a typical oblong headache pill — has a distinct number. They can allow guitars to be tracked during the manufacturing process with greater precision. More important to musicians and collectors, the transponders can be used to foil counterfeiters and thieves. If somebody's trying to sell a guitar, it can be scanned to see if it belongs to another owner, is a genuine Gibson, or is a vintage guitar or a reproduction.
"There have been cases of people trying to pass off our Custom Shop reissues as genuine '59s and that sort of thing," Case says. "This is one way to stop that from happening."
Keeter is inserting a transponder into the neck tenon of an
ES-335
with a pair of tweezers as we speak. Then he picks up a toothbrush and wipes a few specs of glue and sawdust off the fretboard and chases that with a gust of compressed air to clear dust from the base of the tenon. He does the same on the neck slot of the guitar's body after using a chisel to trim an almost imperceptible sliver of wood off its side. Then he eyeballs the slot and lightly digs in with the chisel once more before sliding the neck into place and declaring it right.
"We also clean out the cutaways on the carved tops and semihollows, to make sure they're right and cosmetically perfect," Keeter says. "After we glue the necks inside the body we let it set for an hour. Once it sets that long it ain't comin' out. "We do one guitar every five minutes or so," he continues, replacing a chisel with a handsome curly maple handle bearing the word "Gibson" on his waist high workbench.
"We also make our own tools," he adds, smiling. "Every luthier who comes through here on tour wants to know where they can get these."
PLEKED TO PERFECTION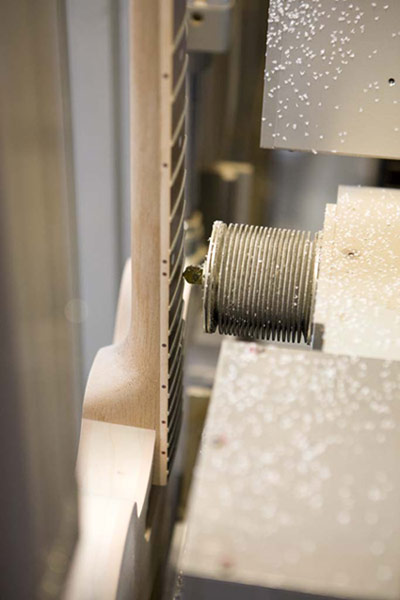 From there the guitars move along to fret inspection and filing, where the fretboard gets yet another thorough exam, cleaning, and tweaking. At this stage guitars that will be painted in a burst color or, perhaps, given an aged look get a coating of stain to prepare them.
Next to the fret filing department stands the Custom Shop's twin Plek machines. A hallmark of every guitar produced here is that it is adjusted and set — leveled and dressed — for maximum playability on the machines, which have a greater degree of accuracy than any human.
Custom Shop general manager and Gibson senior VP Rick Gembar had his eye on the machines for years as their German manufacturer worked the bugs out. And the Custom Shop acquired this deuce three years ago.
They are remarkably self-contained: glass boxes with armatures and other mechanisms to run the cutting tools and measuring devices over the guitars.
"We have software templates for every guitar we make," says Jeff Renfro, a nine-year employee who introduces himself as "the Plek master." Renfro runs the machines, which take about 10 minutes per guitar to work their magic.
"When they first arrived we only used the Plek machines for
the Vintage Original Spec series
, but we realized they provided such a great value for the customer," Renfro says. "Essentially they are the ultimate fret filers. We make our own braces to seat the guitars in the machines, and then the Pleks simulate string tension and adjust and file the frets while they simultaneously cut the nut. They can peel off just a thousandth of an inch."
Renfro adds that the Pleks can be used on older guitars as well, even to fix a warped neck. But the typical aftermarket cost of a trip on the Plek can run $300 or more. So Pleking is an added value for Custom Shop customers.
COLOR THEM BEAUTIFUL
The next major stop for the Custom Shop's guitars is the paint room, where the bodies are sprayed — binding and all — and air dried on moving racks similar to the curved, roller-coaster like assemblies at a big dry cleaning shop.
Every guitar gets multiple coats of paint. Some, like bursts or other specialized shades, more than others. "In sunbursts, there are four different colors — two in the necks and two in the body," says Mike McGuire, who's been spray-painting guitars for 20 years.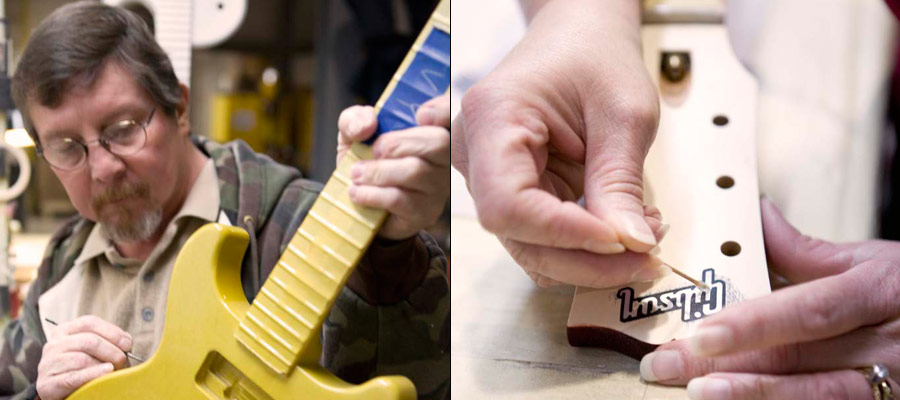 "You need to have a really sharp eye to make sure the paint is going on evenly and you're creating the right color pattern and coating all of the neck and body," he says. "Generally if there's a problem in the finish it happens later, where maybe a nick or ding occurs, or it's a matter of the wood having too much moisture, which could cause the paint to bubble. But that's incredibly rare, since the wood moisture level is checked before it gets to the builders."

What happens next is another example of outstanding, old fashioned eye and hand craftsmanship.
After the paint is applied and dries, it needs to be removed from the binding so those stylish bands once again become visible. Wanda Marshall and Marsha Carr have been doing that job, called "Scraping," for 22 and 33 years respectively.
Without any hesitation Marshall and Carr grab the painted guitars, set them on their laps, heft sharp edged blades, and simply draw them over the binding to reveal the perfectly defined, straight-edged ivory or ebony strips every time. They do it seamlessly, without any edging or alignment tools. Really, without even thinking about it.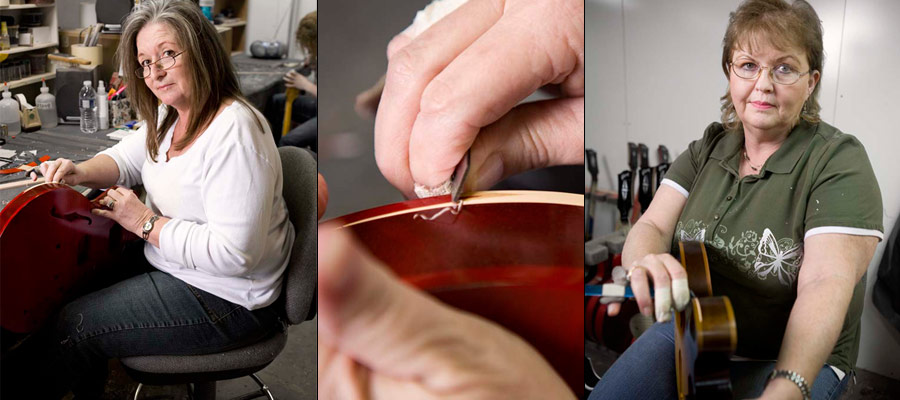 "I've been doing this so long it's completely second nature to me, and I love it," says Marshall. "You have to maintain a perfectly straight line when you draw they blade to uncover the binding, because they don't mask anything, And I really enjoy seeing how beautiful these guitar come out when we're done."
Marshall confides she had a different kind of edge when she first started doing the job. "I'm from the country, and when I was a little girl I had an uncle who used to whittle on a piece of cedar, and I'd pester him to let me do it. He finally taught me, but I couldn't do it without him, because the blades were sharp."
Carr says it takes about 30 to 45 minutes to scrape guitars with binding on the front and back, and on the rims of f-holes, and about half that time for guitars with a single binding. While she doesn't play, she does own a Gibson acoustic and a Cherry Sunburst Les Paul she got for her first 25 years of service.
THE END OF THE LINE
Once the paint's finish is right, guitars get several thin coats of nitro-cellulose lacquer, readying them for a shine that'd put any sports car to shame for the gloss models.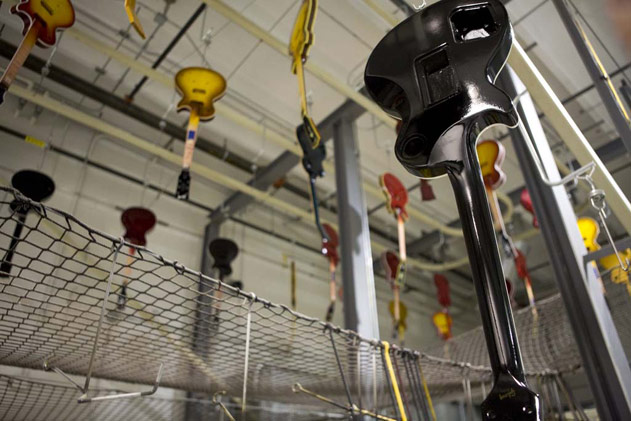 Once the lacquer is dried, they move on to the buffing area. There, these optimum lacquer coatings are buffed to a rich finish by utilizing buffing wheels containing a red wax, then yellow wax and then finally a high gloss polish. All gloss models are buffed to a mirror finish, but the highly popular VOS models get special treatment all their own.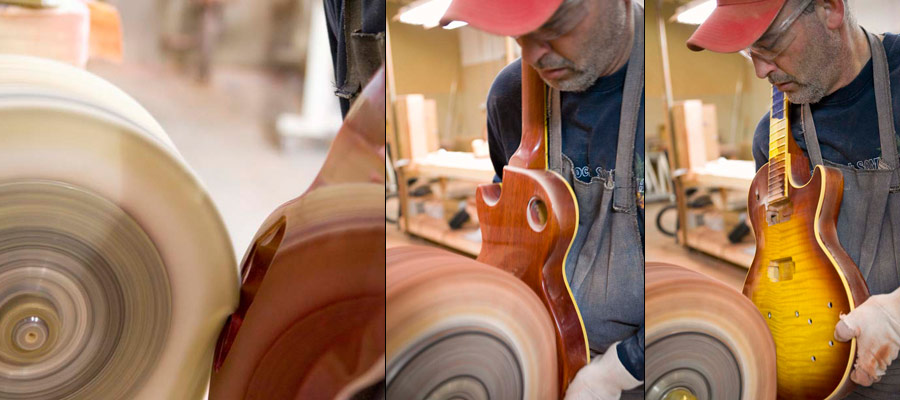 All
VOS (Vintage Original Spec) series guitars
use a visually stunning proprietary process that includes unique steps for staining, wet-sanding, and hand-rubbing; subsequently the guitars reflect what a well-cared for 40-year-old guitar looks like. The result is a remarkable patina that will delight even the most discriminating enthusiast.

"Final assembly" is where all the electronics — wiring, volume and tone controls, the pickup selector switch, and Gibson's own in-house wound and dipped pickups — are installed. But that's not the last hurdle the Custom Shop's premium guitars need to clear.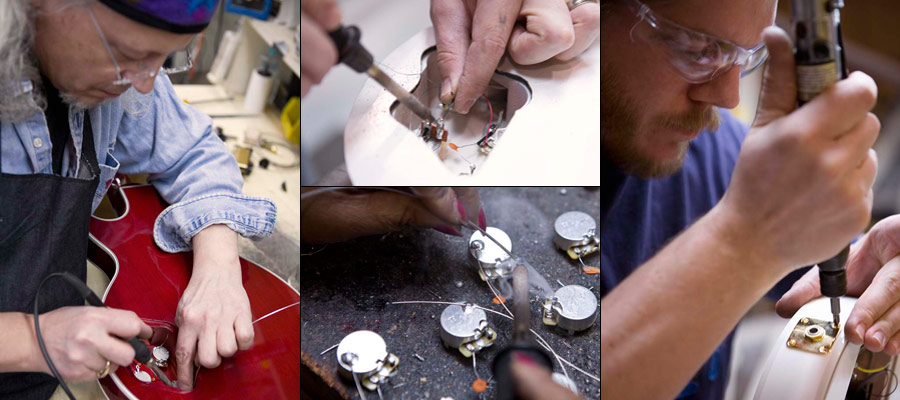 Randy Russell is. The curly-haired musician and songwriter is the last measure of each guitar made by the Custom Shop. As instruments leave final assembly, they go directly to his workbench and he plays every single one before it's packed for shipping.
The 25-year Gibson veteran is picking quick runs up and down the neck of
a Les Paul Axcess
while we speak. "Since I am literally the end of the line I check all the hardware to make sure it's working," Russell says. "I check the pickups and the tone – very important. I make sure there are no scratches or dings in the body and that the binding's in place. Also, that the necks are set up perfectly for playing.
"You've gotta love playing guitar to do this job," he notes.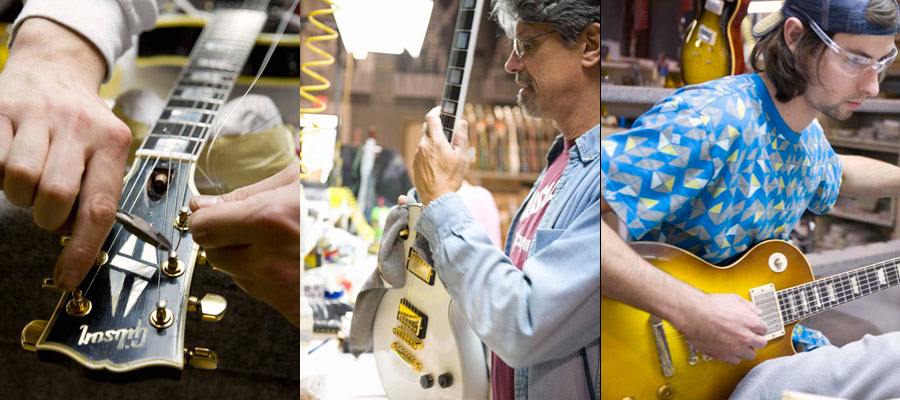 Case amplifies the importance of the highest level of playability. "We put a lot of effort into getting the colors and weight — ideally nothing heavier than nine pounds or so — and other details of the guitars in the Custom Shop correct, but the bottom line is this: Nobody is going to pick up a reissue Les Paul and say, 'This color makes my new guitar play well.' They want a guitar that's going to feel and sound like it's been around for 50 years."
Russell enters the transponder code for each guitar in a logbook before it is placed in a case and prepared for shipping. If there's a snag with an instrument, he sends it to a small cluster of benches just behind the Custom Shop's front offices called the "Pro Shop." There issues like paint repairs or hardware replacement are resolved, rather than sending guitars back to the factory floor.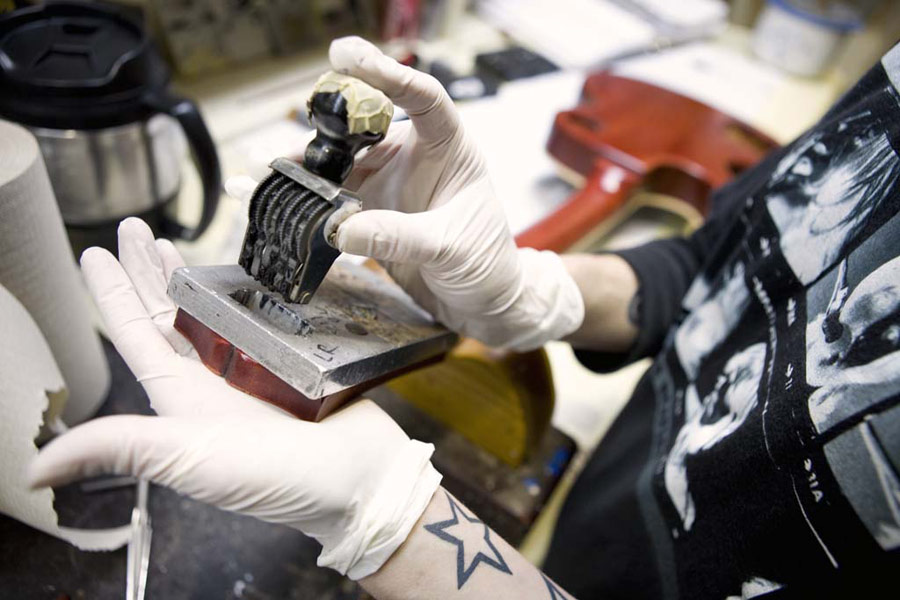 Some highly specialized six-strings, like the Duane Eddy model, have their hardware installed at the Pro Shop. "I also do some quality control on models like this, which have ornate inlays and a custom neck profile," says John Slater, one of the Pro Shop's technicians.
"We also handle the needs of musicians who are Gibson endorsers," he adds.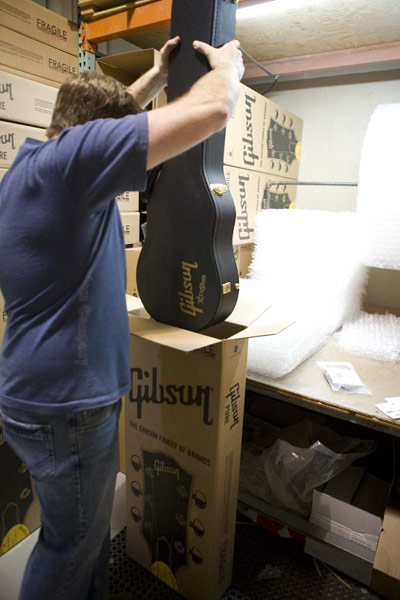 By definition, though, the Gibson Custom Shop is in business to cater to the rarified tastes of pros, weekend warriors, collectors, and rock and roll fantasists alike. The Shop's guitars are built as recreations of Holy Grail instruments, from the '59 Les Paul to the Jimi Hendrix Flying V to the recently issued
1954 Jeff Beck Les Paul Oxblood
(a staggeringly precise doppelganger of the famed axe Beck used for Blow By Blow and other epochal recordings) to models bearing the signatures of Warren Haynes, Alex Lifeson, Peter Frampton, Jimmy Page, Joe Perry, Slash, Zakk Wylde, Joe Bonamassa and more.
"We're really here to satisfy the imaginations of our customers," says Case. "Take the Johnny A. guitar. Johnny was about to become a Gibson endorser. He was already playing a Les Paul and an
ES-295
with a Bigsby. He was visiting here with Mike McGuire and saw a prototype that was being developed with a long scale neck and a hollow body, but the sonic characteristics of a Les Paul. "That guitar spoke to him, and soon he and the engineers were trading ideas back and forth. The body and the f-holes changed. It got a custom neck profile, and the inlays became more ornate and art deco. By the time they were finished it was clearly his guitar, so the
Johnny A. model
was born.
"But you don't have to be a star to get your dream guitar," Case continues. "Anybody is welcome to use their dealer to contact the Custom Shop and tell us what they want. If it has a body shape like a guitar we build already, chances are we can do it. Color, hardware, pickup configuration, inlays … A lot of people want to customize their own Les Pauls, which we love to do.
"My take on it is this," Case offers. "As a guitar player, I'm in Heaven working here. And if we can build guitars that make other players just as happy, then we're doing our job well."
Photo Credit:
Sandy Campbell