Joined

Aug 6, 2018
Messages

137
Reaction score

57
Wiring mod #2: Single-coil (cut & parallel) wiring — PART 3 of 3
Continued from
Part 2
.
8. Soldering
For important info about soldering, see the corresponding
Step 8 in "Al King tone"
.
As with "Al King tone," I want to use "pigtails" to interface the harness to the pickup wires. This will make it easier to remove the pickups in the future, without removing the harness. (Someday I intend to swap the pickup's ceramic magnets with Alnico.). This time I used a "helping hands" to hold the switches while tinning the lugs, attaching pigtails:
The "helping hands" are large alligator-clips grasping the base of a switch's threaded bushing. I thought this might "sink" the heat out of the switch (help it cool between tinning lugs). I also used some flat alligator clips on adjacent lugs (as heat sinks). I tinned a lug, waited 6-8 seconds for the solder to cool, then moved a clip to that lug. (Don't blow on the solder to help it cool. That can create bad joints.). Then I tinned a pigtail (then another lug—on the other switch). I was afraid tinning the lugs too quickly might cause heat to accumulate.
That photo also shows some of the tools which came with my inexpensive soldering iron. Those are handy to hold wires against the solder joint, and fish wires through the harness. I give more details about that iron (and flat alligator clips) in the
dual-concentric mod's 3rd post
.
I guessed at how long the pigtails need to be. I cut them 3-1/2" (8.9cm) long. I tinned both ends. (If you strip them, you should tin too. The stranded ends will fray, snag, bend, weaken.).
Photos of the finished wiring harness:
Harness soldering complete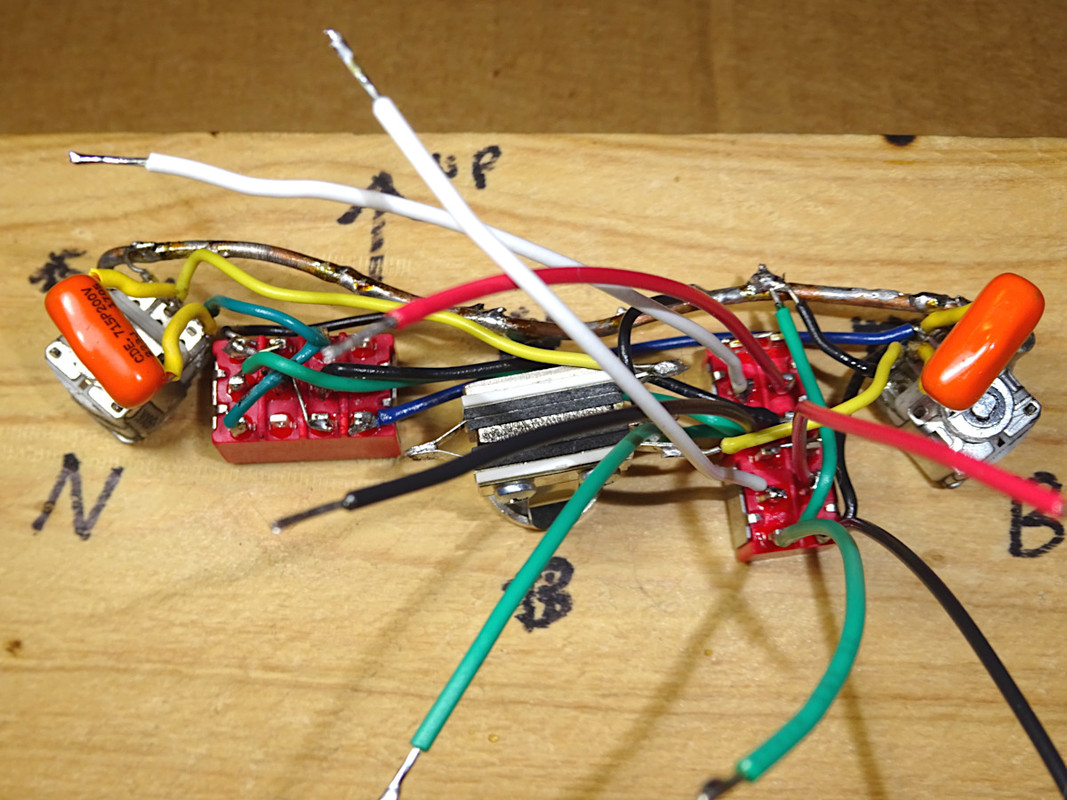 (Original image)
Alternate views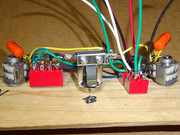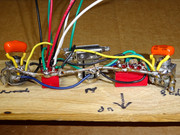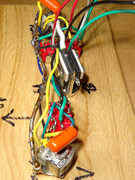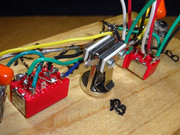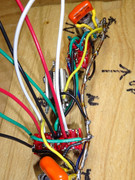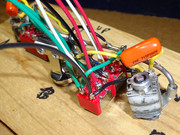 (click for larger)
​
I'm embarrassed to share so many photos showing my soldering. I'm sure many (all?) joints are bad. But, so far it works. There were a few joints I wanted to redo. But, I feel like the less handling, the better. I think I'd do more harm than good if I obsessed about this.
Reminder: It's best (aesthetically) to orient the switch with the "keyway" (the vertical slot in the threaded bushing) facing down. I forgot to do that with the "Al King tone" switch.​
As before, I temporarily wired the harness to the pickup wires, and verified that it works in all switch positions:
That required 13 jumpers. (If it didn't work, it would have been frustrating. But, not as frustrating as if I installed it—then had to remove it.).
9. Installing the harness
I installed the jackplate first. (Hint: If you remove your jackplate, you should pay attention to how the jack is oriented in the hole. I've had some problems with that. For more information, see my
dual-concentric mod, Post #1, section 2 (shielding)
.).
9.1. Halfway installed​
I rested the harness halfway into the cavity. From there I soldered the jack's hot & ground wires (red & black wires twisted together). I also soldered the ground wire coming from the bridge's bushing.
There are also two bare ground wires from the pickups. I soldered a 3-1/2" pigtail to the ground bus for them. (I plan to remove my pickups again; replace the ceramic magnets with Alnico, more tone experimentation. I don't want to have to remove this harness just to be able to fool around with my pickups.).
Harness partially inserted, some more wires soldered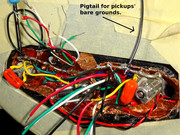 (click for larger)
[Note: the top-left corner shows a soldering tool used to suspend the harness.]
​
9.2. Fully installed​
With only the four pickup wires to solder (times 2), I fully inserted the harness. This was
very
challenging. It's best to insert the bridge's switch first, then the neck's switch. Or, stagger them sideways. (It would be beneficial to grind more off the top of that bulge, so the switches have a better chance clearing it together).
Be patient, take your time, use a couple small (jeweler) screwdrivers to guide things into position.
Warning: If you recall from the diagram, the bridge pickup's hot/black wire goes to the bridge's coil switch, then to the bridge's volume pot. I cut that (switch to pot) wire to a perfect length (mounted in the jig).

The problem was: when installing the harness I needed to move the bridge switch independent of it's final position. That wire caused me to struggle getting the two switches installed. Next time, I would leave slack in that wire. Perhaps twice as long as necessary for mounting in the jig.

Note: At the end of the "Al King tone" mod, I felt that my 3-way pickup selector extended too far above the dress ring. I believe that was because 1) I replaced my faceplate (the original was about 2x thicker.). And, 2) my Special-II came with a thin washer between the dress ring & faceplate. The higher-end Les Paul models don't appear to have that washer. So, I omitted it when I replaced the faceplate.

Those two factors caused my 3-way to protrude further above the faceplate. So, at this point I installed the unused washer inside the cavity. That washer's so thin, I wrapped it twice in copper shield (that's two layers on each side of the washer).

Note 2: I jumpered the connections 2-3 times throughout this process, ensuring that it still worked. That was time consuming. But, with as much fiddling as I had to do to get it into its final position (and as bad as my solder joints are), it seemed wise to catch a problem before I got too far.​
With the harness fully inserted: I soldered the 8 pigtails (that's two sets of green, red; black, white.). I also soldered the two bare pickup wires to the black pigtail (which I soldered to the ground bus while the harness was partially inserted).
The solder joints are taped like a flag, not wrapped. This will be easier to remove when I work with the pickups again. The pigtails (3-1/2") might be a bit long. Instead of cutting, stripping and tinning those ends (again), I reduced the length of the pickup cables by pulling them back into their channel until only the unsheathed (colored) wires protrude.
I was thinking it would be better for the pigtails to be shorter. But, the 3-1/2" wires folded nicely into place:
A little more Turtle Wax
Express Shine,
and "I'm ready for my close-up, Mr. DeMille:"
Installed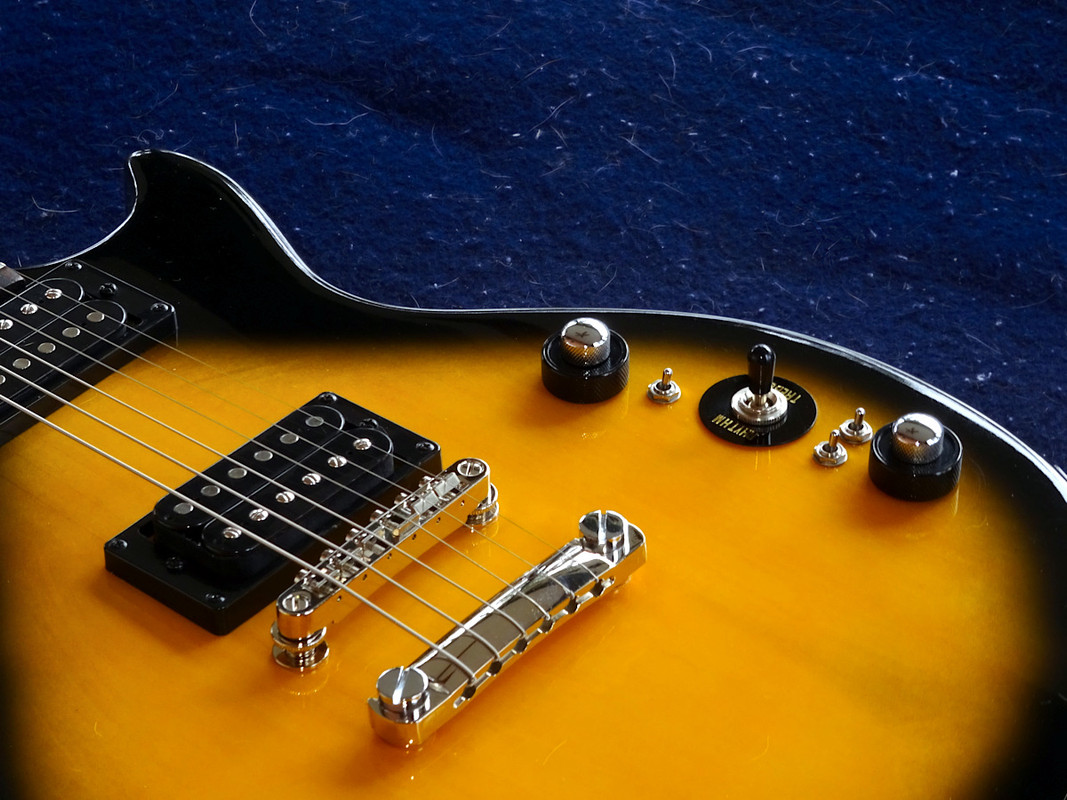 (Original image)
Alternate views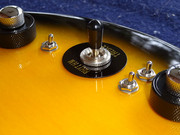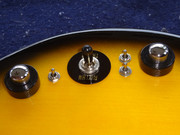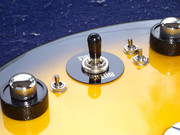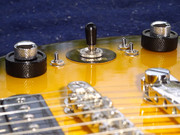 (click for larger)
[Note: Switches are in the DOWN position, normal wiring]
​
10. Additional thoughts
10.1.
In
step 4 (Positioning the switch)
, I drew the vertical line parallel with the tailpiece. If you look at the photos in that step, you can see that line isn't perfectly square with the horizontal line between the control holes.
Since finishing this project, I feel like that's stood out to me a couple times. It's subtle. But, I think it can be seen. Therefore, I believe the vertical line should be square with the horizontal.​
10.2. Next steps
10.2.1. Pickup magnets
I want to replace the magnets with Alnico, as mentioned in the
4-conductor mod, post #1, footnote 3
. A "Dimarzio air" mod there might also be worth hearing.​
To make that easier, I want to obtain 5-pin mini connectors to create a disconnect in the pickup cavity. It looks like Gibson uses Molex PicoBlade (1.25mm pitch) connectors:​
Male: 51047-0500
crimp: 50125-8000​
Fem: 51021-0500
crimp: 50079-8000
​
[UPDATE: I provide more info 6 posts down in "
Connectors continued
".]​
I might also buy (used) 650R/750T pickups so I can have different pickups with different magnets (for comparison). There are many used pickups on eBay. It might be fun to sample/compare others too, without spending a lot.​
10.2.2. The Summit
@Norton
caused me to consider replacing the two coil switches with
Seymour Duncan "Triple Shot" rings
. Then I could convert this mod's two toggles into switchable modern & 50s tone; independently controlling each pickup. (I would use two-position 3PDT (on-on) switches. Ex. Taiway #100-3P1-T200B1M1QE.).
I don't plan to do that soon. But, I'll diagram it (posted as
Wiring mod #3
, two posts down) in case anyone wants to see what that looks like. Maybe summit before me?
​
Last edited: