Joined

Aug 6, 2018
Messages

137
Reaction score

60
I have a 2013 Epiphone Les Paul Special-II (LTD). A few months ago I replaced my "master" volume & tone controls with
dual-concentric pots (separate vol/tone controls for each pickup, without drilling holes)
. Since then, I've wanted to experiment with some tone-wiring mods:
Humbuckers

In-phase and parallel with each other (normal)
Out-of-phase (OOP)
OOP plus serial (called "Albert King tone")

Coils

Series (normal)
Single ("cut")
Parallel (single-coil sound while retaining dual-coil humbucking)
Because the Special-II has
only
two knobs—not enough for
all
that (and, I already eliminated any possibility of using "push-pull" pots when I converted to dual-concentric pots), I must use toggle switches. That made me nervous (drilling holes; looking too DIY, "Frankenstein").
I found these low-profile mini-toggle switches, with stubby levers[1]:
Those are
perfect
for my goal, to keep my guitar looking relatively stock. I found switches to implement
all
those tone-wiring mods. That's the entire "Jimmy Page" wiring (minus "serial humbuckers" by itself, which I don't like the sound of anyway),
plus
a single-coil sounding "parallel-coil.").
This is what it looks like with the first mod complete:
Special-II with tone switches installed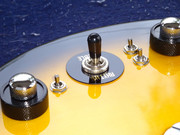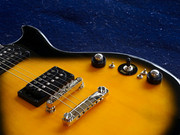 click for larger (more photos in post #21)
​
Those tone wiring mods can be implemented in three manageable projects:
1. "Albert King tone"
This mod can be done with the Special-II's original 1-conductor (plus ground) leads. However, it's better[2] to have 4-conductor leads. Because of that, I did the next step first.
Note: If you want to hear what this mod sounds like before doing much work, all you have to do is unsolder two wires and use alligator-clip jumpers. But, if you go further you'll want micro-clip jumpers: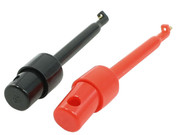 (Click for larger)
[Available in a variety of colors, with or without wires (make your own). They're called "EZ-Hook," "mini grabber," "Mini SMD test hook," "mini hook" or "pico hook."]
​
Reminder: it may may have hum with the Special-II's 1-conductor pickups. More so with unshielded jumper wires laying around. But, it will give you an idea of what it sounds like compared to normal wiring.
​
"Al King tone" can be implemented with either a 3-position switch (as I did, to have an OOP-only position). Or, a 2-position switch—"Al King tone" by itself.​
2. Convert Special-II's original one-conductor pickups to four-conductor
This is
required
for the next mod (coil wiring switches). As mentioned in the previous step ("Al King tone"), this will also reduce hum when using OOP humbuckers. (I did this step first.).
Note: You could buy 4-conductor pickups. But, what fun is that? If you're a Special-II owner, you're probably a newbie, don't have an ear for tone yet, wouldn't appreciate one pickup over another. The whole idea is to learn some mod skills—on a guitar that's typically purchased for learning. Familiarity with your pickup's innards could also lead to further mods—like swapping the ceramic magnets with Alnico. Or, creating "hybrid" humbuckers with mismatched coils.[3] That's even more experience with tone mods—without spending much money.​
3. Single-coil (cut and parallel) wiring
This mod
requires
4-conductor pickups (previous step).
You can use a 3-position switch to have
both
"single-coil" types of wiring (I did). Or, use a 2-position switch for just one type.
This can also be implemented with two switches (as I did, to control each pickup individually). Or, use a single 4PDT switch to control both pickups in tandem.
UPDATE: This turned into a potentially different mod using 1) Seymour Duncan "Triple Shot" rings for the coil switches, and 2) these two toggle holes for 50s/modern tone wiring (with 2-position 3PDT switches). I
documented it with a diagram
, but haven't decided whether I'll do it.​
The
next post
shows the "Al King tone" mod. Coil switching turned into three installments, beginning
a little further down this page
. That's followed by a variation of coil switching which includes
switchable 50s/modern tone wiring
(but remains just a diagrammed idea).
== Footnotes:
[1] I found these Taiway switches at
LoveMySwitches
(US). They were
very
supportive. I showed them what I wanted to do with a 3-position 4PDT. They added it to their inventory. (If you wanted black or gold finish, you could talk to them.).
I also saw a nice selection (including black and gold finish) at
BanzaiMusic
(Germany). I don't think they had the 4PDT switch.
Taiway's web site
lists regional representatives who should be able to help locate sellers in other regions.
[2] The so-called "Albert King tone" manipulates
only
the neck's hot and ground wires. A 4-conductor lead carries two separate grounds: the coil ground (the green wire, per Seymour Duncan's color code), and the pickup frame's ground (plus shield). The Special-II's humbuckers combine those two grounds into one.
The problem: the OOP portion of "Al King tone" requires the 4-conductor's black & green wires be reversed (Seymour Duncan color codes for hot and coil-ground, respectively). When you do this with your 1-conductor lead, your shield becomes part of the "hot" wire. This
will
result in hum when you touch the strings, or are near noisy electrical devices.
The solution is to replace the leads with 4-conductor (plus ground) wire. That's not hard to do (see my other mod:
convert Special-II pickups from 1-conductor to 4-
). But, 1-cond isn't terrible either. It could be worth implementing before delving into 4-conductor wiring. The switch will work either way. It could be a "baby step" along the way to doing everything.
[3] After converting your pickups to 4-conductor, you might feel comfortable swapping magnets, or creating "hybrid" pickups. See the
1-conductor to 4- mod, Post #1, footnote 3
.
Last edited: