V.I.P. Member
V.I.P. Member
Joined

Aug 1, 2007
Messages

441
Reaction score

23
Hello all. Some of you know me already from the LPF and have already seen my pickguards and may already have one or two. A little background first. I've been working with plastics for many years as a fabricator. I used to make acrylic grips for high end paintball guns. It seemed like a no brainer for me to do this.

The whole pickguard thing started while I was trying to decide whether or not to drill into the top of my Faded to mount the stocker. I really didn't want to do that, but I still wanted the protection of a pickguard. Plastic fab + plastic pickguard=


I started with a piece of 3mm clear acrylic and after some measurements and a sketch went to the Bridgeport milling machine and made the first one. I formed (line bent) The pickguard to resemble the lines of the stock guard. I removed the pickup ring screws and mounted the pickguard to the pickup rings and it fit perfectly and looked great. Aha this is great. After some initial spamming at the LPF
( Some of you probably read that whole post

) I decided to take it up a notch and write a CNC program and rout them. They turn out great. I still have to form them by hand and flame polish them but it is now at least feasible to make them easy enough to make it worth it to sell. The first few I made I back painted. What that means is I spray painted the back side of the pickguard after all the operations were done with whatever color I wanted. It gives a nice deep look to it. I now also have a solid cream color and black as well as the clear either as is or painted. I also can sandblast logos/names, etc. And before the year is out, I will have a laser engraver I can use that will enable me to engrave high detail. So far these don't fit Customs (different spacing) and there are some issues with taller Historic rings. Here are some pics. The first pic is the same as my avatar.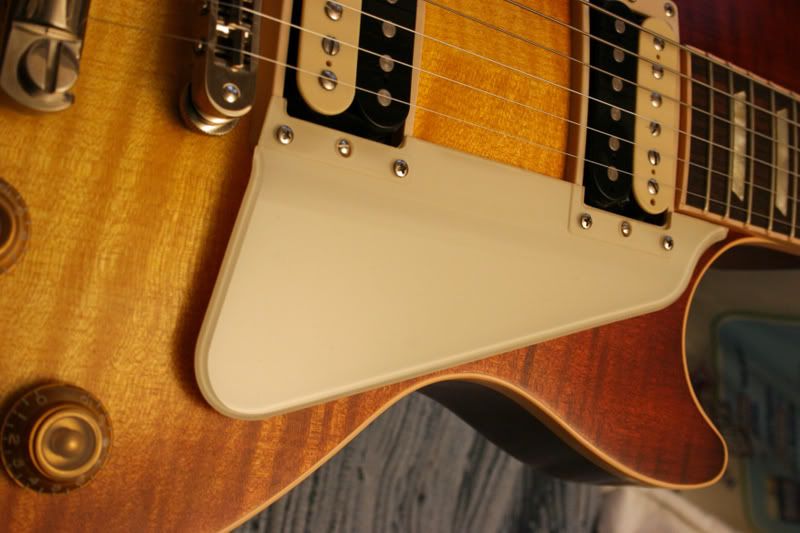 From another angle.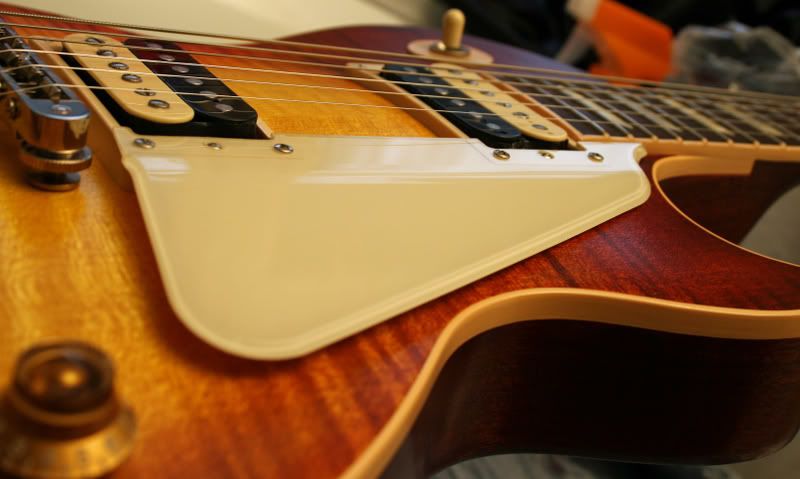 A clear one on a Classic
A closeup of the clear and the machine work.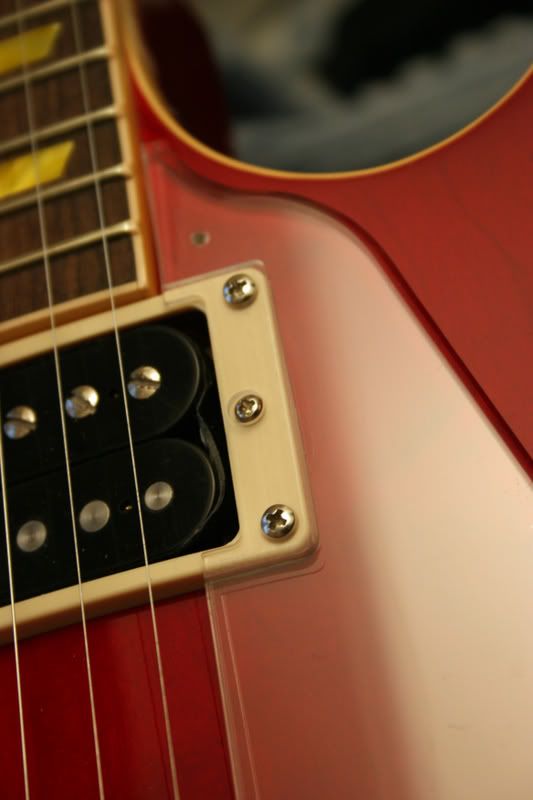 A clear on my Faded. For those who want a pickguard and still see the flame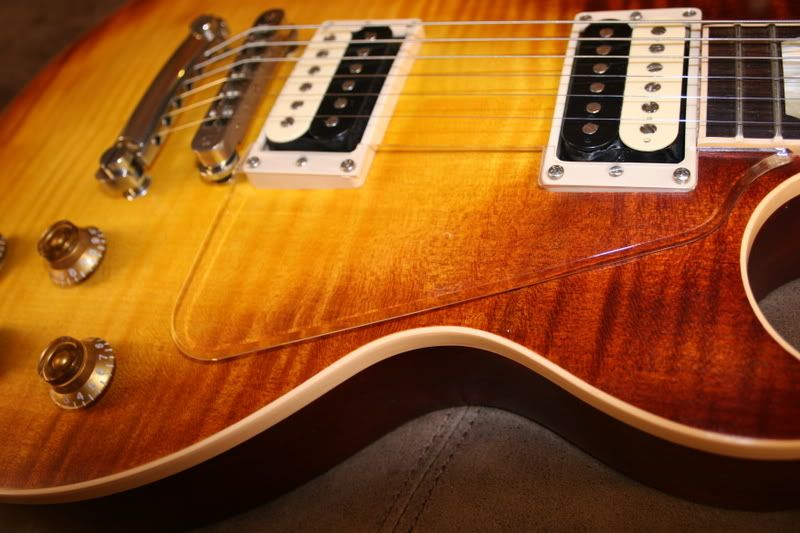 And a pic of a ZOSO Zep logo etched on the rear of a clear standard pickguard.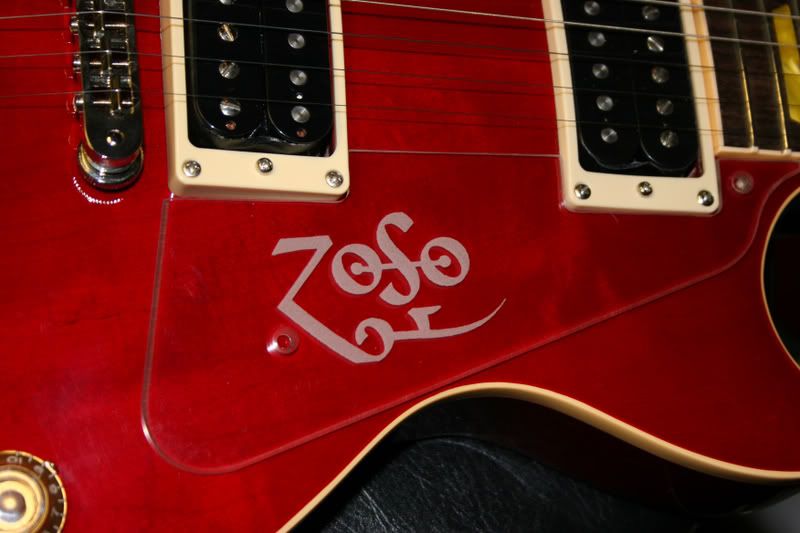 A pic of another regular clear pg that I sprayed from the back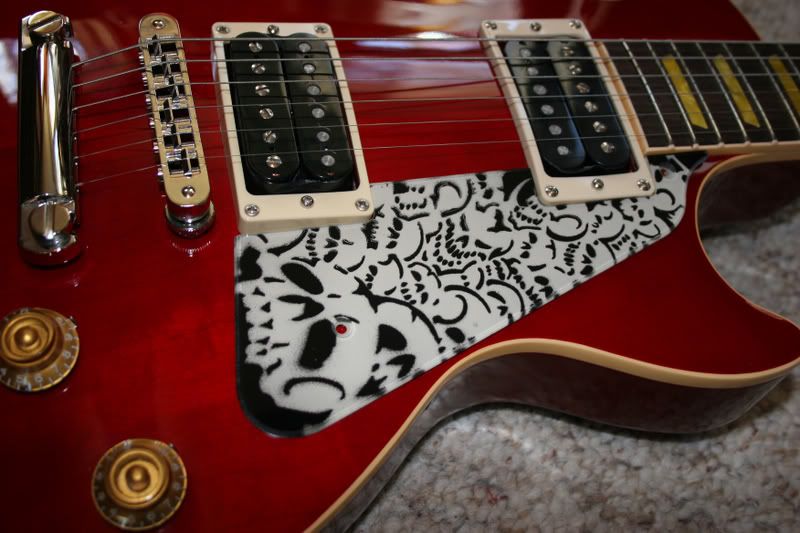 There were some concerns voiced over how stable these would be. Well, I have some where in the neighborhood of 60 of these pickguards out there already and so far everyone has loved them. Let me know if you have any questions and peace!!