Joined

Oct 28, 2010
Messages

34,353
Reaction score

160,593
It appears that the Russian manufacturing firm, Kalashnikov-- which, until now, was famous mostly for their production of the ubiquitous AK-47 assault rifle-- has been working up an electric car. The firm claims that this vehicle will give Elon & Co. serious worldwide competition.
The company claims that their product will be considerably faster than Tesla's vehicles, and says that these cars they're building feature a range of 220 miles (350km) on a single charge.
And so they proudly unveiled their prototype the other day. To say that the reviews were mixed would be an understatement.
While some think that the car looks cool in a retro kind of way, yet others have complained that it has a drab, clunky, almost Soviet-era appearance to it. And apparently the eggshell blue the demonstrator model arrived in was not universally well-liked. But eh: that's just paint.
So here it is. This is the Kalashnikov CV-1: the car that will supposedly give Tesla a hard run for its money: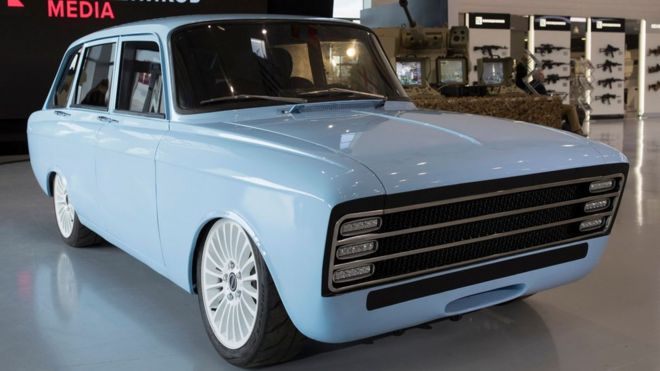 Upon viewing this baby for the first time, all I could think was that it sort of resembled a compact version of the
Wagon Queen Family Truckster
that Clark Griswold got stuck with in the movie "National Lampoon's Vacation". Seems like if you chopped off about a foot from each end of the Family Truckster, you'd have more or less the same look going as the CV-1.
But that's just me-- though I've noticed that others are even more underwhelmed by the appearance of this new Russian conveyance than I am. One person commenting on Kalashnikov's Facebook page told them, "Your tanks are great, but it would be better if you stayed away from cars."

I should add here that Kalashnikov makes more than just rifles and this new electric car of theirs. They have a clothing line going, they manufacture umbrellas and myriad other common consumer goods. So, even if this thing with the CV-1 doesn't work out, they should still be around.
But man: they're not exactly batting .500 here. Last week Kalashnikov also unveiled a new robot they built, which they are calling "Little Igor". This is a 13 foot tall, 9,000 pound manned robot which Kalashnikov says would be useful for "carrying out engineering and combat tasks".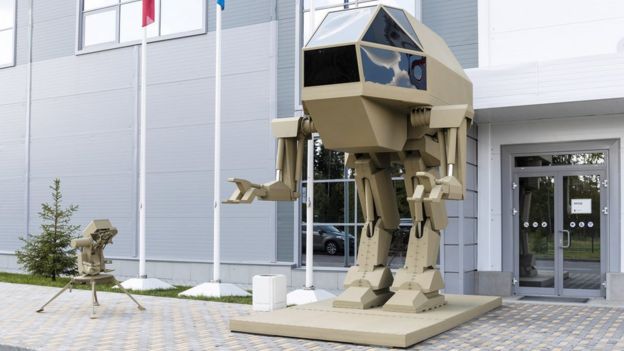 I don't know jack about combat robots, but apparently those who do have openly jeered at Little Igor as being outmoded, crude, clumsy, and so forth.
My guess is that these critics might know what they're talking about, though. Rather than to respond defiantly, Kalashnikov's response to the laughter the robot was met with was to say that they hope to display an improved version of Little Igor by 2020.
https://www.bbc.com/news/world-europe-45292028
--R
Last edited: