Master Luthier V.I.P.
V.I.P. Member
Joined

Dec 4, 2007
Messages

6,688
Reaction score

5,796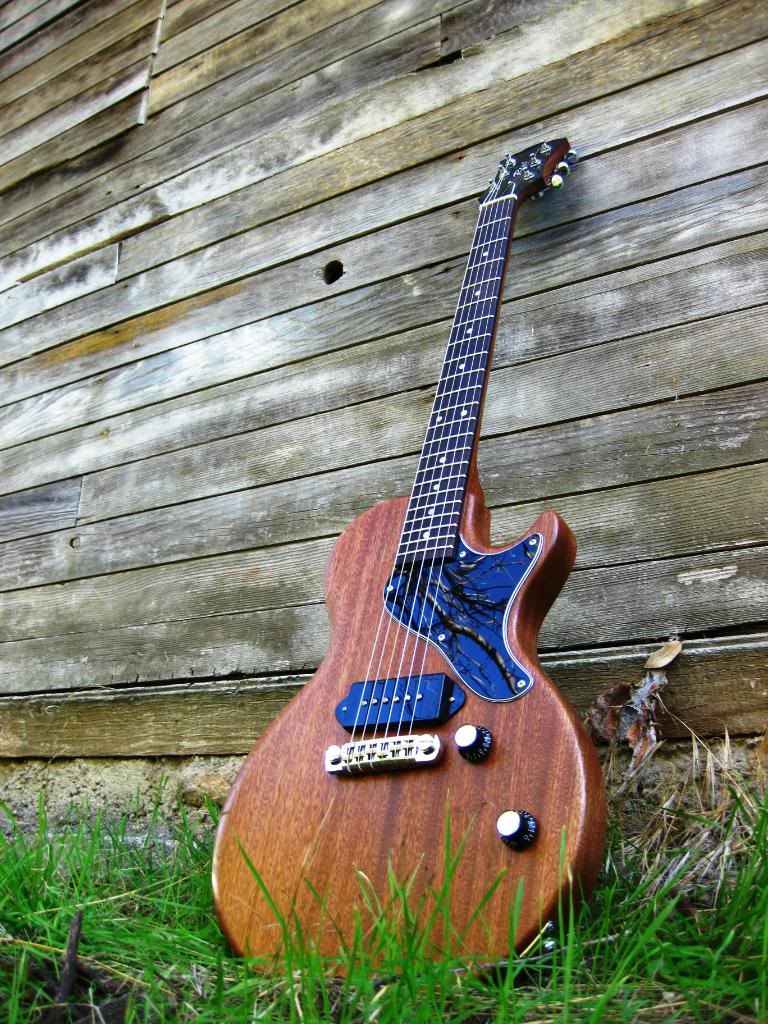 I have always loved LP juniors and P-90 guitars in general.
It has been the "workhorse" of Rock and Roll in my opinion.
One of my favorite guitar players in my formative years exclusively used a LP Jr.
Leslie West of mountain.
Man, how he could make that one pickup with one volume, one tone and a Marshall amp sing!
This convinced me that you didn't need anything fancy to make a 6 string symphony.
This guitar,
The workhorse
, is my tribute to the roots of Rock and Roll. Not the Chuck Berry or buddy Holly roots, But MY roots. Mountain, the Who, Santana, etc. Any one you can think of that utilized P-90s to rock.
I have for years wanted to do a line of "simple" guitars, but being a custom builder people have wanted fancy.
I have not in almost a decade done a set neck instrument that came in under 3k.
In Jan of 09, I announced I was going to be doing an affordable line of guitars.
With the economy the way it is, now is the perfect time to release the workhorse!
Without further gibberish I will tell you about the instrument.
1 piece mahogany body
1 piece mahogany set neck
Choice indian rosewood F/B
medium tall fretwire 24and 3/4 inch scale
Gotoh tuners
Lightweight intonatable wrap around tailpiece
Custom wound WB P-90
CTS pots
Hard oil finish


The guitar is based on that familiar single cut design with modern updates.
1) The neck tenon is much longer than on the 50s counterpart. It actually is as long as a "burst' Tenon.
2)The body is sculpted front and rear. It has a belly contour and a sculpted heel so the access to the 22 fret is effortless.
This is achieved in part by where the neck meets the body.
On it's 50s counterpart the neck joins the body at the 16th fret.
The workhorse meets the body midway between the 16th and 17th fret on the bass side, and at the17th fret on the treble side.
I did subtle changes to the body to give it the improvements I desired, while keeping the classic design elements of the original.
I have built 4 prototypes and now have the 1st final design done. They Rock!
I will only be doing 2 of these a month. No more.
#001 is already sold!
These instruments will be going on the regular market in the 2k range with a hardshell case.
For MLP members I offer a discounted price of 1,895 including case.
For additional info PM me.
cheers
Roman