Joined

Feb 20, 2014
Messages

423
Reaction score

447
Hello All -- the Sgt. here. At long last, I finally scored my bucket-list '61 SG/LP.
Thought I'd take a second to share the long, twisting tale surrounding it with my gear-loving brethern here. A bizarre, guitar-addicted version of the classic Boy Meets Guitar, Boy Loses Guitar, Boy Gets Guitar Back Again story... sort of.

Pretty much, it all started way back in day -- 1983. While on vacation in Hawaii, I found a tiny little guitar shop with some cool guitars and promptly hauled ass back to the hotel to convince the folks to help me get one. My Gibson Sonex 180 Deluxe simply didn't rate, and even at fifteen I already had much bigger ambitions in the perfect axe department.
Parents in tow, it came down to a Sophie's Choice between a bumble-bee yellow Partsocaster with black pickguard(think Brad Gillis-style) and a real-deal original '61 SG/Les Paul. The Strat was pretty flashy and in perfectly in sync with the times, but the SG looked like what Angus and Tony Iommi played, and that was also a big deal. The store owner broke my agonizing impasse by suggesting the SG -- it had these old pickups called "P.A.F.'s", came with the original case and would be a better investment in the long run.
That last part sold my Mom. She promptly wrote him a check -- for $625. I still have the yellowed receipt in front of me, even as I write this.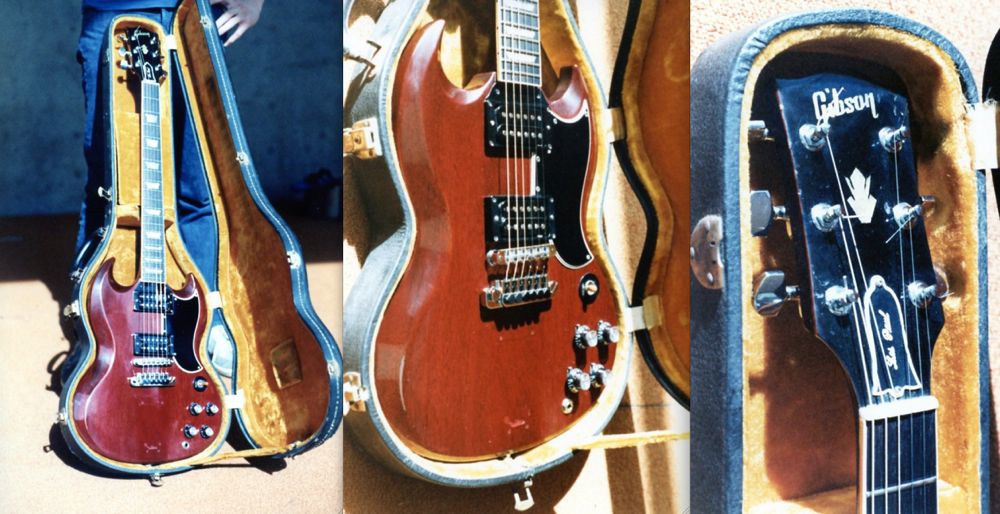 Boy, was (is) my Mom cool! To this day, I've never gotten a better gift. Now suddenly, there I was, a boy and his first serious guitar -- the exact same axe his hard rockin' heroes played! I'm sure the vast majority of you remember that same first killer guitar moment in your own lives as well.
She was Serial Number 133325 (one of the confusing YNNNNN's of the period). I played that beauty day and night. Drew pictures of her on my Pee-Chee's (Google it, Millennial readers) and wore her around the house even when I wasn't practicing new riffs. The sound was amazing, just like Angus and Tony! The neck was wicked fast and fit my hand perfectly. She'd had a stop tail conversion, tuners swapped out for Schaller's, and I added one of those Gibson "fine tuning" tailpieces. Other than that, she was all stock and straight as an arrow. By all accounts, I was "living the dream", a full twenty years before that even became a catch phrase.
When I'd turned thirteen, I was wildly smitten by hard rock and the NWOBHM just as it broke in the States. Late one night on our single-channel cable box ("Visions"), the movie "Used Cars" ended and by chance I glimpsed my very first promotional music video -- live concert footage of Black Sabbath doing "Die Young" on their "Black and Blue" tour with Blue Oyster Cult.
I was dumbfound. Awestruck. Immediately and irrevocably ensorcelled for life. Who were these guys? More importantly, how could I become just like them?
I'd purchased "Back In Black" right off the shelf, the day it hit record stores (low-fi store-bought cassette, actually, remember those?) and crack of dawn next day, I biked to the mall and bought "We Sold Our Souls For Rock 'N Roll". Talk about "gateway drugs". Between that mind-blowing ear candy, the rise of Heavy Metal and my coming find of the '61 SG/LP, it was all over. Thirty years have come and gone, but I've never kicked my addiction to the sound of a scorching guitar... nor do I ever plan to.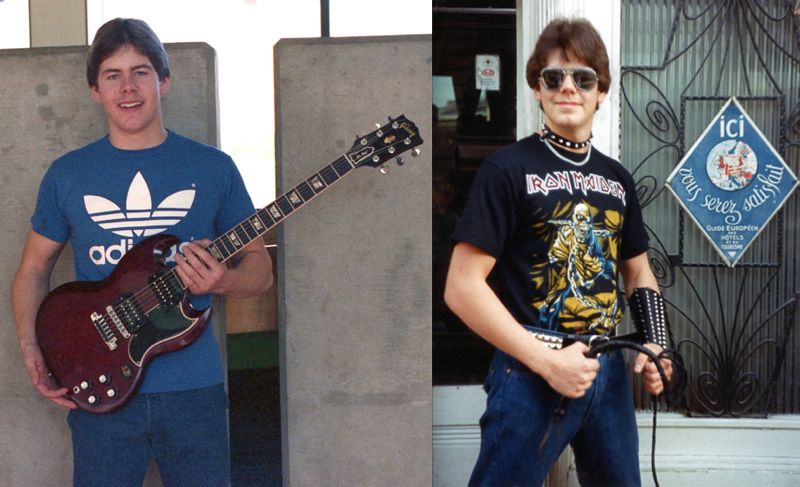 Many of us (most of us?) have classic "the one that got away" stories. Semi-tragically, the testimony below now becomes mine.
Guitar fever hit me HARD after I got the LP/SG, dragging my senseless teenage ass straight down the rabbit hole. Abruptly, I wanted to play/own *every classic guitar* from then on. There were so many awesome axes! Remember, this was the mid-80's -- vintage originals were very affordable, most younger players preferring pointy pink headstocks and freshly-routed Kahler's to the prehistoric relics I was digging. Over a three year killing spree, I went through a king's ransom of guitars any sane adult would've given a nut to keep, all paid for by my job at the local radio station and some measly childhood savings.
Among others, these spectacular guitars included (brace yourself, fellas, it's about to get ugly) a pristine cherry red '66 ES 335, an all-original '55 Butterscotch Tele and a '54 LP Goldtop with the hottest p-90's I've heard before or since. Sick, sick guitars. Epic, behind-the-glass in Arlington and Dallas level stuff nowadays.
And somewhere along the way (predictably, I suppose) I began messing with the SG. Most tragic of my "upgrades" was swapping out the P.A.F.'s for some heavy metal "blade" pickups that were big at the time. OUCH. Believe it or not, the sleazy older tech in my small town kept my P.A.F.'s as part of the deal. "Service Charge", he called it. Just snatched 'em right out from under me without even a hint of fair warning.
Insult to injury, sometime after that, for some insane and unforgivable reason I can't clearly remember, I decided to trade away my first love -- that soaring, rip-roaring '61 SG/LP -- for a custom Tele project guitar some clown had. Yep. Traded them straight across, didn't bat an eyelash.
Talk about retarded. WTF was the seventeen year-old version of me thinking???
For a kid as smart as I was then, it was a mind-numbing low-point, no doubt. And as I grew older and the coming decades began to unspool around me, it became a quiet thorn buried in the back of my psyche. Completely out of the blue, New President after President, I would reopen my investigation and interrogate myself anew about this epic fail. Call it nostalgia, call it pining for lost youth. But silly as it sounds, I never really forgave myself for letting that one crucial, game-changing guitar go.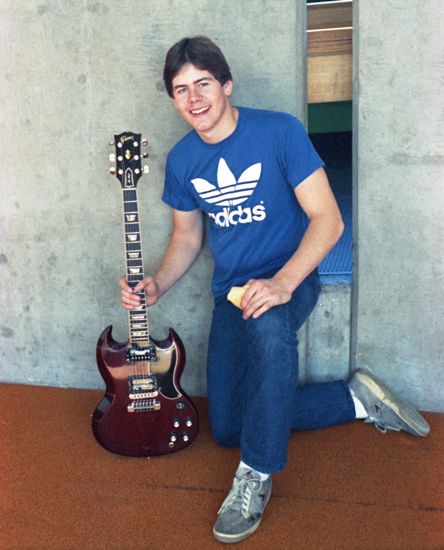 Sure. Life goes on. It always does. I sold off all my guitars and went to college. The last of 'em -- that fire-breathing '54 Goldtop -- was let go for $550 cash to pay for a car. During my twenties, I quit playing for the most part, content to file that chapter away and concentrate on hot/neurotic chicks, writing movies and smoking the best weed in California (no easy task).
Late '90's, I grabbed a beater SG Special with a headstock break to noodle on. Then somewhere in 2006 I stumbled into the Vintage Room at the Hollywood Guitar Center. They had a very nice '62, factory original, fast neck, all that. I found myself excited. What I didn't know was that the guitar market was MOLTEN HOT right then, enjoying an artificially inflated moon-shot driven by hedge fund managers, foreign investors and non-playing collectors -- a.k.a "tourists" and "douchebags".
I asked what the '62 cost. Straight-faced, the salesman told me $30,000. My own expression collapsed like a poorly built pup tent. Suddenly, I was a gear-loving Rip Van Winkle awakening from his long slumber -- immediately fossilized and foolish all at once. Heart-breaking word of this new guitar economics seemed to drive a last stake through my dream of reacquiring "the one that got away" and making up for my past wrongs.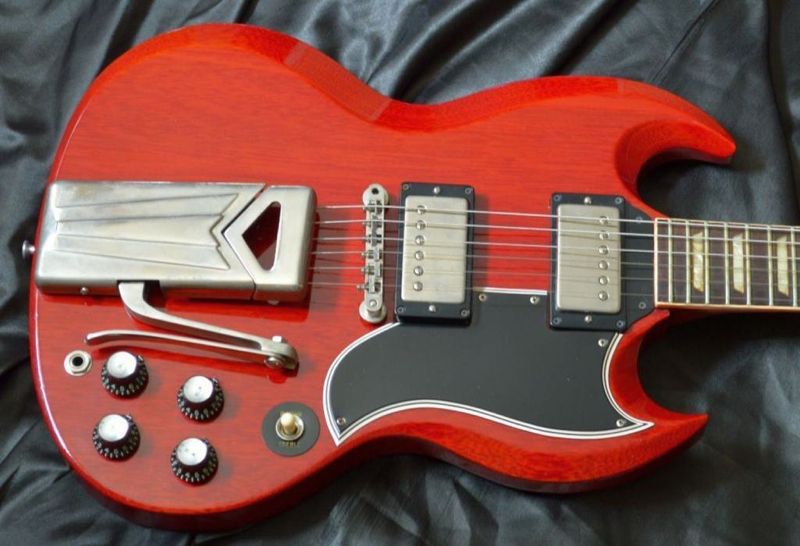 Around that time I got the guitar bug again. Not even sure why. I got turned onto PRS and became a serious player and collector. Beautiful amps and axes came and went as I started indulging my G.A.S. all over again... now at the big boy, disposable income, adult taxpayer level
Then last August I was vintage Tweed surfing on eBay. I stumbled onto a super-clean '59 Vibrolux with a very plain listing. The seller was clearly an actual human being and not some dreaded "power-seller". The price was very fair, the amp looked brand new and in the description it mentioned to check out his auctions for other gear.
I clicked "See Other Items" and WHAM! suddenly there she was -- a stone-mint 1961 SG/LP staring me right in the face. She looked factory-new, virtually unplayed, and the brief text explained the owner had purchased her off the showroom floor in '61, then put both her and the Vibrolux in storage around '68. This gentleman had recently passed, so his younger nephew was selling off his gear for the family.
That's right -- the guitar had been in storage for 45 years. Which explained her condition and being completely original with ZERO issues. And the asking price was low. I mean CRAZY LOW. I could actually afford this!
Now the other shoe dropped. My eyes bounced to the Auction time --
it had already ended one day earlier
. ONE DAY! The Guitar Gods had smote me down yet again! I cursed the smirking heavens. "No! NOOOOOOOOOO!" (pretty sure some of you have experienced the horror movie gear moment I'm talking about here.)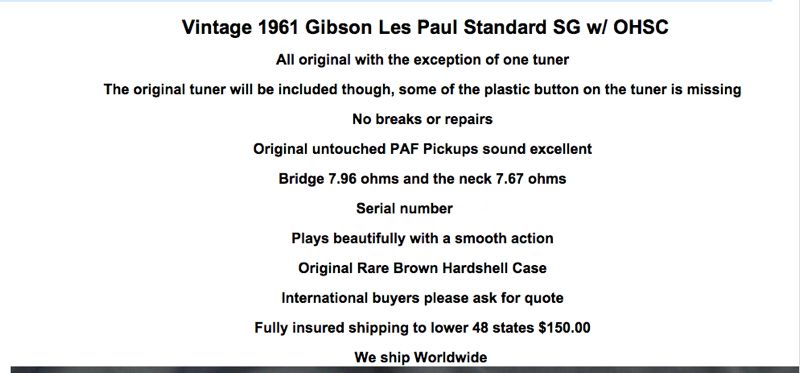 In the following days, whatever scabbing still covered my thirty year wound was completely torn away. I searched the SG/LP listings like a NYPD Detective.
Sure enough, the SAME GUITAR was relisted within a week.
But this time it was a Power Seller. And this time is was THREE TIMES the price. The lucky bastard who'd grabbed it knew he'd scored the deal of the century and was pressing to flip it a.s.a.p. and triple his money.
When I saw the new price, my heart sunk and I simply powered my MacBook down. Obviously, the Guitar Gods were not in a forgiving mood. Three decades later, it appeared they would never grant me pardon for my adolescent sins.
Fast forward to early December 2013. I was in the process of downsizing, selling off a ton of nice gear. Three pretty expensive guitars, three expensive amps. Completely on a whim, I searched SG/LP's while busy listing them one day on eBay.
Lightning struck again. That's right -- Twice. Something that's never supposed to happen.
The same guitar was listed in an open auction by the same seller
. Evidently, the five-figure flipping price from months prior hadn't been well received in the strongest buyer's market in our lifetimes. Now that immaculate '61 was wide open in a reserve auction. The description was pro-style now, and it confirmed my suspicions that this dream axe was indeed stone-cold good to go.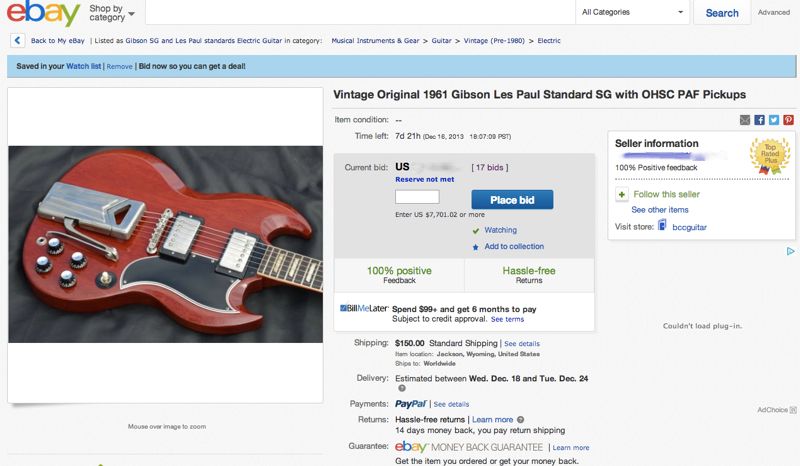 I pretty much pissed myself, right?
Then it hit me, all at once -- if not now, when?
I'd been playing this masochistic game of approach/avoidance my entire adult life. Now I was 46, fresh out of excuses and light years from that spry young metal head. If I wanted to own and play a legit '61 SG/LP and could swing the cash without losing my home, why the f--k NOT get it? God Only Knows how many guitar playing years any of us have left. Which would I regret more -- spending the money or not pulling the trigger when I finally got another shot? (Dumb question, I know...)
I promptly did what any sane middle-aged man with my tortured backstory in my predicament would do. I contacted the seller, impressed upon him how serious I was, and urged him to contact me immediately to see if we could work something out -- saving him a ton of time and me hopefully some money.
Pretty quickly the seller called. A stand-up older guy from the Midwest, totally old-school and clearly a veteran pro when it came to vintage. I blew my tale of woe by him, he revealed the reserve price and gave me the scoop on the guitar. At long last, here it was, The Moment of Truth. I went all in, Texas Hold 'Em, making him the best possible offer I could and offering to pay via bank wire transfer first thing Monday morning.

The seller promised to call by Sunday night, said he needed the weekend to think about it. Totally reasonable. I thanked him, no further sales pitch, hung up, and went back to haranguing my getting-angry-and-beyond-sick-hearing-about-it girlfriend about how perhaps the Guitar Gods had finally taken pity on me. She violently wedged in her earbuds and took sanctuary in a new episode of "Snookie & J-Woww".
Sunday evening I got a text -- we had a deal. Three days after that FedEx delivered. Man, did they deliver.
When I first took this jaw-dropping 1961 SG/LP Serial #6XXX from her brown Lifton case with purple lining, my jaw hit the floor -- but my stomach dropped right alongside it. Why? She seemed almost TOO clean, I mean IMMACULATE, 9.9 out of 10 condition. Hell, she looked even BETTER than the pics. The finish was such a deep, rich cherry red it kick-started all sorts of crazy paranoia.
Was this one of the trillions of reissues out there some scam artist had passed off as a legit '61???
I mean, it couldn't be this, well, PERFECT, could it?
But yeah, it was perfect. Everything checked out, from the P.A.F.'s to the electronics to the serial number and so on.
Two thousand words in, my friends, I won't bore you with some hyperbolic tone report, stressing her "vibe" and "mojo" and all those other on-line phantom intangibles so predictable to these threads. Suffice to say, this is hands-down the best '61 SG/LP I've ever played -- eclipsing even my first-love original. She has the fastest '60's neck I've experienced on any period Gibson, and the sound is beyond sick. I'm a pretty brutal critic when it comes to buying guitars, and if she had been a lemon in any way, you wouldn't even be reading this right now. But I feel supremely confident saying to file #6XXX under "Dream Come True".
That's it. The whole sordid saga so familiar to guitar players and guitar lovers across the globe -- beginning in a naive, youthful guitar paradise, then bravely deciding to force march through the gear world, journeying from ocean to ocean, pole to pole, in search of something else, something "better", "newer", "cooler", "hotter", "more modern" or "more you"... only to end up right back where we started, grasping the simple, direct, unsurpassed elegance of the original incarnation.
Or as Thoreau so perfectly put it a century and a half ago --
"
The youth gets together his materials to build a bridge to the moon, or, perchance, a palace or temple on the earth, and, at length, the middle-aged man concludes to build a woodshed with them.
"
If by chance you're still reading this, thanks for taking the whole trip with me. This certainly isn't a new story, just my particular version of a very old one, destined to be repeated by new players over and over throughout decades to come. Happily for me, it's a story that has a very happy ending.