Joined

Aug 22, 2010
Messages

1,516
Reaction score

1,170
Thanks to the wonderful Gil Southworth, I am now the happy owner of this beautiful 1964 SG Standard apptly named "The Magic Marker". I will call her Maggie for short. OK, if you want to get super technical it's actually a very early 65 in serial number only but with 100% 64 Specs (and 64 dated pots). If anyone was wondering why I posted that I am selling my 65 Ruby, well, now you know

This deal definitely takes the cake as the funniest deal I have ever done with more twists and turns than I could possibly even remember to write (or anyone would want to read about so I'll skip that here), but all of them were pretty funny to both Gil and myself and I couldn't be happier with how things turned out.
She is an absolute feather weight weighing in at 7lb 2 oz. and she rings like a bell with two beautiful early patent number pickups. The bridge pickup is a super hot 8.44 which screams, and while the neck doesn't read as high output wise they match up great.
She has no breaks cracks or repairs of any kind and aside from the tuners is 100% original. She was Grovered at some point and then a later set of Kluson's was put back on. I am thinking about putting the Grovers back on since the damage was already done there and they are better tuners.
The only other issue which is VERY minor is the solder joints on the top of the tone pots were disturbed when some moron made a slight change how the caps are connected. But none of the parts were changed in the cavity. I will be having the caps moved back to the correct position. The solder joints tying the pickups and harness together are 100% virgin though. For a 48-49 year old guitar I think these 2 issues are minor at best (and really, how many guitars were Grovered in the 60's anyways.... TONS) and this guitar has that 'it" factor.
Gil was a gentleman and was a pleasure to deal with. Thanks again Gil!
And now for a few pictures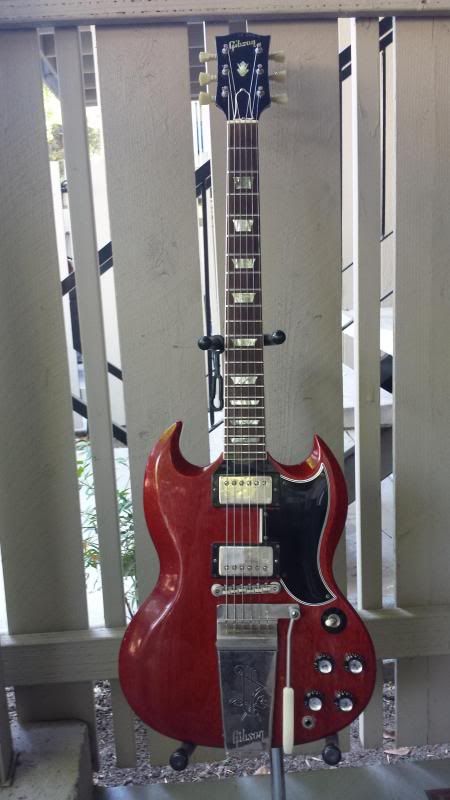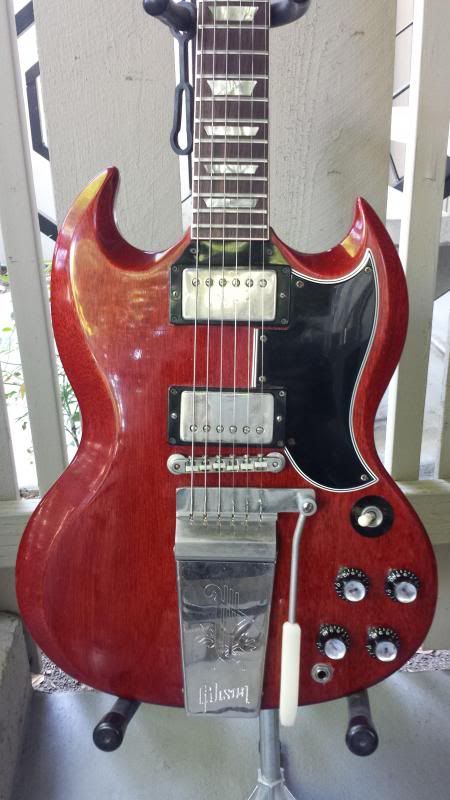 And the reason for the name, the top of the veneer had some minor chips and magic marker was used to black it out lol