Joined

Apr 7, 2008
Messages

2,422
Reaction score

1,183
Well I've actually had the guitar a couple of months now but anyhow.
This is my first vintage Les Paul standard and I tried a total of 4 on the way to this one. I was using a 54GT replica with original pots and pickups as my benchmark so was only gonna walk away with one that matched or surpassed that guitar, which has been a go-to for many years.
Well, safe to say this guitar managed to do it. It's an absolute belter. An honour to be able to play this thing after listening to Freddie king and Sean Costello growing up and always dreaming of having an original one day.
A hair under 9 lbs, two very well matched p90s and untouched electronics - amazingly the pots are super smooth and even, with no crackles or drop outs anywhere. All other parts original save for a one strap button, which I don't really have any intention of changing - part of the guitars history! Some minor fret wear up in the cowboy chord area but not much. I'm gonna enjoy it for a good while before I think about having the frets levelled out. Neck is lovely - not particularly big at all.
Only things I've done are swap out the old tuners which were functional but a bit stiff, and have the typical stud lean addressed with some full legnth vintage bushing and studs. That necessitated a different wraptail bridge as the original was a thin ear. So I put a mojoaxe on and it now intonates bang on every string. That's the same bridge I have on my replica and I really recommend it for anyway really looking to play a vintage Gibson. Original parts in the lifton case for safe keeping.
Interestingly it sounds noticeably better still with the longer studs and bushings. I guess it's hardly surprising when you see how tiny the originals are - really very littl metal to make contact with the wood and transmit the string vibrations. Can't believe Gibson thought they'd get away with them without issue!!
I should also highlight that the slight loss of paint around the tailpiece bushings was there before the longer ones were put in. I think someone had already had the short ones out to take a look at the leaning issue sometime previously as the luthier who replaced them said someone had glued them in...perhaps they were being pulled up out the body or something, who knows. Or maybe it was simply the leaning of the studs that caused some of that finish to come off...I've seen it on other old goldtops also.
Anyway will do a video Vs the replica in due course but for now here are a few photos to share.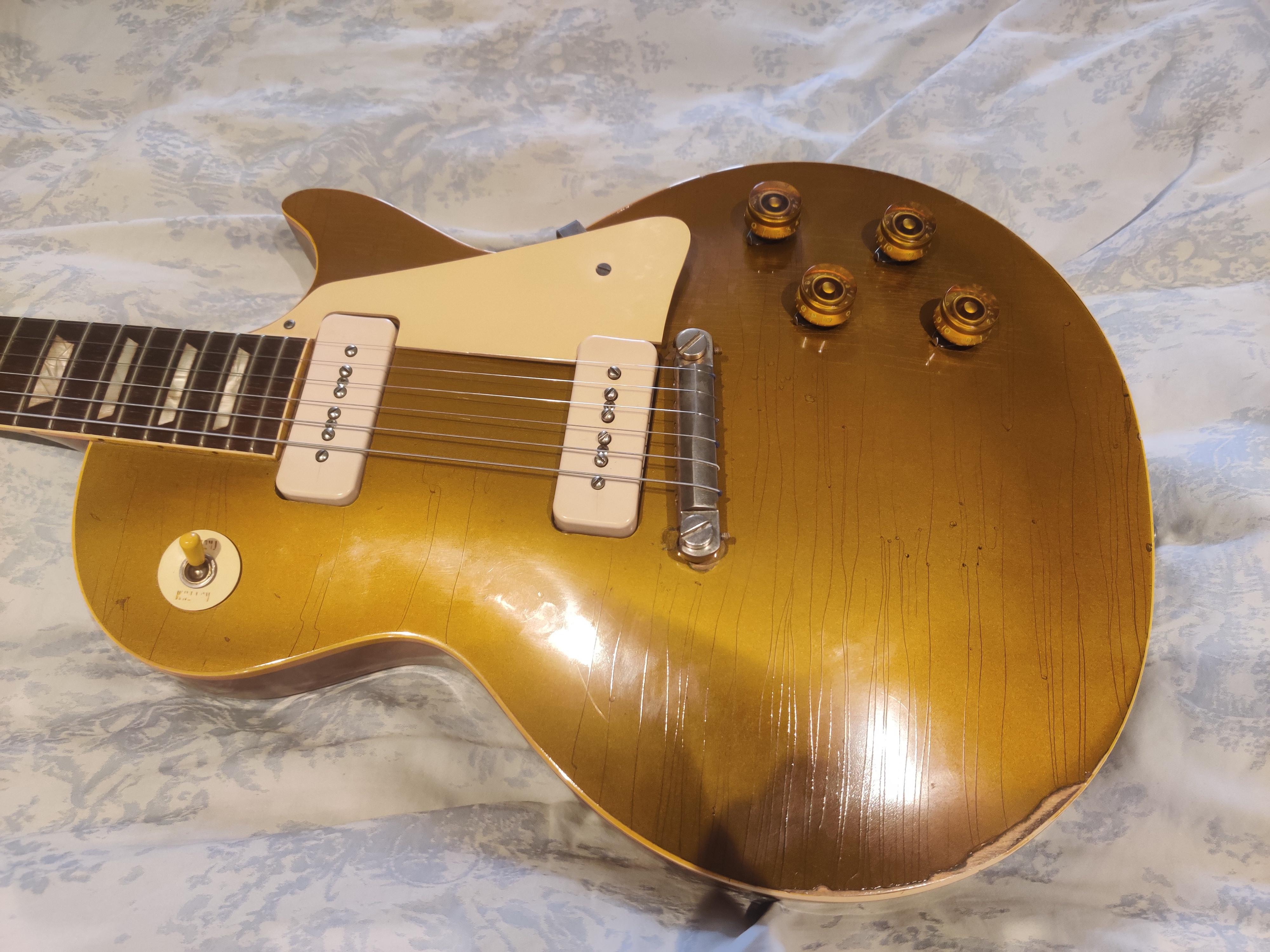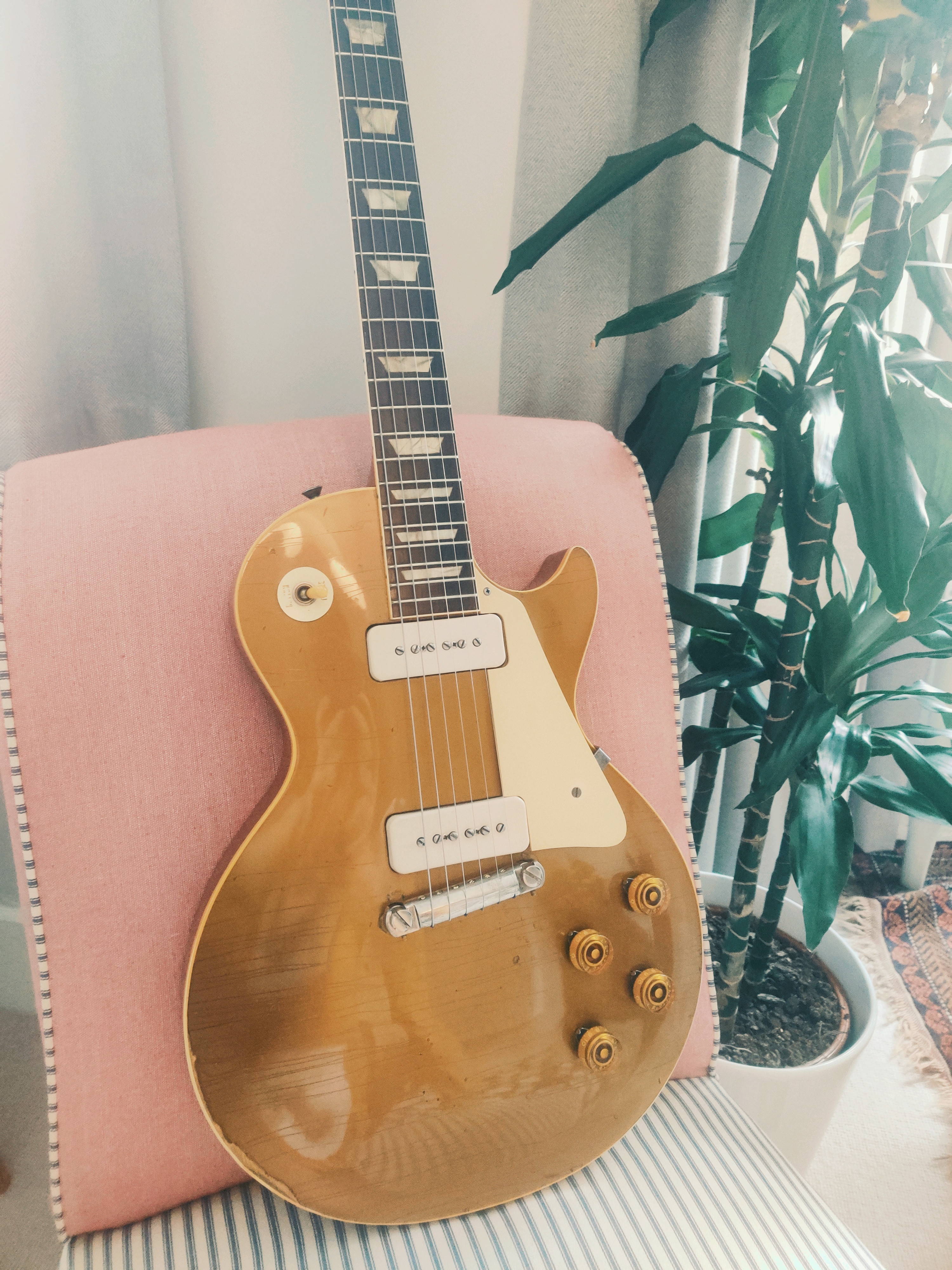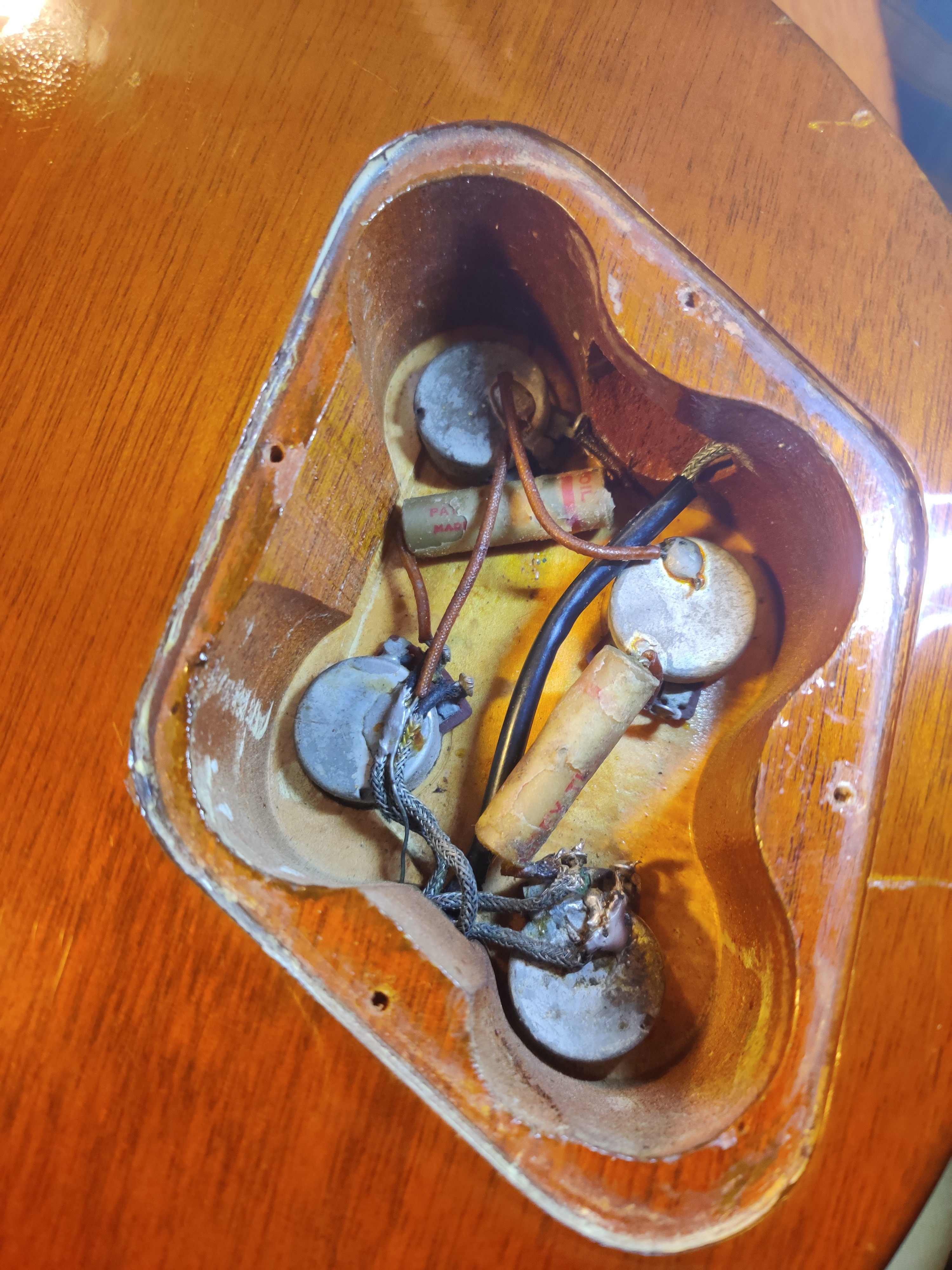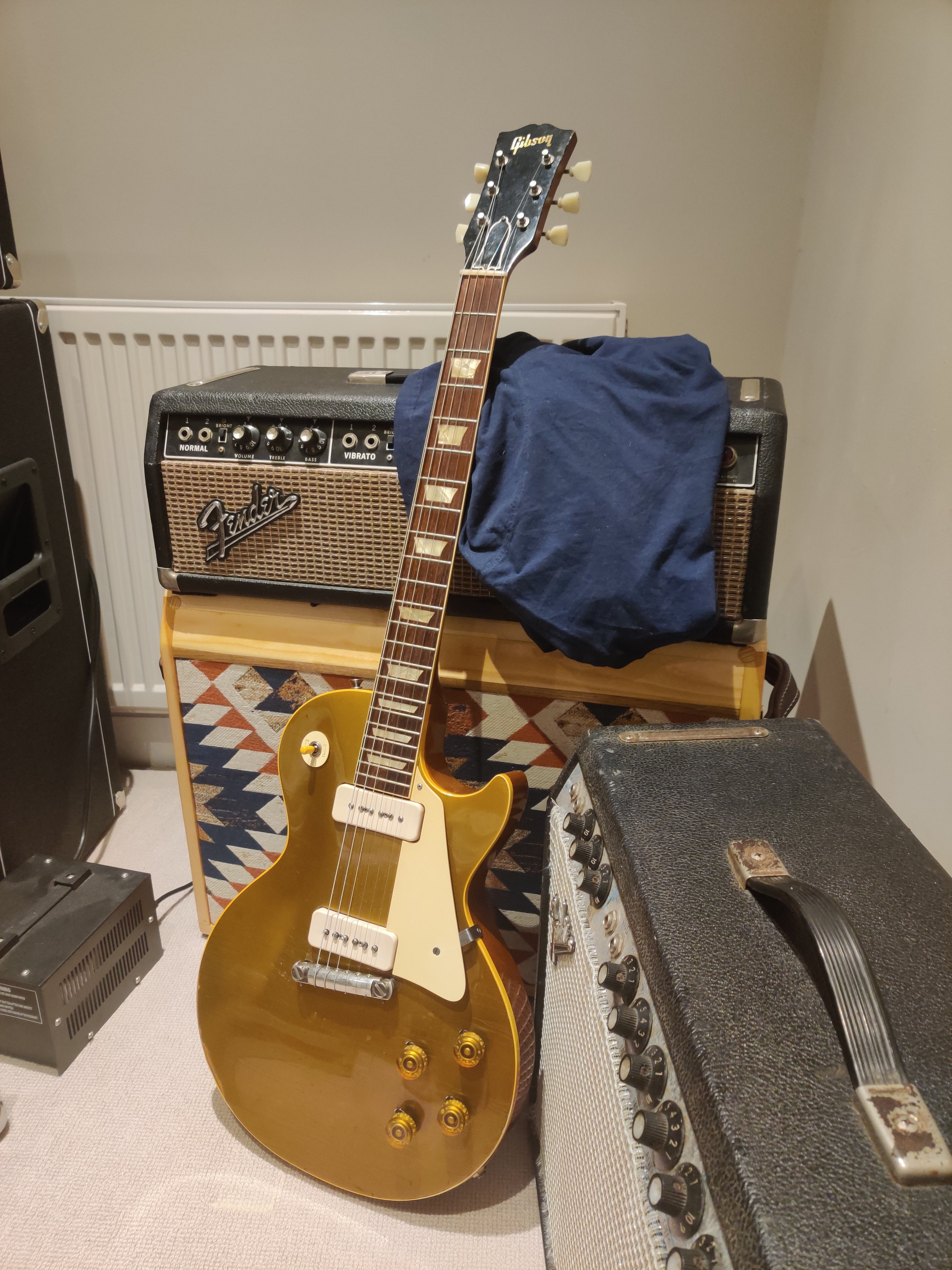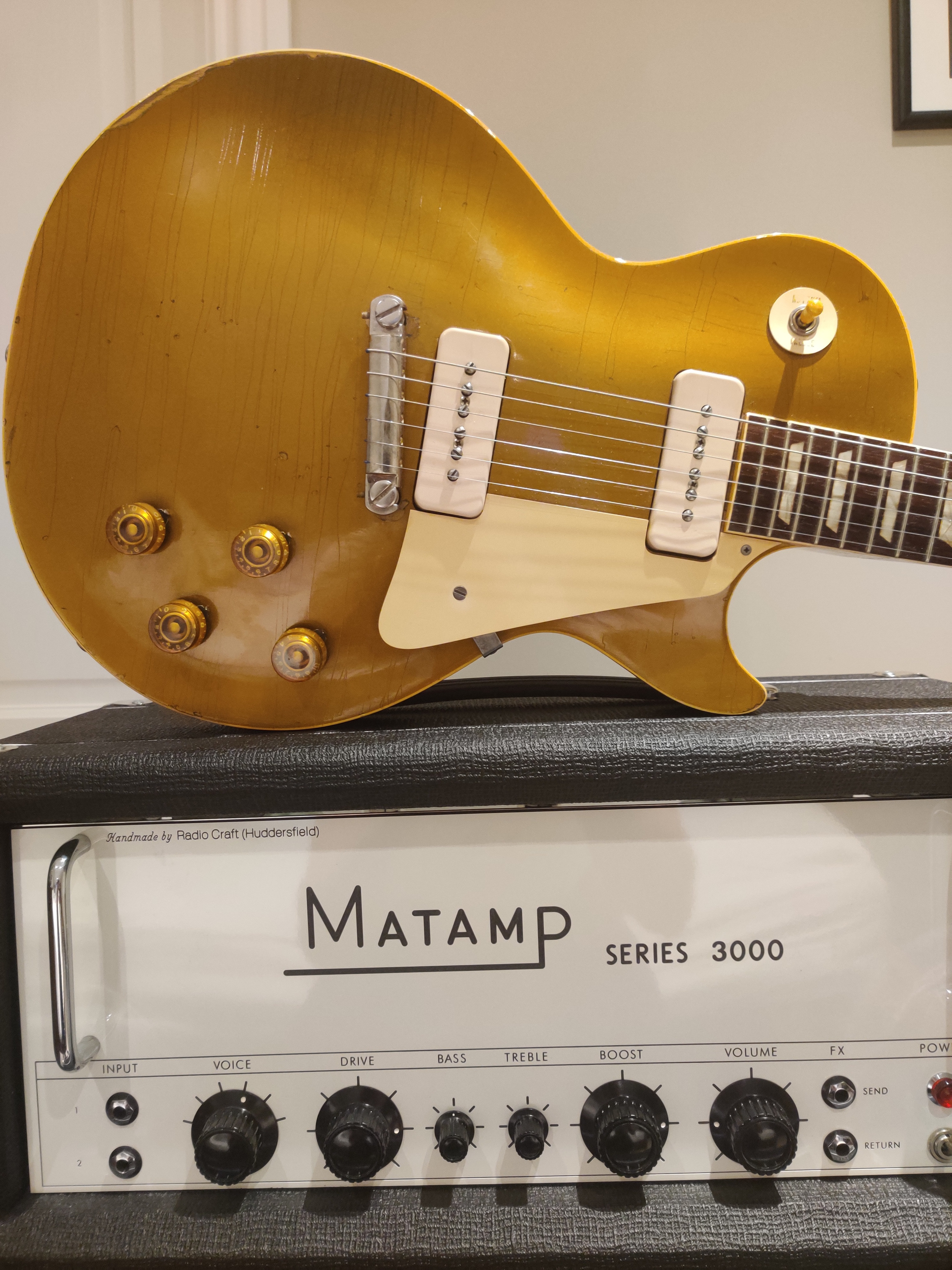 UPDATE: Video Clip
I'll caveat by saying I'm very new to the slide...just recovering from a broken hand at the moment! Anyway, playing it through my 65 Bandmaster into a JBL D120F. A little bit of Jan Ray for drive, which does a decent impression of the Bandmaster cooking but at lowish volumes. Treble pickup tone is on about 6 and neck full up. Just recording through an iPhone mic
Last edited: