By popular demand, we are pleased to offer a complete wiring upgrade harness & switch assembly for 3 pickup Les Paul style guitars. Unlike the modern stock wiring which offers limited use of the middle pickup, we wire the harness 50's style with a push/pull pot in the bridge tone position to engage the middle pickup with either the neck, neck and bridge, or bridge (middle pickup cannot be used solely on it's own). This harness comes complete with a prewired toggle switch and input jack.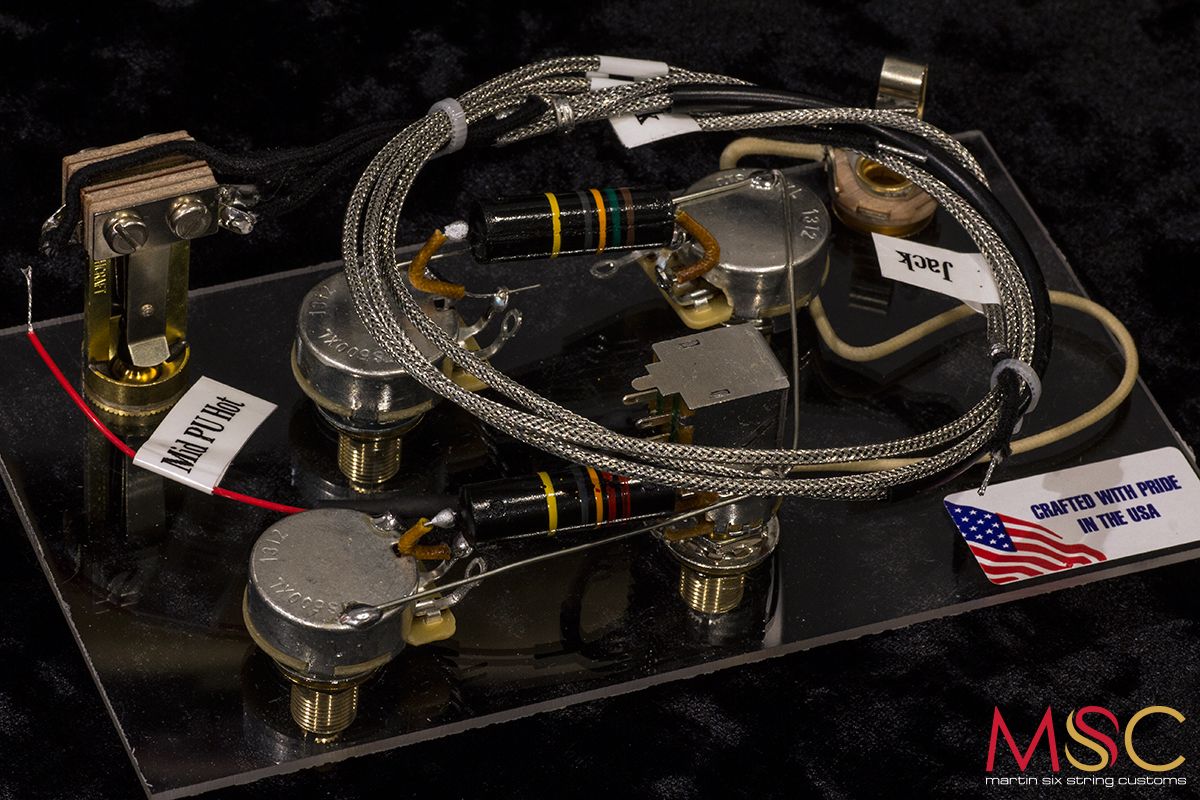 Each pre-wired harness includes the following:

(3) CTS 550K Premium Custom Audio Taper Long Shaft Potentiometers with 9% Tolerance for both volume positions. These are not your standard issue CTS pots. These premium pots are spec'd at 550K to ensure that pots meter no lower than 500K. These pots have a very responsive sweep and are metered for optimal placement in the harness.
(1) High quality US Spec 500K Long Shaft Push/Pull potentiometer w/ brass shaft for the bridge tone position.
Your choice of either New Old Stock (NOS) Russian K40Y-9 .015/.022 or Luxe Bumblebee .015/.022 Paper in Oil Tone Capacitors.
Oxygen Free, Teflon Coated Hook-up Wire
Each harness is meticulously wired 50's style and properly grounded with vintage correct 20AWG bus wire.
(1) Prewired Toggle Switch wired 50's style with single conductor braided wire and NOS #8 PVC tubing.
(1) Switchcraft 1/4" Mono Input Jack.
All harnesses are tested prior to shipping to ensure proper operation.
Full Color Wiring Diagram Included.
Purchase -> Here <-