Hello,
I recently acquired some Epiphone Pro Alnico Classic PUPs that I'd like to install in my 2007 Epi LP Standard. I am new to pickup swaps. My problem is this: The new pickups have 5 bare wires with the green and white already soldered together. The push/pull volume pots have a board and quick connectors. I expected the pickups would come with the 5 pin quick connect attached. Silly me. Having no experience with changing out pickups, I'm wondering if someone can help. I think I have 3 choices.
1. Find a matching 5 pin quick connect online or at a store and some crimps. These might be what I am looking for:
2 Quick Connectors for Epiphone Guitar 4 Conductor Pickup Crimps Solderless | eBay
2. Bypass all quick connects and wire these using a wiring diagram like this: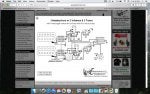 If I go this route, do I still use the quick connect from the 3 way toggle to the pots? Do I have to remove the current quick connectors or cover them with tape?
3. Ignore the new pots and wire it to my current pots and loose the ability to coil tap. My guitar currently has 50s style wiring from Toneman Guitar on Reverb.com. I have to say I like the upgraded 50s style wiring.
Any help would be greatly appreciated. I'd prefer to have the ability to coil split. I don't mind soldering as I did it when I upgraded my pots so I just need some direction on how to do this. What connectors I need to buy if any. Basically I'd love someone to pick option 1 or 2 and tell me what to do. I'm a good listener.
Here are the pictures of the wires and pots:
Wires and Pots. You can see the green and white are already soldered together.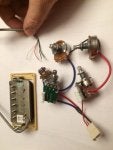 Here is a closeup of the Pot with quick connect.