Joined

Nov 14, 2010
Messages

78
Reaction score

9
Well, after hanging around on the site more lately and really jonesing for a new Les Paul and after following several of the 2017 LP threads including Mondoslugs GT thread, I decided to pick one up. Well a couple actually.
First is the 2017 Tribute T in honey burst. I just love the look of a plain top and a satin finish so this is right up my alley. I actually played a few in a couple of different stores before picking this one. It plays, feels and sounds awesome! It even has a nice smell to it (as I think someone else mentioned on here somewhere). I did have to ditch the pickguard andthe knobs. I much prefer the Amber knobs. Anyway, I love it,
Then a few days later this 2014 LPJ showed up in the used section of the local GC. I was immediately drawn to the look and the satin hardware so I played it for a bit. Now the LPJ has a 50's rounded neck as opposed to the 60's slim and as I mentioned in Mondoslugs thread I prefer the slim....but my Epi Trad Pro has a beefier neck and I am used to it so. Well I just kept thinking about the LPJ. It stayed at the store for over a week. I figured it would be gone as they had a pretty good price on it and it is in excellent shape. Well, I went back and it was still there and I played it again and decided I couldn't pass it up. It plays and sounds so good and I'm fine with the neck. I think I prefer the 490's on the Tribute a little over the 61' Zebras but they are good too. I got rid of the poker chip, the black pickup rings and the knobs and went with cream rings and amber knobs again.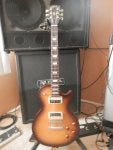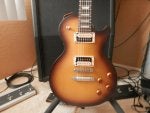 Are there many player's here that play both the 60's slim and the 50's round? It seems like most are one or the other.
Anyway, I love both of these Les Pauls!