Joined

Oct 28, 2010
Messages

34,011
Reaction score

158,756
Howdy, y'all!

About a year ago, I was messing with a song originally recorded by The Pretenders. The song was "Kid", which features one of the most interesting solos to emerge from the New Wave era-- and that solo was recorded on a Telecaster played by James Honeyman-Scott, who has always been one of my favorite of the New Wave guitarists.
While working up the solo, I found that none of my guitars was sufficient to recreate the jangly, twangy, festive sound that James Honeyman-Scott managed to interject into that song, and man, I tried everything... and on all but one of my electric guitars, which is to say on all of my six-stringed instruments. But no matter what I did with my amps and pedals, and no matter how I set up my pup selectors, I just couldn't get
that
sound. I could fake my way through every other Pretenders song but that one... but this time, nothing was really cutting it.
[ame="http://www.youtube.com/watch?v=ZbC8JltxSq8"]https://www.youtube.com/watch?v=ZbC8JltxSq8[/ame]
In the MTV video, JHS was shown playing the song on a Firebird, but by the sound alone I knew it was a Telecaster. Digging around on the Internet, I found this interview where Honeyman-Scott himself said that the song was recorded with Chrissie Hynde on an ES-335, and himself on a Telecaster... and never mind the MTV video, where he was shown playing it on a Firebird for some reason...
James Honeyman-Scott: The Complete 1981 Pretenders Interview | Jas Obrecht Music Archive
Clearly, it was time for me to finally get my hands on a Telecaster. It is simply the case that the clean, native voice of that instrument isn't quite duplicable by means of any other instrument whatsoever. Like the 12-string Rickenbacker electrics, there is simply no other guitar that sounds quite the same and that is simply the alpha and omega of that particular reality. When Leo designed the Telecaster, he didn't just knock it out of the park-- he knocked it clean out of earth's atmosphere and into outer space... it should be arriving in Betelgeuse any day now...

I had to laugh. You know, I was actually Telecaster-resistant at one point in my guitar playing career. Never mind the many, many great players who favored the instrument, my attitude towards the Telecaster was that I simply had no need for that particular tone-- at least, not until I started playing a lot of stuff by the Pretenders. Now, however, I can't figure out how I survived this long without one.
Forthwith, I began lookin' around at Telecaster guitars. But then I got to thinkin' about Vic and his B-Bender, which was built for him by one of this site's luthiers-- Lt. Dave! It was likewise propitious that even as I was dialing into the reality that I actually *needed* a Telecaster, Lt. Dave happened to be talking about the breed in the Mad Hatter thread, where every Tuesday is celebrated as "Telecaster Tuesday"... much to the dismay of Mindfrigg, who isn't exactly a fan of that particular instrument.
One thought led to another, and the next thing you know I was on the phone talking with the Lieutenant about perhaps getting him to build a Tele for me, too. After all, the one he built for Vic was absolutely gorgeous-- and I figured that any luthier who can build a B-Bender and have it come out sounding as great as Vic's guitar sounds, can probably build a regular ol' Telecaster easily enough
So: add a little bit of money and some months, and eventually Dave put that sucker together for me... and I just got it on Wednesday.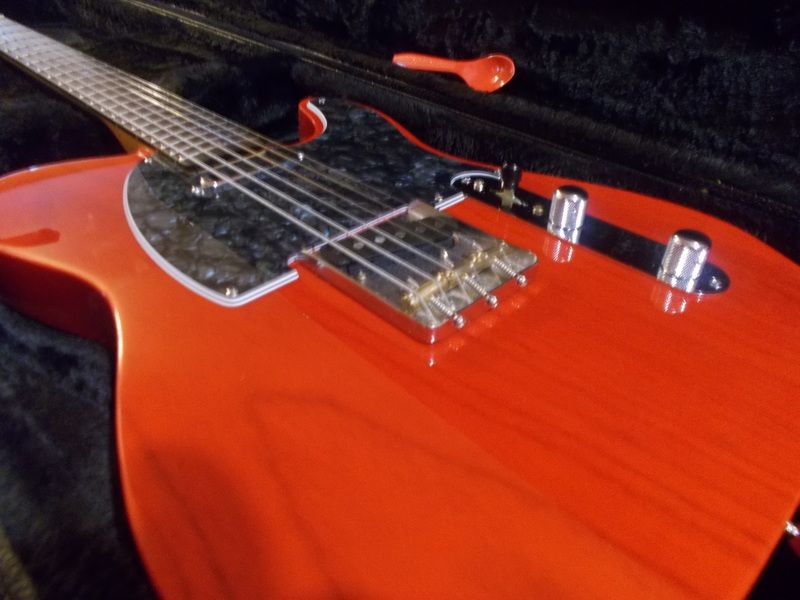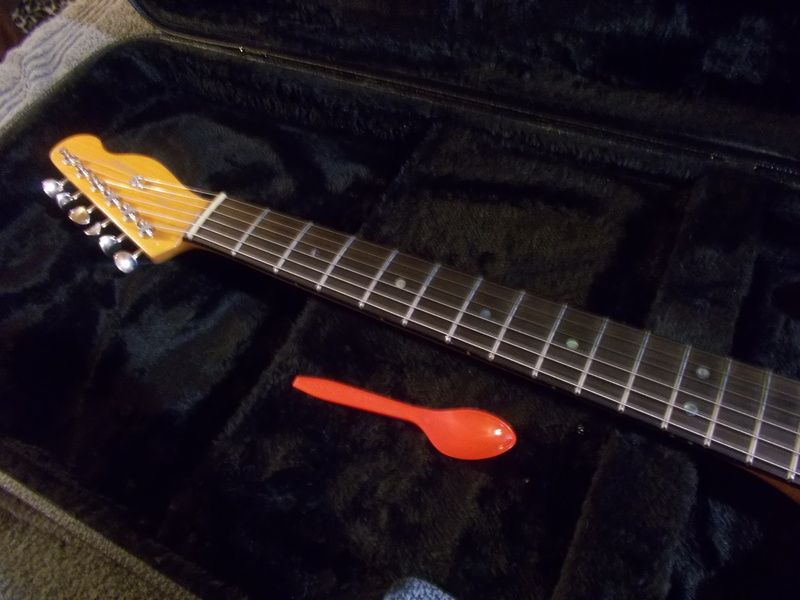 I haven't even logged onto the site but once in the last 36 or so hours... too busy playing the new Tele, learning of its capabilities, and just loving life the way a player loves it when he's got a guitar in hand that is so Beyond Bitchin' that it's almost ridiculous...

Including this new Telecaster, I have a total of eight electric guitars... and I love every one of 'em. But nonetheless: they all got demoted two days ago in the face of this new overlord of theirs... my hell-red Telecaster.
The photos of it are pretty good... but even the best of the many photos taken of this one by Dave and by myself do not really do the instrument justice. It would probably take a pro like Dilemma to bring out the true, awesome beauty of this beast...
And then there's the sound of the thing-- which is simply jaw-dropping. Dave loaded 'er up with a Black Scotch pup set from Electric City, which is one of the sites vendors... and man, if you ain't happy with what you've got on your Tele, you can't go wrong with these. The bridge pup features that trademark, characteristic Telecaster tone-growl, with all the top end you'd ever need to cut through whatever racket the rest of your band is making, for sure. Then there's the neck pup, which is-- like all Tele neck pups-- a sort of "plain vanilla" guitar sound.
I'd almost say that the sound of that pup is "generic", except for one thing: even with Plain Vanilla, there are different grades of lusciousness. Like, you can go get sawdust-tasting el cheapo vanilla down at the grocery store, or you can instead buy a premium brand and get something which, while just vanilla, is distinctly better. That is to say: there's such a thing as "vanilla" and then there's VANILLA. The Black Scotch Tele neck pup is the latter, and it's about as tasty a tone as you're ever going to hear out of a Telecaster.

In the middle selector position, both pups at once, this guitar becomes something I never quite would have thought of while thinking of a Telecaster sound. Depending on the type of pick attack and how stiffly one holds the plectrum, I was able to coax a sweet sound in the upper registers that sounded almost like a woman singing while taking it easy on the attack... with the lower strings and pitches being a mellow, almost murmuring kind of sound. But when I stiffened up the grip and put some ass into the string attack, I was able to get that Telecaster to shriek like an enraged banshee in the higher registers, and to roar like a berserker bellowing a promise of death in the lower pitches. Both regular and pinch harmonics are so easy to pull off on this guitar that it's almost stoopid...

I was astonished. I never realized that a Telecaster could be such an expressive instrument as this. Man, it was almost scary!

Suffice it to say that this Telecaster is gonna take me to places I never would have imagined myself visiting, musically speaking. It has become my primary guitar-- my Number One ax-- and that's not just an expression I'm offering because the guitar is new and I'm all trippy about it. I've gone through this "new ax love affair" thing several times in the past, and I know how it all goes... but the way I feel about this guitar is something I never felt before.
Playability is amazingly good. Dave set 'er up with what I'd call a "medium low" action and there ain't a dead spot anywhere on the fretboard. It plays smoothly enough that barre chords on fret 12 are simply a matter of squishing one's fingers together enough not to clam it, but she still sings like the Sirens of Greek mythology even there. This is probably the smoothest action I ever had at my fingertips before, and it's really something to admit that to the board. I don't have any cheap guitars, but this Telecaster is nonetheless the best of the lot at my disposal.
I asked for and received an ebony fretboard. During the planning stages, I asked for a gray telecaster and that the fretboard, dyed flat black. I figured this thing would be a workhorse instrument, and eh: who cares what it looks like? Always the Philistine, I was essentially indifferent to such things as color. I've walked into a store on more than one occasion with a certain finish in mind, and walked back out with something totally different that I picked because I liked the neck (or whatever) better than the guitar in the color I was originally looking for.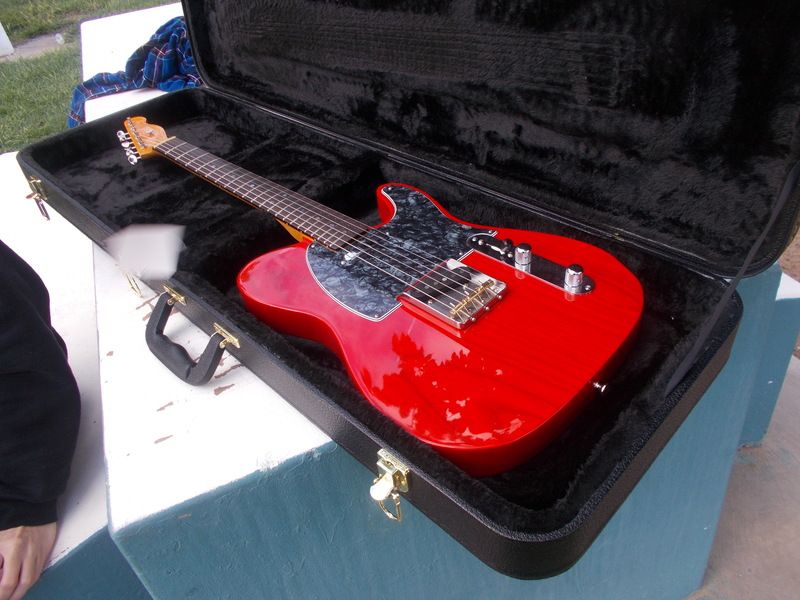 Enter Dave. Being perfectly frank, the man told me that while he could do the guitar in most any color at all, that what I was asking for was a fairly boring kind of color scheme... and then he started sending photos of Telecasters in other colors, more or less offering alternatives to the drab appearance of the guitar I had in mind. We ultimately decided on the trans-red that you see in the photos, and here I have to thank Dave profusely for being considerate enough to direct my attention to possibilities I never really would have thought of.
The fretboard didn't end up being dyed at all, either. Instead, it's just the natural color of the ebony he was able to get-- the shade is somewhere between milk chocolate and dark chocolate. There was some difficulty in sourcing it, I might add. Dave gets his woods from the same source that Fender does, but hey: for a while there he couldn't find a piece of ebony to serve as the fretboard that he'd be willing to stick on somebody's guitar. It actually took some doing to get his hands on the right stuff... but what I ended up with is very much to my liking. It's hard as a rock, slick as obsidian, and man this is one
fast
fretboard!

Actually, every little bit of this guitar (except the pups and wiring harness) gave the man a little bit of trouble. When he first got the body blank he was concerned that it would end up too heavy, but after working with it he found that no-- it was gonna be just fine. I don't know how much the guitar weighs, but I do know that when I hefted it in one hand with my Stratocaster in the other, it's actually about the same as the Strat-- and maybe a little lighter.
I must also say this: when I requested that this instrument be built, I didn't know very much about guitars-- any guitar-- at all. I just play 'em, folks-- I don't really think about specs much.
But to build the guitar, Dave asked me about my preferences constantly-- always finding that he had to actually explain the choices I had to make, since I didn't have a clue. I honestly thought I just had to say, "Gray Telecaster, ebony fretboard" and that would be the end of it.
And so it was that I spent many hours on the phone with Dave along the way-- mainly so that he could explain to me what the heck he was talking about when he asked me about things like neck radius, scale lengths, and so many other details that it made my head spin. But to Dave's credit, he was quite patient while filling me in about all kinds of things I never gave thought to before, and so just the education I received along the way was remarkable.
I will also say this: I'm aware of the prices that Fender charges for custom shop jobs, and I'm aware of what I paid for this instrument. The quality of this build is so high that I feel like Dave must have been wearing an oxygen mask while building it and then parachuted back to the earth, guitar in hand. It's easily comparable to my PRS Artist V in build quality, and is equal to anything Fender ever cranked out of their custom shop-- and is maybe even better. While speaking with Dave along the way, I realized that this man was so detail-oriented it wasn't funny. He could probably tell you the name of the mine where the iron ore used to make the screws holding the pick guard if you asked. He is fussy, fussy, fussy-- and his approach to building guitars speaks as much of the artist as the artisan. It was a definitely a trip talking to the man as he conjured this guitar into being... I mean, I think there might even have been
witchcraft
involved!

While discussing the price involved, Dave laid it down for me straight up-- no monkey business or iffy crap out of that guy-- and then asked me if I thought that he was offering a pretty good deal. I laughed as I replied, "Good deal? Dave, I ain't sure how I'm doing this without a gun!"
Unbelievable. If I had known what I was in store for, I would have gone there years before this. That's for real.
***************​
Because I know that a lot of you guys really
are
hip to things like specs, I figure I'll end this post by giving y'all the run down on it:
Body: swamp ash, same source as Fender uses.
Fretboard: undyed ebony, abalone markers, 7.25" radius.
Neck: maple, vintage yellow, Fender scale, kind of a "soft C" shape.
Nut: bone.
Frets: perfectly finished rock 'n' roll wire, 21 frets. Unbelievable!
Pickguard: Warmoth
Pups: Black Scotch from Electric City
Harness: MSSC
Capacitors: PIO
Tuners: Kluson
Finish: trans-red... like, 18 coats of laquer... it's like a red mirror.
Tonez: to die for.
So there's all that!

What a guitar!

One last shot of my Hell-Red Lady, standing proudly in front of her handmaidens and lesser peers:
Dave: thank you very much for taking on this job and producing the guitar that is easily the best of my little collection of instruments. The quality of this instrument is stunning, the playability of it is extraordinary, and I cannot speak highly enough of your skills as a luthier or your personal integrity as a being.
Hope you kissed this one goodbye, bud-- you ain't never gonna see her again!
I was thinking of taking this babe down to the crossroads, to see what Papa Legba might make of her-- but then I realized: he'd probably just grab it and vanish!

That's what
I
would do, anyway!
Many thanks for all!
--R