Joined

Nov 29, 2011
Messages

3,160
Reaction score

3,514
Hey guys,
All the reasons for this guitar have been stated in the build thread here:
http://www.mylespaul.com/forums/other-les-pauls/186047-stars-have-aligned.html
So we're just gonna do pics and the review. Many thanks to our own Shorty85 for taking on this build, and dealing with my impatient self in the process. Sorry about all the pic requests in the middle of the night, and I SWEAR driving by your house screaming about GOLDGOLDGOLD was a complete accident, sir.
Review first:
Based on a certain well regarded builders templates, this guitar is reminiscent
of a 59, with a deeper top carve than what's out there today....3 piece mahogany neck, sized right around a 59, little bigger than what I'm used to but I was craving it. Ebony board, stainless steel frets, black binding on the body and neck with gold MOP inlays, which were my luthier's idea. I think they look cooler than any other inlays I've seen....they change color depending on the light..sometimes white, sometimes gold, sometimes darker yellow. Pretty freaking cool....I really dig em and they work well visually with the overall look and color of the guitar.
One piece mahog body, with a quilted maple cap...don't give me any crap about painting over it, it was actually cheaper than a plaintop.

BKP Holydivers for pups and 500k pots with braided wiring.....these things are great. Seriously. I know we have talented winders here and I'm looking forward to trying out their wares, but for this project, I chose these with some black battle worn covers...just wanted something different. Bridge at 15k+- will get dirty fast...tracks well, bass is responsive and the highs are sweet...the neck at 7k is BLISS...this is bluestone/Slashtone/perfect tone for me for what I wanted to use this guitar for....sitting home alone with a little Glenfiddich 18 in some dim light just making this guitar sound like it's crying. It's beautiful....any kind of tone I want out of it at all....first thing I dialed up was Slash's November Rain solo tone, with no effort at all

....sat there and played with the tone and volume for a long time, and had a blast.....thru the lead channel of a Peavey 6505, these pups clean right up, beautifully. But up it, and watch out....there's a sick, GRINDY crunch coming at you, even from the neck. If you're reading this and on the fence about these pups, jump. They're great.
Sperzel locking tuners, Switchcraft toggle and jack and TonePros locking bridge all in black complete the package.
One cool thing was that the builder included a USB drive that he loaded all the pics of the build on, so I could go back and revisit....thought that was a neat idea.
This guitar is a badass. I can certainly see this ending up my #1...it's got all the personality you could want from a good guitar...it's near enough to 10lbs as to make no difference, the body is one piece, the maple is thick as hell. It's got style, it's got class, and it's got tons of ass.
I dig the way it looks, the way it plays, and most of all the way it feels. It feels like an old friend I haven't seen in a while, but know everything about.
GREAT job, Daniel.

I'd recommend this guy to everybody looking for something done completely to their specs, finished perfectly, in a timely manner and with good communication throughout. I thank you, brother.
And now, PICS:
We started with this: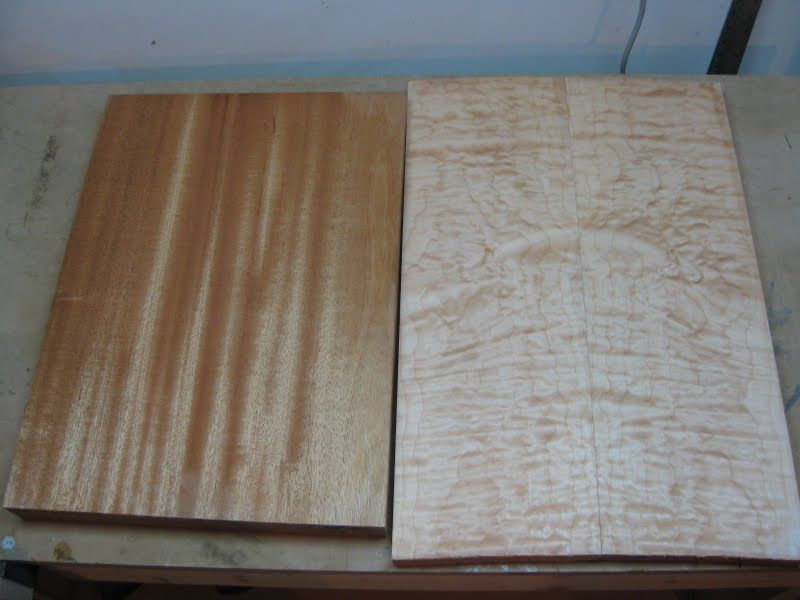 And ended with this: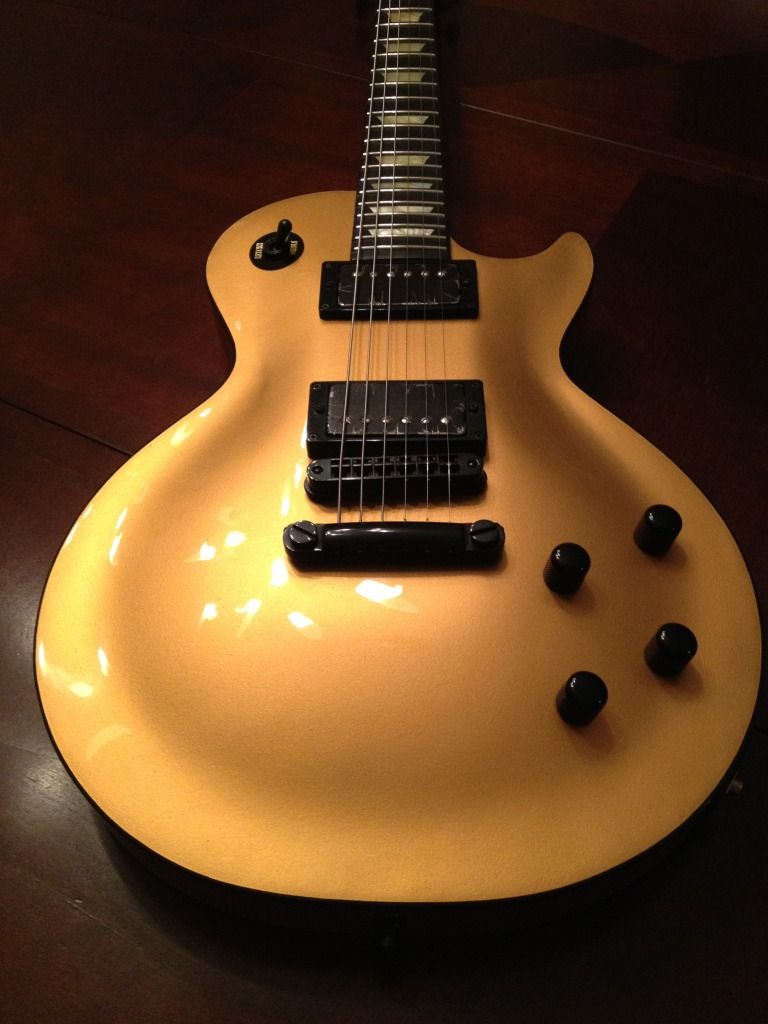 More coming...