Joined

Jan 21, 2023
Messages

28
Reaction score

81
Well, my 60s Faded Standard has arrived. Thanks to everyone who gave me advice in my recent thread:
https://www.mylespaul.com/threads/talk-me-into-buying-a-lp-standard-instead-of-a-tribute.475248/
I thought I'd give a run down on why I chose this guitar, especially since there's another thread on here debating this model vs the glossy version.
Firstly, this guitar
played
the best out of all the options available to me. I wasn't looking for an ornament. I wanted a guitar to make it easy for me to progress and to have a lot of fun doing it. I already feel like I'm on cheat mode — I'm playing riffs I've struggled with for 20 years without missing a note.
I tried quite a few Standards and I found the set ups inconsistent. There were a couple that were probably set up with action as low as mine, but others were higher. Not sure if the shops had tinkered with them. But I learnt early in the process that I wasn't going to buy anything without having demoed that exact guitar first.
The Faded has the satin finish, and I really like the feel of it. It isn't as frictionless as the Tribute. Rather, it's just like having a really nice, solid piece of wood in your hand (no laughing). I played some glossy Standards that were stickier than others. The one that played best, I would've been very happy with. But at that time, I wasn't finished exploring my options.
Onto the appearance. I think this guitar looks absolutely unbelievable IRL. I've added some 4K pics below, but unfortunately I'm no photographer. I really feel like I'm a Gibson Les Paul owner. If this is the only one I ever buy, I'll have no regrets. This guitar is special.
Some people prefer the glossy, but for me, owning something a little bit different makes it feel a bit more unique. If I had to pick a guitar purely on looks, I'd have a hard time turning down a glossy honeyburst. I understand there's also a 50s HB version of my Faded, but unfortunately I couldn't find one to try.
To sum up: I really couldn't be happier. It's a childhood dream that's taken me a long time to fulfil. Now I just need to learn how to play well enough to do it justice…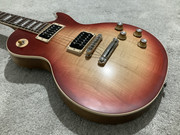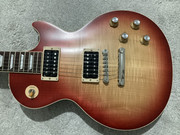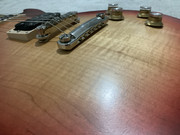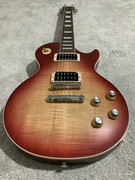 Last edited: