Joined

Apr 25, 2020
Messages

87
Reaction score

146
And yet another disapointment by Gibson.
Got the 2019 Explorer B-2 delivered today. I already had reduced expectations since the 2019 Flying V B-2 arrived yesterday. But this is even worse. Action was a ludicrous 9 mm on the high e string at the 12th fret. The bridge poles where maxed out to lift it. Why this was the case i found out while doing a fresh setup. Somebody lost a screw beneath the bridge pickup so it was 5 mm higher then the frets. After i removed the screw beneath the pickup it came down, but not far enogh to be lower then the frets. Measured from the pole pieces it's still 2mm above fret level. I took a look at the flying V B-2 which should be similar, but there the neck pickup is 2-3 mm beneath fret level.
With the bridge poles maxed out and a very high angle the string barely passes the pickup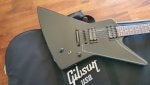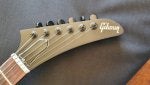 I have a zoom call tomorrow with the gibson virtual tech support. I'm curious what they're gonna say ....
I always wanted to copmplete my Gibson collection with a SG and a ES, but i'm in doubt buying any new Gibson beside another Les Paul.
Not so happy new guitar day ...