Joined

Oct 28, 2020
Messages

22
Reaction score

16
I'd posted this at the end of the Unofficial Burny Official Anything thread, but I'm not sure if anyone actually reads that anymore so trying a new thread and deleting that post - apologies if this isn't kosher.
So after decades of wanting a Les Paul, I finally got one - arrived yesterday. And thanks in large part to you folks, I ended up going with a Burny after looking at some other options: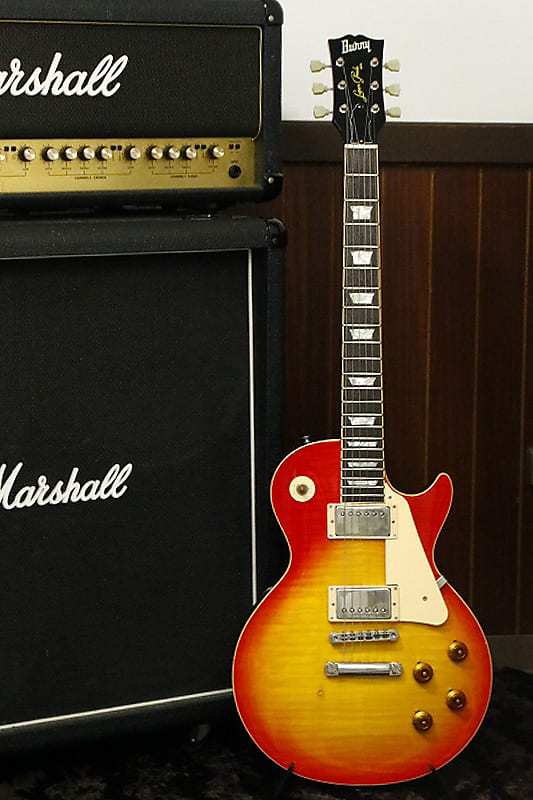 https://reverb.com/item/36058674-burny-lp-standard-rlg-70-cherry-sb-vh-1-pickup-long-neck-tenon-made-in-japan
This thing feels alive in my hands, and now that I've finally gotten the "Les Paul through a Marshall" experience first hand...
I get it.
I'm in love.
Looking at probably rewiring '50s style when I swap in some PIO caps (am I correct in that the original pots in these tend to be fine?), possibly switching the magnets as it sounds as though folks have found that improves those later VH-1s. Going to give it a full setup and adjust the truss and probably lower the bridge a little. Thinking about cutting a bone nut for it. May also see if I can steam out that ding in the top, though honestly I'll
probably
not worry about that one. As it is, the thing feels great and sounds great and already breathes rock and roll. I swear I could feel it vibrating as I was unpacking it. Happy NGD to me!
Anyway - I'm trying to nail down a year/manufacturer - the seller thinks it's Fujigen, which seems possible based on what I've been reading on here, but from what I can tell, that means either limited run in '92 or
possibly
~'98 as Orville was on the way out (which is the seller's belief, and he's been through a lot of these from the look of things).
It has a long tenon, 2 hole truss cover, VH-1s (presumably from the last run), small yellow ceramic capacitors, no serial on the headstock or anything marked in either pickup cavity (which would indicate '92, right?), veneered top.
No pictures of the control cavity in the reverb gallery, but I snapped one yesterday - don't know if there's enough identifying info with these pots or not: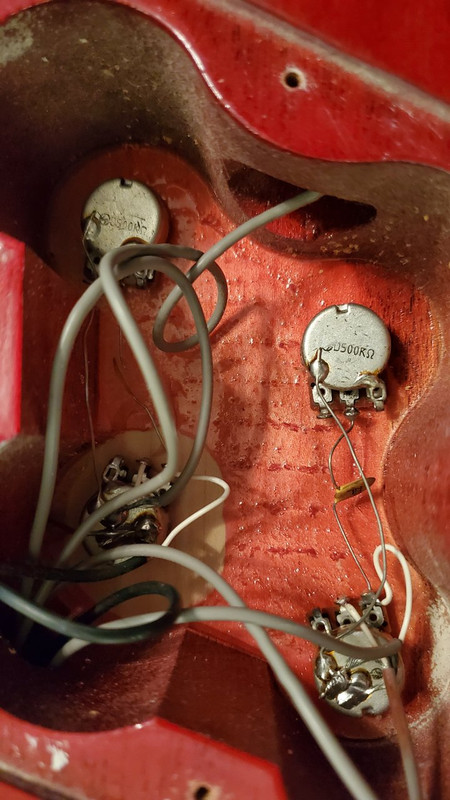 Any thoughts or help you all have would be greatly appreciated! Thanks!