Joined

Aug 27, 2014
Messages

540
Reaction score

553
Took delivery on this guitar yesterday (built late June) and can't say enough good things about it:
1. Guitar finish is fantastic. Not a cheap satin finish. The vintage sunburst color really shines in the morning light.
2. The build quality is equal to any Custom Shop Junior or Special that I have owned, same with the BJA Juniors. Love the aged nickel parts!
3. I have not weighed the guitar yet, but it is on the light side.
4. The neck feels fantastic - thicker than the last Junior I owned, but not as thick as a Custom Shop 57 reissue. In fact, the neck is equal to any Custom Shop guitar I've owned. I can tell that Gibson USA put more effort into this neck than the Original Collection models I have owned. The whole guitar feels like more thought and care was put into the fit and finish than on the OC model and equal to any CS model. The signature truss rod cover is coming off in favor of the traditional one ply black version.
5. The fretboard was very dry - that's the only "complaint" - but that was rectified with some CreamTone board oil. It is dark now.
6. It plays wonderful - more on that this weekend - but the AL 3 P90 sounds different and I am impressed with it. Plus, there is your normal 60 cycle hum - but not too intrusive.
All in all, worth the money and the slight premium over the OC Junior. And, it is a compelling argument to skip the CS version altogether and save a good amount of cash.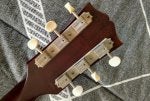 Last edited: