Got myself a brand new 2014 R8 this Christmas Eve. This is my second Historic, to accompany my '13 R8 Ice Tea Burst. Here is how it happened.
My local Guitar Center recently received a '14 R8, Two 2014 R9's, one 2014 R0, and two True Historics (R8 and R9). They already had several R0's in stock from previous years. So my friend who works there gave me a call and told me to come check them out. I have been planning on getting a new historic for the past several months, so I showed up with $8000 ready to spend... Honestly I though I was getting one of the True Historics. I was wrong...
I spent about 2 hours in the Platinum Room playing all of their new arrivals. I truly figured something out about myself: I like fat necks on my Les Pauls! The thin R0 necks are just not for me at all. The R0's also sounded brighter, kind of tele-ish, possibly in part due to the thinner neck... So I axed all of the R0's as prospects.
2 of the 3 R9's had a similar tone to the R0's, bright and relatively thin, and those 2 both had pretty thin necks for R9's as well. I axed these as prospects.
The True Historic R8 was awesome, but I just did not like the tobacco burst finish. But it was a killer player. Fat warm LP tone for days.
The True Historic R9 was amazing, with just a slightly thinner neck and smaller shoulders than the R8's. But the wood, Lemonburst color and tone were world class. This was a definite prospect. The best looking historic I've ever seen hands down.
Then the '14 R8. WOW! Light, beautiful wood, flame top, and also Lemonburst. This one had my favorite feel and sound out of all of them. It just rang when I played, was fat and articulate, and felt absolutely perfect.
Its amazing how all of these individual guitars sound and feel completely different, if one has the ear to decipher. Really cool to experience.
I boiled it down to 2 guitars:
1) True Historic R9 Lemonburst: this was my favorite in terms of looks, fretboard color, flame top, back color, overall fit and finish. Sounded badass too.
2) 2014 R8 Lemonburst: This was my favorite in terms of feel and tone. It looked great too, but it was how it sounded that caught me, but came in second in terms of looks to the TH R9. The TH R9 had a very dark, even colored fretboard. The R8 was a little lighter fretboard, but still pretty.
In the end, I went with the one that had my favorite tone and feel; The '14 R8. It just barely squeaked by the TH R9, just barely. But in the end I have no second thoughts. You guys are right, the '14 historics are special. I specifically compared this R8 and the TH9 for ~45 minutes, switching back and forth. I played through a '64 Deluxe Reverb, Friedman, and Bad Cat Hot Cat. IMHO, the R8 beat out the True Historic.
I had a lot of fun testing these out and finding the one. Now I have my second Historic, and I love it, and saved a few thousand dollars. Thanks and enjoy!!!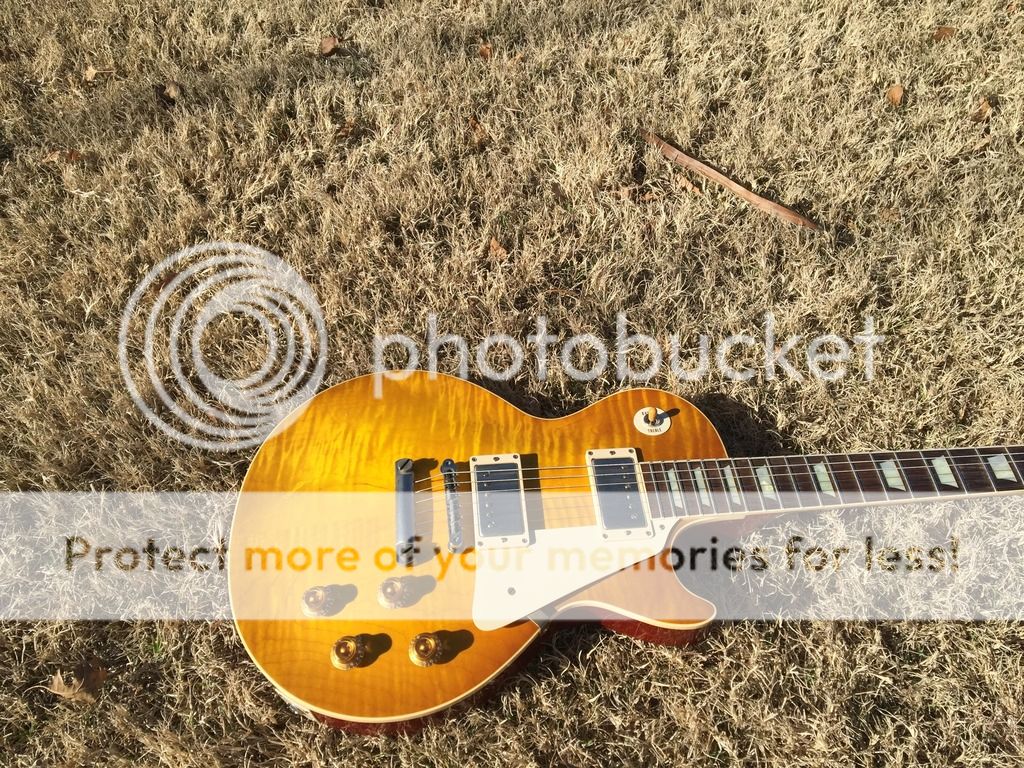 My '13 R8 Ice Tea Burst