Joined

Dec 29, 2011
Messages

51
Reaction score

58
I've been thinking about vintage Japanese LP's for a few years now. With an eye to picking up something with some wear & tear that I wouldn't feel too bad about tearing apart bit by bit and really experimenting with different wiring/tuners/pickups etc.
After watching dozens and dozens of listings over the last while I narrowed in on what I wanted as must haves (late 70s to early 80s, tobacco burst w/fret nibs) and finally pulled the trigger earlier this week. Shockingly it was door to door (Japan to Canada) in less 48 hours, I figured with COVID and the stories about supply chains I'd be 2 weeks out minimum.
Luckily enough it turned up way early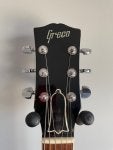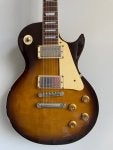 This thing is heavy & solid, 10.4lb, which feels like a boat anchor compared to my 9lb LPJ, but also rings like a bell.
As you can see in the pics it needs some love, which is why I bought it, I've already managed to adjust the truss rod to take care of some fret buzz, which is something I've always been too scared to with any of my other guitars over the years!