Joined

Dec 18, 2007
Messages

5,939
Reaction score

8,719
Well, as it turns out I ended up with this guitar. I actually had it on hold during the summer of 2014 but it didn't work out....well it became available again at HOG and I snatched it up. Going to be making some wholesale changes to the parts. Already did the harness (YJM volume, Dimarzio tone pots low friction) Sprague Vitamin Q's, ThroBak cream rings, ThroBak MC102B set and will get to the rest of the parts as we go along.
This guitar isn't really "orange" You know what I think they did with this guitar is they looked at the pictures in The Beauty of the Burst and made a guitar that actually looks like the PICTURES in that book. Its well documented that the reds and colors are pretty well off from the actual guitars. But, to be honest after staring at that book for so many years I really always wanted a guitar that looks like some of those guitars do in the book....so I'd say mission accomplished.
Some details:
Gibson Custom Shop aged: I give them a C+ overall on the aging. Its good, I love aged guitars and the way they feel and look. The razor checking is really a bit off of the way a guitar would really check. Very straight line checks on the back....too uniform. Better on the top. Its a "light age" as in the pics it doesn't really look aged.
BIG neck. Some of the R8's from the last few years have R9 necks....not this one. Its big...and its great. Feels and plays great.
Custombuckers: I pulled them but they honestly sounded great in this guitar. Great treble snarl, real crunchy and had a lot of character and honk. I'll keep them and put them in something else that I have. I really just wanted a rock setup and nice double creams.
GREAT top: In person this top has a TON of flame....really on the verge of a solid R9 type of flame. Again, the color is not some gross orange....its an excellent vintage looking color.
Tone: Very good. Plenty of top end where I roll it off to 5 on the tone knob on the bridge as I favor a fat type of treble response. Beautiful neck tones....crystal clear. ThroBak's middle position tones are remarkable. I don't care to use the middle but I do with these pickups....such a great sound there.
OK enough for now: PICS!!! I'll get more when its even sunnier to make the top pop more...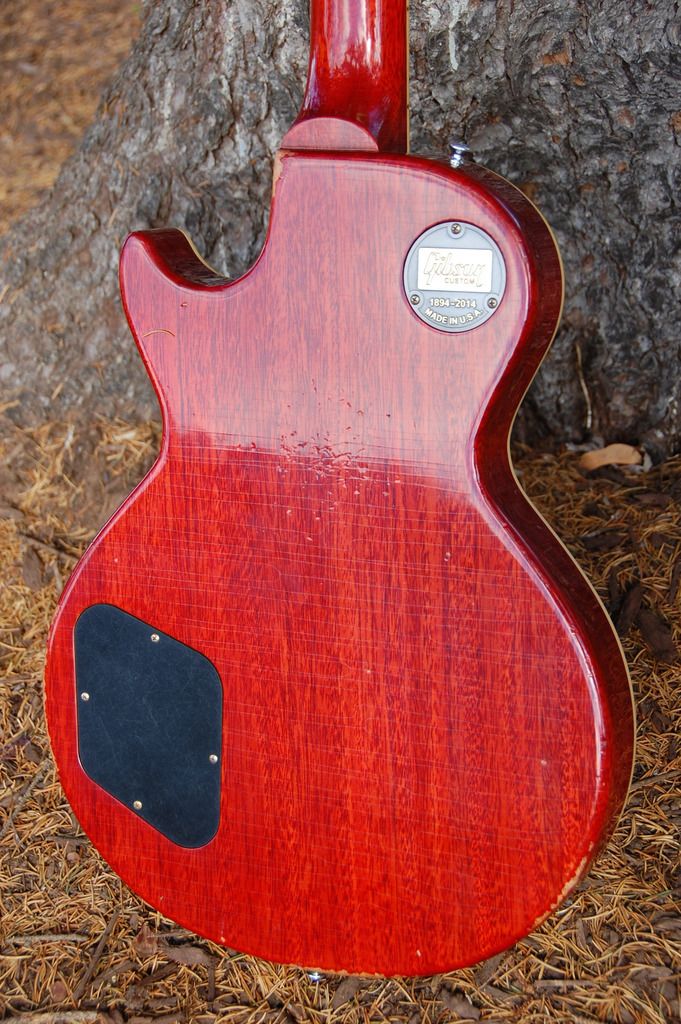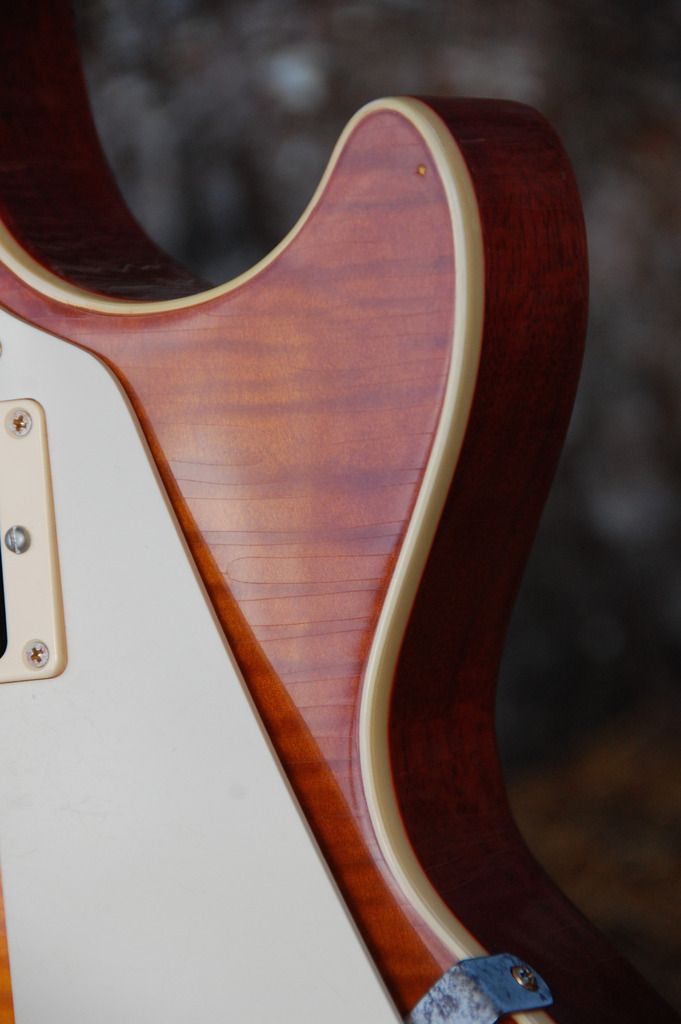 Stock Ring....going to swap it out...