Joined

Sep 2, 2007
Messages

7,569
Reaction score

9,379
Name of the flame.

We have had a lot of questions around here lately regarding descriptions of the different types of flame….notice that I said description and NOT definition.
I will do my best to clarify the descriptions, as I see it.

As with all things pertaining to Mother Nature.…there are no absolutes.
One can even have a conglomeration of different types of flame on a single top making their description a Supercalifragilisticexpialidocious style of verbal exercise.

For this exercise, we will concentrate on the tops that are best described by a single definition.
I am going to generalize and speak in very broad strokes, to some degree.
We will not be speaking of Blister or Bird's Eye, as I define those as figure and NOT flame.

TYPES OF FLAMES:
1) Curl
2) Ribbon Curl
3) Flame
4) Tiger Stripe
5) Pin Stripe
6) Fiddleback

THE DIRECTION OF THE FLAME:
1) Chevron
2) Reverse Chevron
3) Gullwing
4) Horizontal

Let's start with the controversial direction of the flame first.
As dictionary definition states "chevron" as:
Noun:
"A line or stripe in the shape of a V or an inverted V, esp. one on the sleeve of a uniform indicating rank or length of service."
Since there is no clear definition of a chevron's direction, as it pertains to Les Paul's, I am going to create my own little kingdom and make a declaration as if I were the exalted ruler of this fictitional land. I do hereby declare that this is Chevron:




….and this is reverse Chevron:




This is Gullwing (Hot Lanta):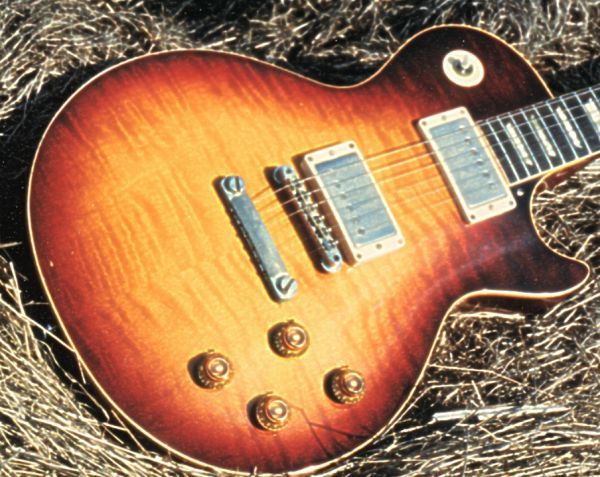 This is an example of Horizontal:




Now that we know what direction that our flames are going, let's delve into the flame itself. The following illustration is a novel way to help visualize the type of flame that you are trying to describe.




Keeping a mental visualization of this picture has helped me keep it as straight as I understand it.
Flame size is a pyramid shape, in general, for this exercise as well.

At the base of the fire, there is the Curly Flame.
(5) Curly is best described as having large, wide, flame "fingers" with equally large "bare" spots and in a very random flame pattern. This flame pattern has very few flame "fingers" per square inch….just like the flames found at the base of a log burning.
The potential top on the far right, is a Curly pattern: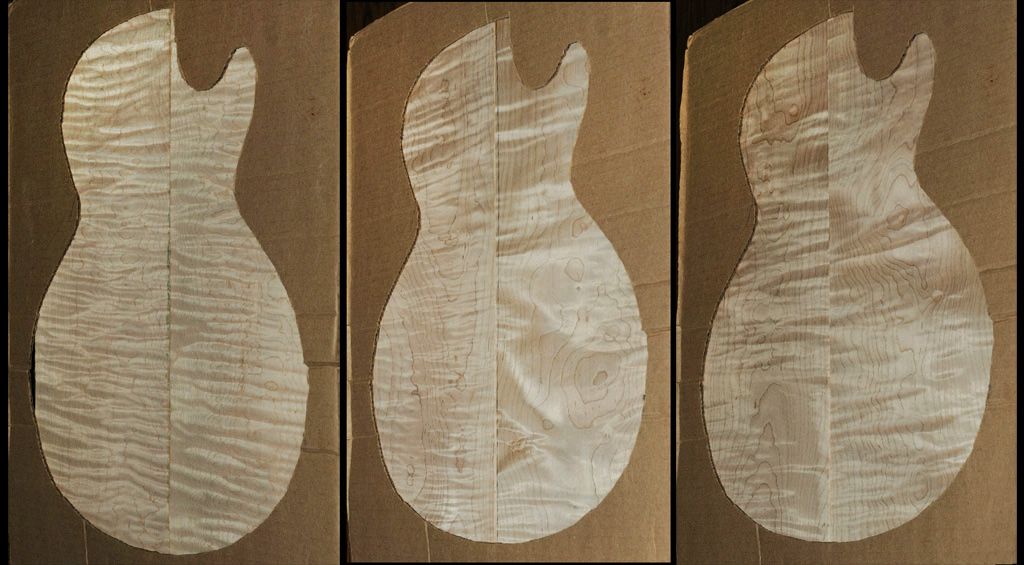 (4) Ribbon Curl is found next highest, on our flame compared to fire, scale. Very similar to Curl, Ribbon Curl is differentiated by the smaller size of the flame "fingers" and a higher number of flame "fingers" per square inch but retaining equally large "bare" spots as it's flamed "finger" counterparts….and like the name implies, looks like ribbons. Found a few inches up from the base of our proverbial fire/flame comparison.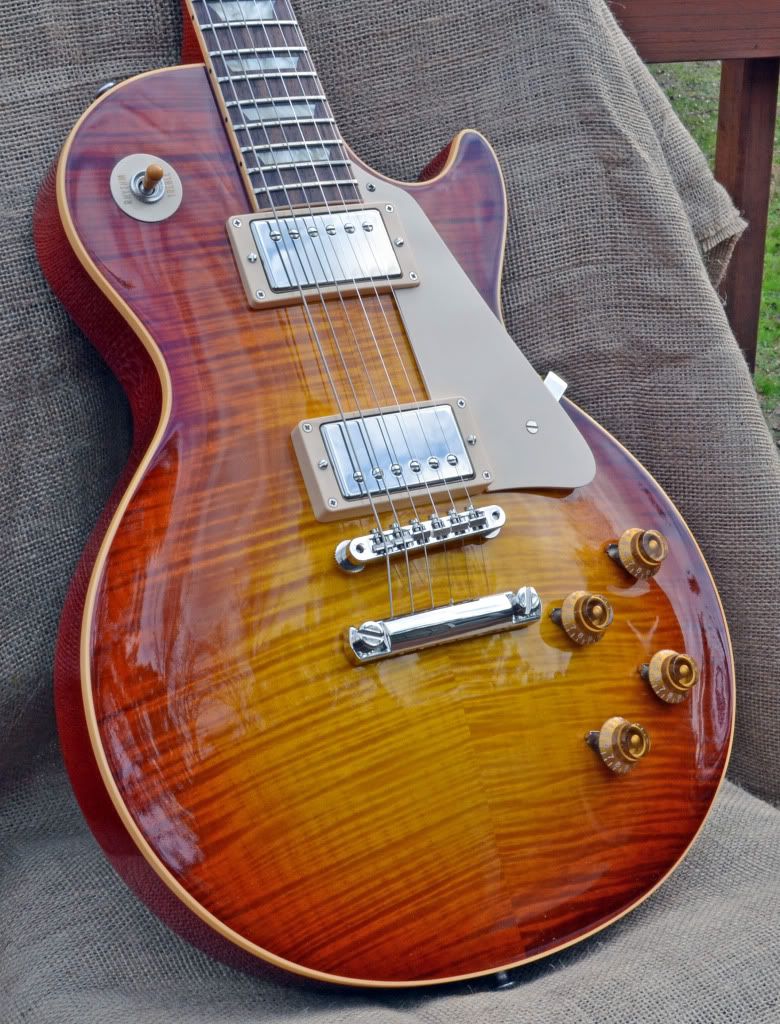 (3) Flame is found next highest, and just like our fire sample, Flame gets more focused and defined compared to ribbon Curl. This is a very broad term, but generally means everything from a more defined Ribbon Curl sized "finger" to a wavy version of a Tiger Stripe sized "finger" of flame…..and everything in between. The majority of Les Paul tops will fall into this category. Visualize the middle section of our proverbial fire, as a reference.




(2) Tiger Stripe is a highly focused and highly defined flame. Usually, Tiger Stripe is symmetrical with crisp and straight edges on the flame "fingers".




(1) Pin Stripe is very much like Tiger Stripe with much smaller "fingers" to the flame. Very symmetrical patterns with straight "fingers", very focused and defined much like the fingertips of our proverbial fire.




(1) Fiddleback flame is also found at the very top of our proverbial fire. Similar in size only to a Pin Stripe, the Fiddleback top is tight, highly focused, very wavy and highly symmetrical. The "fingers" of the flame appear to be interlocked at times. The most notable Fiddleback would be Pearly Gates.