Joined

May 25, 2010
Messages

42
Reaction score

11
I'm looking to perform a pickup/wiring upgrade on one of my guitars. It currently has a HSS pickup configuration with 1 volume and 1 tone. I've done upgrades and wiring mods before, but always from diagrams found elsewhere. This is my first time having to create what I want from scratch. I was hoping one of the Gurus here, might be able to advise me.
The pickups I've selected are Iron Gears.
Smoke Stack II - Neck
Smoke Stack II - Middle
Hot Slag - Bridge
These pickups (including the single coils) can be coil-tapped, which is a feature I'd like. I'm not too fussed about individual pickups, just all 3 pickups to be tapped at the same time, off the same switch. I think this can be achieved with a 3PDT switch.
I've spent the last hour or so looking over diagrams from various places and I think I've come up with the correct schematic.
Here it is: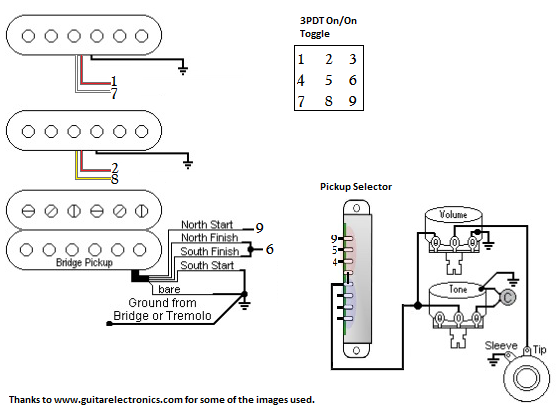 I think that's right, but I was hoping for someone with a little more experience than me to cast a quick eye over it so I can be sure.
Thanks a lot all!