Joined

Dec 12, 2008
Messages

58
Reaction score

1
Hey guys! I've posted this around the web but somehow I forgot about this site! (Sorry...)
Note: Sorry about the pictures. I resized them but it might take a while for them to change.
Well I'll start off by saying yes, I'm only 16. I made this as a project in my woodshop class as a 'scrap' wood project. Well, of course I had to buy the wood, but he didn't know...
Anyways, this was originally going to be easy. I wanted a nice Goldtop, something like Slash's model. I got my hands on some maple, as I couldn't get any mahogany. I laminated 4 strips of 2" thick maple, cut it out with a bandsaw and routered the cavities by hand. I put on binding after making a groove on the egde.
The maple top was then put on, a 1/2" thick laminated piece. I did the arched top, which I'm really not too satisfied with. I'm thinking of trying to fix it.
Next, the neck was mahogany, which was actually scrap wood. I laminated the top for the headstock, did the truss rod cavity and cut it out. I shaped it and sanded it smooth after cutting out the shape for the headstock.
I glued it in and started working on the fretboard. It was scrap walnut which was planed down to 1/4" and rounded. The inlays were some cheap polyurethane ones I found on eBay. The holes for them were cut out with a chisel and glued in. After the binding and frets were installed, I glued it on.
Finally, I originally painted it gold on the front and black on the back. I liked it at first, but I wanted something a little more authentic. So, with only a few days left, I stripped the black and stained it brown. I'm glad I did.
So, here's the pictures of my adventure!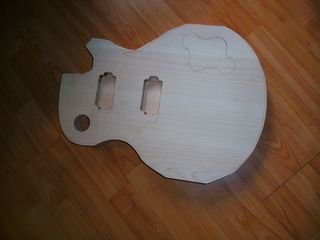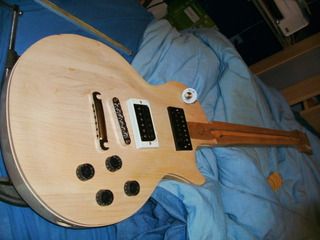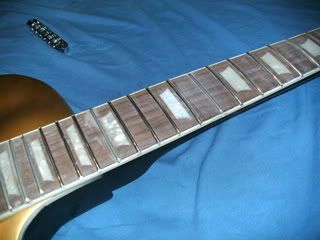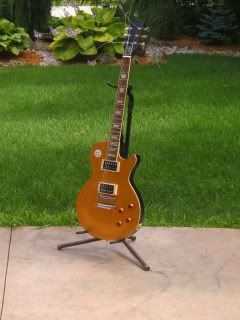 I still have to fix the shape, redo the finish, fix some chips, and do the headstock logo. It will say 'Grail' (my last name) in a special design.
Tell me what you guys think! Hopefully when I'm older, I'll make some more!