Joined

Dec 5, 2018
Messages

43
Reaction score

62
So after a bunch of research, abandoning the idea once, and coming back to it, I have started building a 59 Les Paul--- or 4 of them... I was discouraged a couple years ago when my guitar teacher and good friend said, "wow, that's ballsy." After looking back on all the threads I had studied thru I decided I've got this! Huge thanks to all the other builders out there that have posted steps and spent hrs on the forum here showing their process. Much respect!
It took a while for my materials to show up. They got lost in the mail and sent back. I book-matched a piece of maple after re sawing it. I got 4 tops out of it. only have 3 cut out so far.
I cut out all my body blanks with a Jig saw.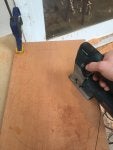 Removed material with drill press and Forster bit. Then routed out control cavities and wire channel.
I then glued on my tops with hot hide glue. This was my second attempt at hide glue. I failed the first time trying to book match the maple tops, wussed out and used titebond. I got it together for the tops tho... I want to be as authentic as possible. I'm trying to make some nice guitars. Got out the ol' heat gun and some help from my brother. I used dowels to locate my tops, learned from Nuance. It worked perfect, except I made a mistake and will now see the dowel in the back pickup route... not the end of the world. Live and learn.
I then routed the top flush to the body and used ExNihilo's Carve templates to get to carving.
Next to the angle box. So cool. 4.2 for the neck, 1.5 for the pickup plane
Next I used my templates to route the pickup area. At one point the clamp on the back got loose, fortunately I caught it before it hosed me.
I then used a 6 inch orbital sander to carve with. This thing was awesome, I got my rough carve done in 20 min.
I still have some finessing to do on my carve in the switch area and horn area. The gauges are close... I may have flattened the belly at the back of the guitar a tad bit much. DANG IT! I'm going to try and round it a bit, but will do better on the next 3. I am still going to spray bomb it too, to fine tune. What do you think?
This thread is no Nuance, ExNihilo, Fletch, Bartlett, or many the others that I have learned tremendous amounts from, but I figure I better share, maybe someone can learn something to do or not do.
Ill Keep posting here with my progress.