Joined

Nov 4, 2010
Messages

903
Reaction score

742
so, I'm very very inspired by our fellow member, Faceman's post last feb for sharing his journey on modding his Shanks. The thread is something like -
my Shanks is Complete
. After my own little adventure of modding that last about one year or so, I think i can say the same for my Beast at this moment.

Getting parts and upgrading the plastics and the metal bits are definitely 'a slippery road.' Being new to this game, no doubt some coins were lost after many trial and errors. Getting another Les Paul / another amp is clearly out of question. Thus, sourcing parts online, waiting patiently for them to arrive and fit them onto the Beast became my closet 'retail therapy' indulgence.
The Bernie Marsdern's original was heavily researched on. Thanks a couple of magazines, Burst serials and a couple of youtube sources, I'd had gained some interesting insights about the aesthetic qualities ( of the various parts ) of the Beast.
lets us have a look at the original Beast - image is from burstserial.com
First of all,
- we can observe the mismatched Pickup rings. The neck is in a darker cream while the bridge is of a lighter bone.
- The pick guard's profile is also pretty unique to the Beast.
- The Pick guard mounting ring's metal is heavily oxidized.
- No text seem's to be left in the poker chip.
Found in some other images from magazines -
- The bottom part of the neck pick up ring has a slight dent.
- One screw is missing for the input jack. Bernie mentioned that the proto he had received captures this detail )
- One last observation, the knob pointers on the Neck's Tone is not in it's usual position. so, that's one final 'mod' I've yet to perform.
As a result of these observations, I then embark on this slippery journey of trying to match the aesthetic qualities ( of the various parts ) of the Beast to my very own CC#8. The flames on the original Beast is something I couldn't replicate, unfortunately. Anyways, here's the lowdown -
• ThroBak Vintage accurate MXV Pickup Covers
• Throbak Pickup Mounting Rings to match original shades – Cream and Bone.
• DMC – Version 2 Aged Top Hat Knobs.
• Mojoaxe Custom 'Beast –Cut' aged ( to match original ) pick guard.
• MojoAxe aged Buttons for Schaller Strap Locks.
• Vintage 50's original Truss Rod Cover with aged screws.
• or a MSSC Aged Truss Rod Cover with rolled marks.
• Callah am ABR-1 Bridge with Vintage Studs.
• TruVintage Brass Thumbwheels.
• Pigtail Aged Light Weight Stop Bar.
• MSSC Aged Nickel Steel Tailpiece Studs.
• MSSC Holy Grail 50's Harness with vintage 50's Bees.
• Montreux Time Machine Aged '59 Replica Course Knurl Toggle Switch Deep Nut.
• Montreux Time Machine Aged '59 Replica Catalin Switch Tip.
• RS Guitarworks Aged 50s Replica 'Thumb Cutters' Pointer Washers.
• TruVintage '50's style Les Paul Cream Jackplates - heavily aged.
• Retrospec Aged Poker Chip.
• Badly oxidized vintage Pick Guard Mounting Bracket with screws.
• Creamtone back plates.
• Original Gibson Historic Reissue Les Paul Case Candies + Paperwork. - just to make it 'complete' and to fulfill my inner OCD.
• Flash Drive documenting the original BEAST's Official Information + Magazine Scans / Videos. - compilation of my research. It's almost like a portfolio for the Beast.
as the sun's pretty good today, I've managed to take some ' glam / portfolio' shots to share. here's my amateur attempt & may i humbly present you, The Beast. Enjoy !
Its not so obvious here but Dan from mojoaxe has kindly helped to aged the pickguard to match the Beast's yellowed parts.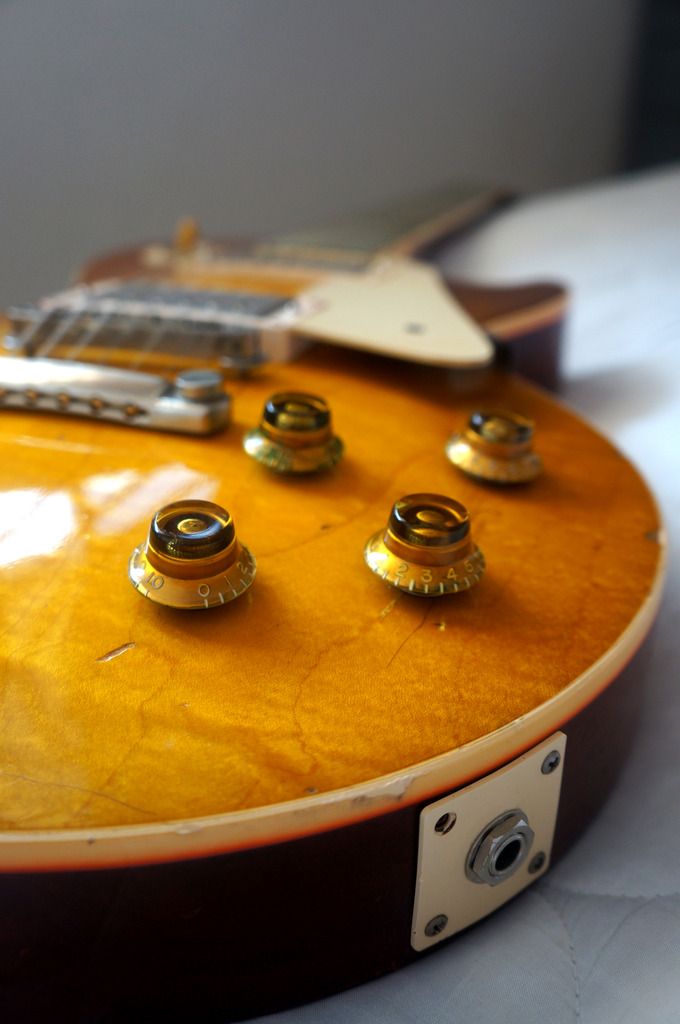 i am really loving these DMC knobs. went through a couple of others and im really glad that the DMC knob is on my Beast. and gee, they're so expensive! glad that i've secured mine through a fellow forum member.
In the engine room - Powered by MSSC holy grail harness. thanks Matt!
I'll eventually pass this guitar to my daughter should I leave this world earlier and meet the Lord. In the event that she may need some cash, this is one picture she'll definitely need to get this sold.
one last shot for the day.
Now that it seems that my exploration must end now. So, time for me to improve on my sloppy playing!
It's been such a fun journey and ive learnt heaps of stuffs. If ever I'll embark on this same journey, I think I'll go through less hard knocks for sure. That being said, the valuable resources on this forum and of course, kind people here have helped me a lot. So, thanks to you guys! ....