Joined

Apr 19, 2020
Messages

11
Reaction score

22
Hi!!
I've been reading about the quality and awesomeness (is that a word ?) of the Navigator guitars for years.
And I was dreaming of buying one of their Les Pauls
Two years ago, I found a guy in France (I'm french) who were solding one at a very fair price. So I bought it instantly without even trying it !
And I'm more than happy. It sounds like a "tele on steroids".
I've had a Gibson Les Paul Axcess for 10 years and I sold it right after. It couldn't match the Nav !
First some pix :
Actually the burst is more orange than in the pix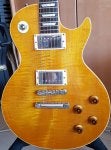 And here's a video where you hear it. I used my Strymon Iridium to record it so you can hear it played through many different configuration.