Joined

May 15, 2010
Messages

20,530
Reaction score

44,447
Was inspired to cook yesterday evening, and wanted to make a big pot of Gulf Coast style gumbo. Everyone makes gumbos differently, and this is my take based on old techniques I picked up from my mother in law, father in law, and various people on my side of the family.
The nice thing about making gumbo, is that it's a lot like rock and roll... Once you have a grasp of certain fundamental techniques, you can add or subtract elements at will, and it will probably be pretty good.
The first, and probably most "difficult" step is making the roux (Pronounced roo). This is the base that will thicken the other cooking liquids, and it's easy to screw up. Essentially, you take a small amount of oil, and add flour to it gradually, while stirring constantly so that it mixes and does not burn. The type of pot is important. I use a huge cast iron, ceramic lined one. It's great for controlling heat... A flimsy stainless steel pot just doesn't work very well.
My father in laws rule of thumb was that he could make a good roux in the time that he could drink two beers. There are lots of variables though, such as how high the heat is.
This is the roux when it's almost "done". Since it takes constant minding to make it, I wasn't able to snap off a bunch of photos of it happening for fear of burning it. It comes out a sort of chocolate brown: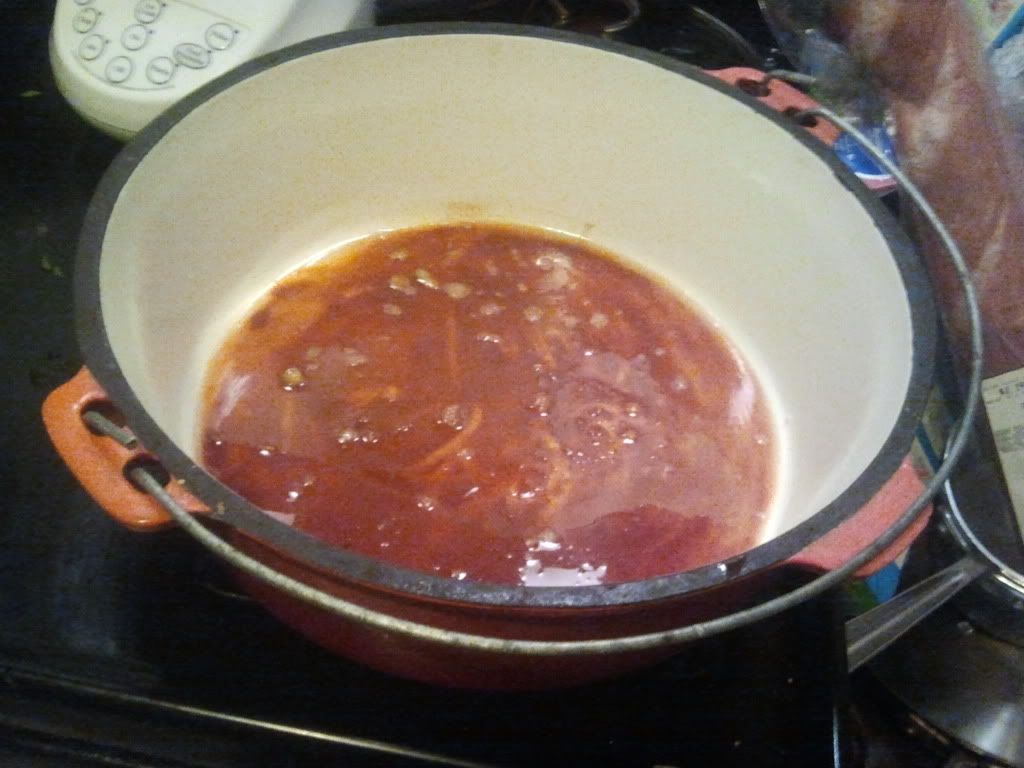 Before starting the roux, I minced up the essential gumbo vegetables: Onion, celery, and green bell pepper. I've heard this combination referred to as the "Trinity" of gumbo cooking, because it's one of the foundations. Once the roux is done, I add the veggies:
The roux is very hot at this point, so the veggies begin to rapidly cook. When they've cooked a few minutes, and are slightly limp, I add a bunch of chicken stock. I don't really measure anymore, but I guess it's about two quarts of stock, which I make myself... Although the store bought stuff will work fine.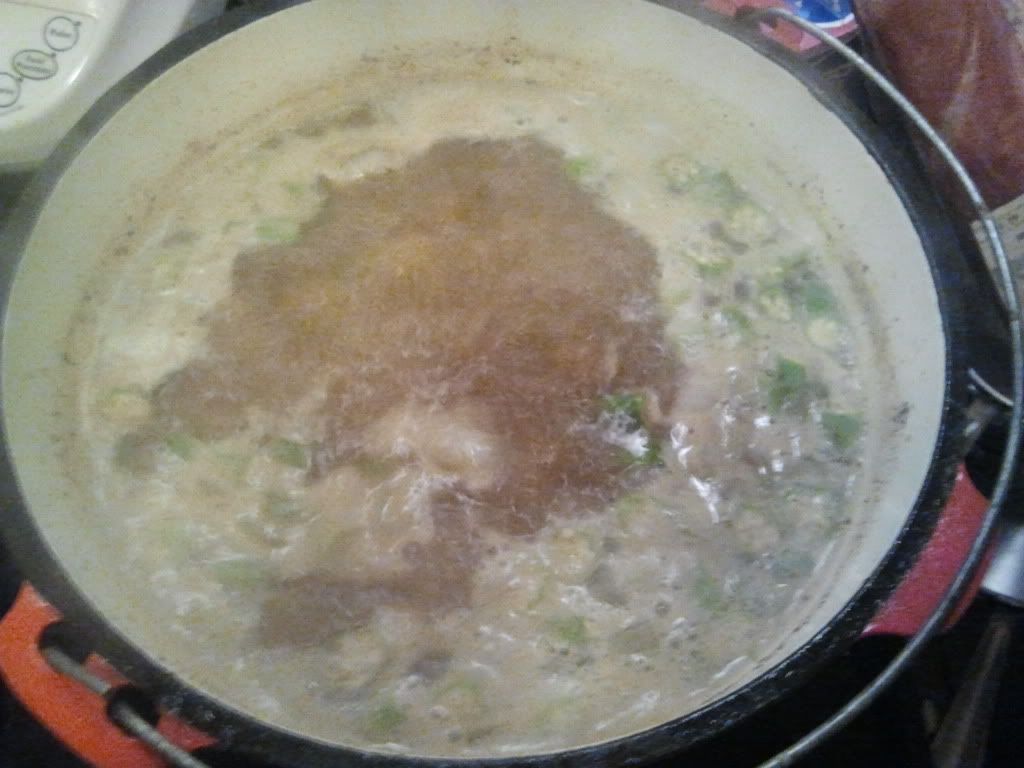 I let this mixture simmer for a couple of minutes, making sure that the stock and roux mix completely. At this point, I also add the seasonings. At the very least, it needs salt (I mix up a few varieties), black pepper, and garlic powder. But I also added:
dry mustard, cayenne pepper (Be careful, this stuff can burn), basil, oregano, thyme, and a couple of other things... I usually play it a little by ear. I also cut up a bunch of okra, and add it to the broth. The okra adds flavor and thickens the mixture slightly. I let this mixture simmer while I get the first round of meats together:
That's a bunch of andouille sausage (A cajun sausage I buy from a local place), and garlic sausage, and hot links (A hot sausage). Those are sausages that we make in house at the meat market I work at. I cut them up, and brown them slightly in a frying pan:
I also brown a couple of chicken breasts (No photos of that though), and I put all of those meaty ingredients in the simmering broth. I let it continue to simmer for approximately 30 minutes, while I get the seafood ingredients ready: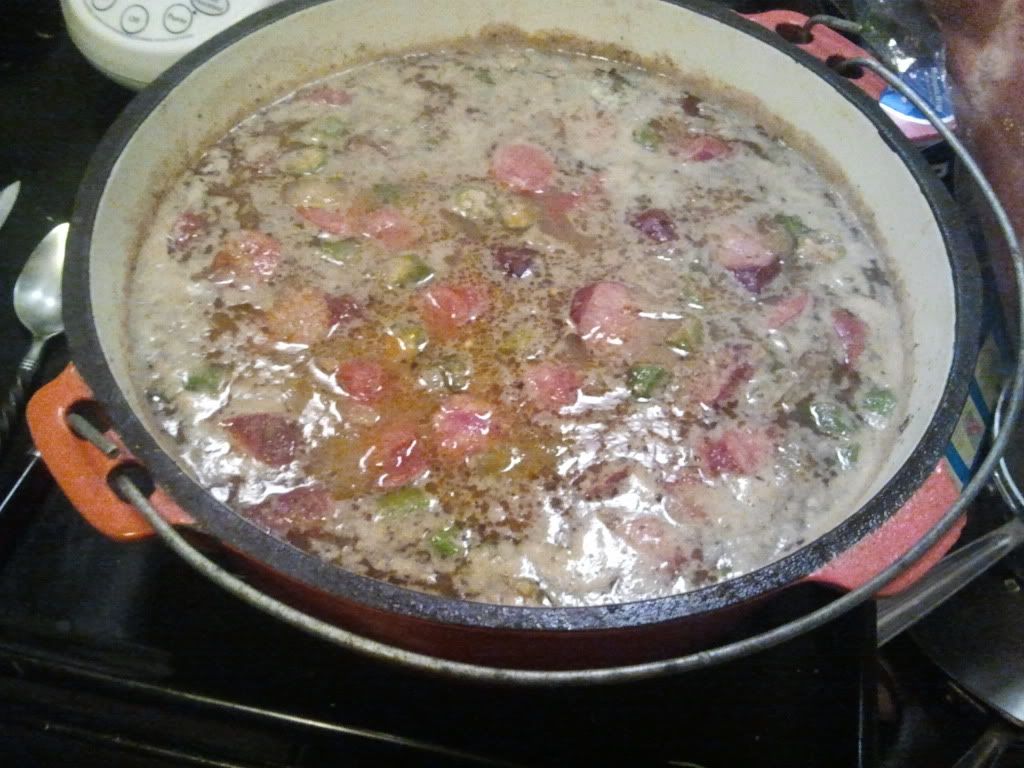 First I shell/devein about 2 or 3 pounds of freshly caught gulf shrimp. These are pretty big... Most being about the size of my forefinger:
Here's a shot of the seafood before it goes in. I used rock crab, the shrimp, tilapia, and (Not pictured) oysters:
I added the crab first, with some white rice, letting it cook for about 10 minutes before adding the shrimp and oysters.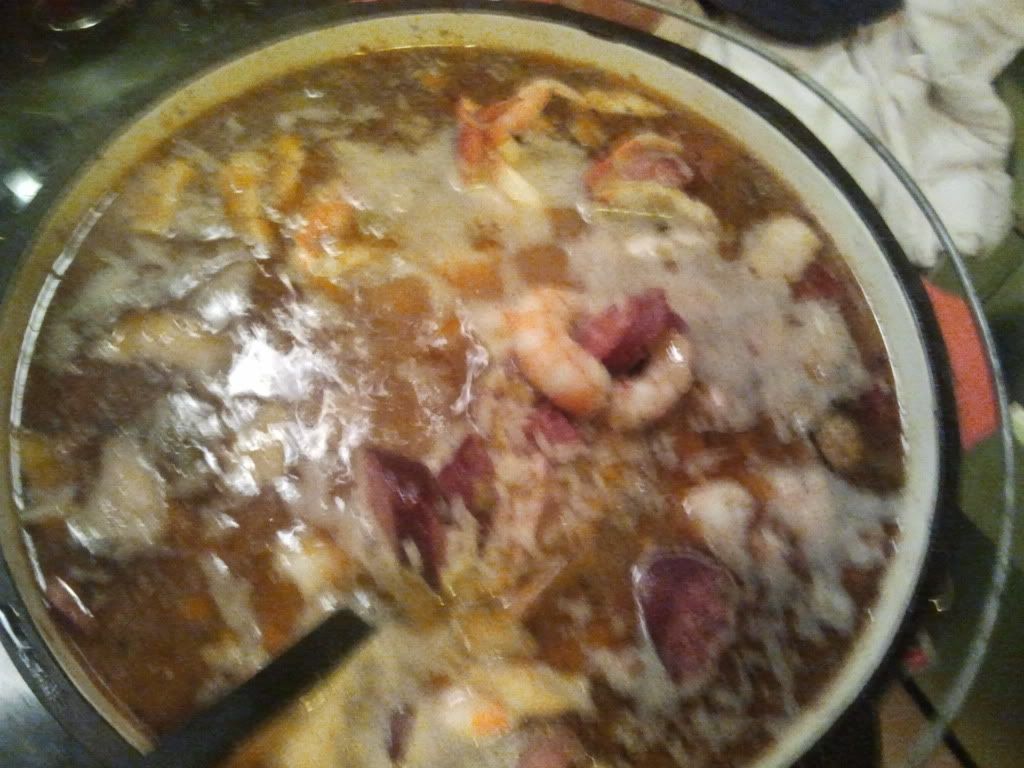 Once the rice, shrimp and oysters have cooked... Maybe another 5 or 10 minutes, it's ready!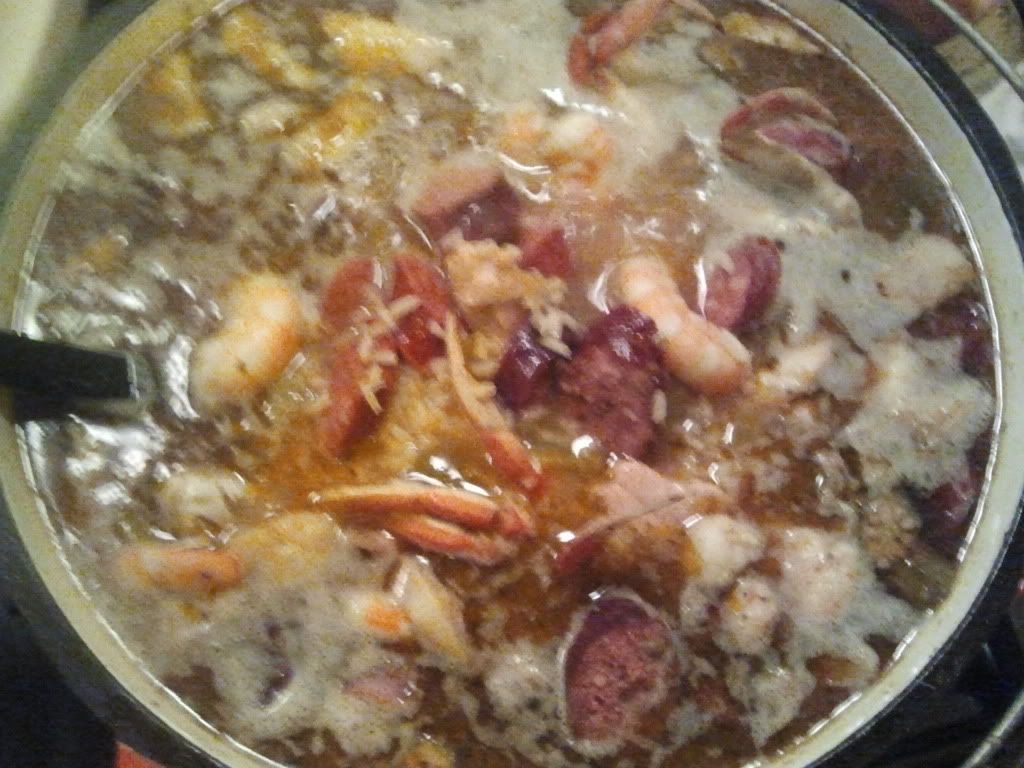 It came out perfectly, if I do say so myself... And the cool thing about gumbo is that it will improve over the next couple of days as the flavors continue to mix together. A lot of people prepare the rice separately, and pour their gumbo over it. I don't enjoy cooking rice on its own, and have found that I get great results by letting it cook with the other ingredients.
My wife calls this my "Food Chain Gumbo" as it has a little bit of everything in it.