Joined

Nov 13, 2011
Messages

2,151
Reaction score

1,834
I've been buying up some of my wish list pedals recently and due to having all my guitar stuff packed away for the Christmas tree I haven't had a chance to play with them yet.
Well my lady was out this morning and I couldn't wait any longer.
Dug my new Gator Gig box out and set to work.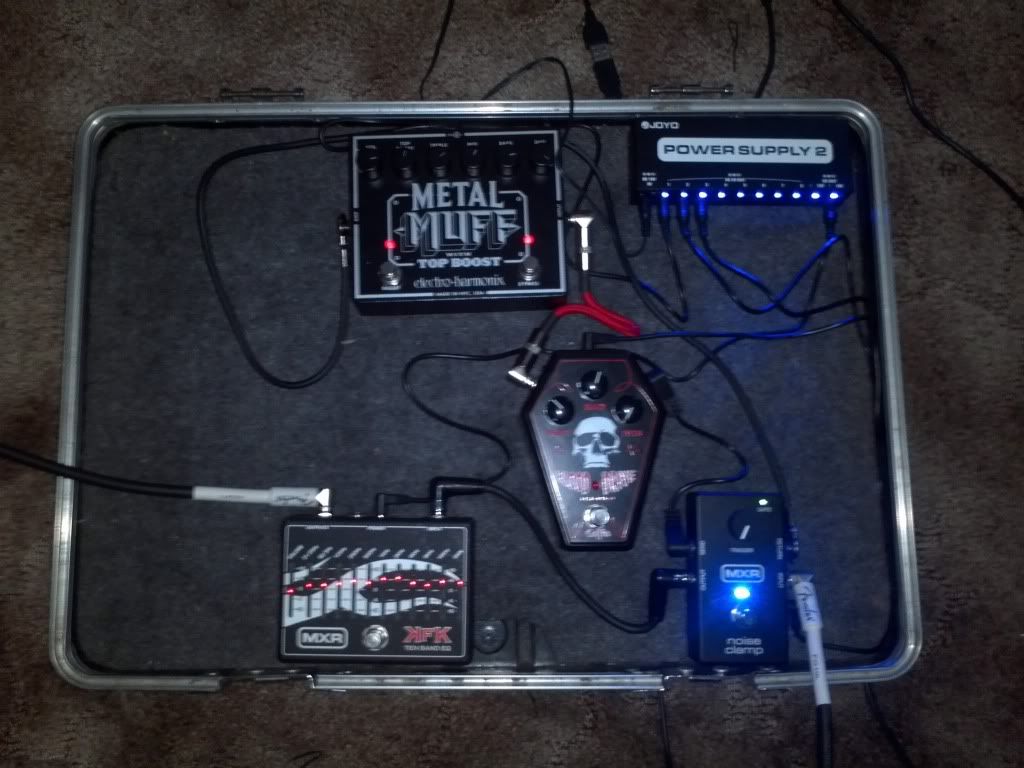 Pretty basic board, I play rhythm guitar in my band so a few flavours of distortion is all I need (couple with the digital chorus and reverb in my MG100hfx).
A quick tour of the toys.
Metal Muff. I love this pedal I can get the same tones as my guvnor and my jackhammer with a really sweet top boost for the occasional solo I have to deliver. As much or a little nastiness as I could ever want.
Blood drive: Despite it's cheesy death metal looks this is a sweet warm overdrive, similar in sound to the Zw44 Wylde overdrive. Great for some bluesy crunch, or to push the mgs crunch channel.
MXR noise clamp. I chose this for the built in effects loop, one stomp to cut all of my distortions at once.
KFK Eq: set up AFTER my noisegate so I can colour my clean sound and get a nice volume boost of I need it. If I up the gain a little and leave it in with my blood drive the sound is ideal for a bit of vintage marilyn manson.
Joyo Power supply 2. All the juice i'll ever need and quiet as the grave. 9 isolated channels 9 or 18v.
I have a vintage MXR hand wired loop selector also. For when I get my modulation pedals (still on the wish list).