Joined

Oct 28, 2010
Messages

27,841
Reaction score

135,551
I wonder if NAACP will get around to demanding the dismantling of the Ulysses S. Grant Memorial in Washington, DC, seeing as Grant owned slaves... as did Benjamin Butler and a few other top commanders in the Union Army.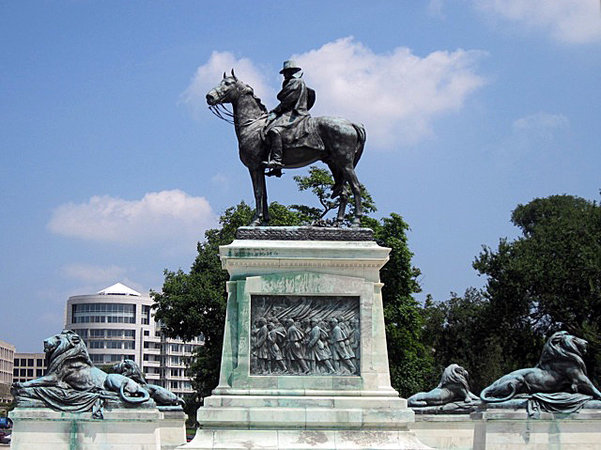 In Grant's case, he never manumitted his slaves until the very night before the 13th Amendment went into effect.
When asked why the delay in freeing his slaves, Grant's reply was along the lines of, "They were valuable, and nobody just throws away anything of value willingly".
***************​
But alas: I see that the tiresome Moral Melee concerning the US Civil War threatens to manifest itself once again, here in the hallowed halls of MLP.
Before it does, I'd mention this much: at the funeral of Ulysses S. Grant, the pallbearers were a mixture of former generals from both the Union and Confederate armies.
The survivors from the respective sides of the quarrel even staged various reunions, where veterans from both sides gathered together as a pleasurable social activity-- usually on the very battlefields where they had fought one another in years past.
I think that most of these photos (except for the one taken at a cemetery) come from the 1913 reunion that was held at Gettysburg, PA.
​
It's interesting to me, that these former soldiers were willing to drop the bellic controversy so as to show respect for one another-- rather than to flame one side or the other, the way the modern keyboard warrior is so likely to do.
I think that's because they had more than just a Big Opinion on the line in the actual battles. I believe that most of them also subsequently came to realize that Unity was a far more important element in national security and a peaceful society than an endless battle to prove how righteous and morally superior they were to one another.
To those veterans, "United We Stand, Divided We Fall" was more than just a Blue-Eyed Soul song from the 70's.
Meanwhile: sanctimony and inflammatory proclamations pretty much suck-- though they are sometimes useful in identifying inherently quarrelsome individuals and separating them from those who are generally a bit more thoughtful and objective.
And as for the war itself?
I guess I'd go with what Oscar Wilde had to say about the Truth, which was this:
"The truth is rarely pure and never simple"
--R