Joined

Mar 18, 2007
Messages

15,592
Reaction score

40,409
Hi!
This is a shootout of 12 different microphones on male voice and acoustic guitar.
The mics are:
Audio Technica 4033
Audio Technica 4050
AKG C414-EB (vintage transformer version)
Electro-Voice RE20 (vintage)
Neumann KM84 (vintage)
Neumann U87 (vintage)
Sennheiser MD421
Shure SM5 (vintage)
Shure SM57
Shure SM57 modified
Shure SM58
Sony C800g
These mics represent a wide range of price and quality. Starting with the least expensive mic, the SM57 to the most expensive....the Sony C800g tube mic costing almost
100 times!
more than the 57.

There are 2 folders that contain the audio files. You can download them here:
https://skydrive.live.com/redir.aspx?cid=4328578fd5a133e2&resid=4328578FD5A133E2!104
The files are 44.1k sample rate at 24 bits in mono. After unzipping them I think the best way to listen to them is to load the files in your DAW, each file on it's own track, so that you can solo each track as it's playing. Like this: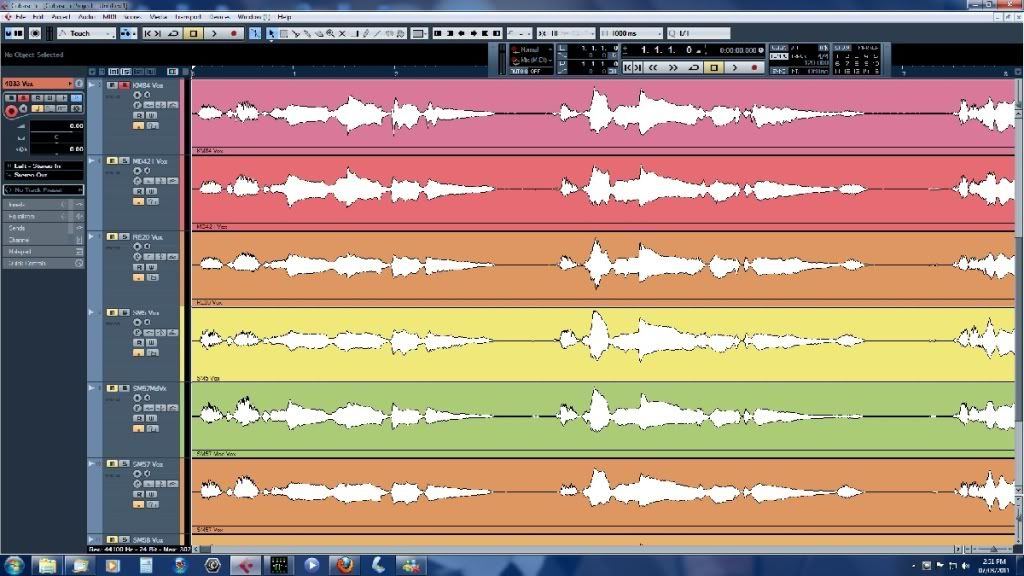 Although I was careful to be consistent with matching gain, proximity to the mics and positioning, I would not call this totally controlled and scientific. There are variances...but I think it's still usefull.
I sang the vocal part....I don't claim to be a real singer, so please take it easy on me
. I used a Stedman pop filter for all the mics except the Shure SM5. The mics were at a distance of 8" from my mouth.
For the guitar I played the intro of Rush's "Closer to the Heart" because it's very rich in texture. There is arppegio picking, open ringing strings and chord strums. The guitar I played was a 6 string acoustic that I made. The mics were positioned pointing at the neck/body joint at a distance of 8".
The mic pre is a tube design that I built.
Happy listening! I look forward to your comments and questions and hopefully this might help someone shopping for a new mic or just as a primer for what these mics actually sound like.