Joined

Sep 3, 2019
Messages

24
Reaction score

20
Hi all
Just picked this up yesterday: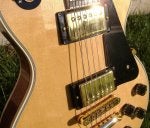 I have played a bunch of LPCs, some nice, some dogs, but none like this.
Everything looks good. The tailpiece is in the right spot, the bridge has pins (not screws), the "G" in Gibson is straight, the frets have nibs, etc.
First Q that I have is about the knobs - those orig?
Second is the p/u cavity. I see this metal shield with two screws.... I have never seen that before. Is that normal?
Third, is the neck. Currently, with the strings at tension, it is perfectly straight. Are these guitars suppposed to have a perfectly straight neck, or should it be (very slightly) bowed? Maybe this is a matter of personal pref, but would like to know if there is a correct answer here. Anyone know how they came from the factory?
Next, what polish is good and safe for cleaning the finish?
Last is cleaning the fboard. It's already pretty darn clean, but would like to clean it anyway. Is lemon oil the way to go, or something else?
Thanks in advance.