Joined

Feb 17, 2009
Messages

3,035
Reaction score

4,004
JUST FOUND OUT THAT I POSTED IN THE WRONG SECTION - SORRY !!
I have posted again in the correct section ( Other Gibsons ) and asked Alex administrator to remove it here.

As you can guess from my avatar I am a HUGE Alvin Lee fan. In 2006 I had a chance to buy
a 1958 Stratocaster that Alvin Lee had owned from 1972 - 1994. I managed to get some great authencification for that guitar.
Some months later the shop got a 1965 ES that should also have belonged to Alvin Lee. Being the big fan that I am,
I also bought that one despite the fact that the shop could not give any proof that it had been Alvins.
The guitar however had a repair after a Kahler tremolo removal, and I don´t know anyone else than Alvin who would do that.
So for me it was a strong indication, but not proof that it had been Alvins.
In 2008 I took the guitar with me to Lillehammer, Norway to see Alvin in concert and to have him sign the guitar and see if he could remember it.
I got my signature, but Alvin said he was not sure it had been his guitar - "he had had so many" as he put it.
Many years passed and I just enjoyed the guitar for the great player it also was. My preferred guitar sound changed from Fender to Gibson,
and since I could also use the money, I decided to sell the Alvin Strat.
The guitar went to a really nice guy and very passionate Alvin fan called Pieter from Norway.
When Pieter saw my ES 335 he said that the backplate that was used for the Kahler repair was exactly the same as the backplate under the kahler
that was on Alvins guitar when he played in Lillehammer where Pieter also was present and took some great photos.
My guitar also had grover tuners and all black knobs like Alvin preferred.
This got me started thinking again if I could get more proof of Alvins ownership and I decided to blacklight the guitar to see if there were sign of
stickers on the body or if I could see the ser # that had been painted over on the headstock and was unreadable on the orange label.
I have a blacklight that was out of order, probably a loos cord. Before going to the shop to have it fixed I tried one more time to get the light going,
and I managed to get a weak light. I put this light to the guitar but could not see anything of interest.
No see nr and no sign of stickers. I thought the light looked weaker than last time I blacklighted 3-4 years ago,
but thought that maybe I remembered wrong and I was just about giving up and accept that I would never
be able to prove that this guitar was Alvins, when I slightly hit the lamp and suddenly the full light came on :
AND LO AND BEHOLD THERE WAS A CLEAR SIGN OF A PEACE SITICKER AT THE LEFT HORN !!!!!!!!!!!!!!!!!! ( see picture )
Every Alvinfan knows what that means ( if not Google "Big Red"
)Man !!! I felt shivers down my spine !!!
I could still not read serial nr, but I could see that there was something behind the lacquer at the back of headstock.
So I think I will take it to a specialist and have the gently remove the black lacquer to see if the serial nr comes out.
I immideately called my friend Pieter from Norway to thank him for getting me started on this, and he told me to check in the pick up cavities because
Gibson might have written something there if it was a guitar they set up for Alvin. ( Update to follow )
Among other things Gibson gave Alvin a ES 335 for his 50 th birthday in 1994.
Thanks for reading !!
Rock on and greetings from Denmark from a happy Alvinfan !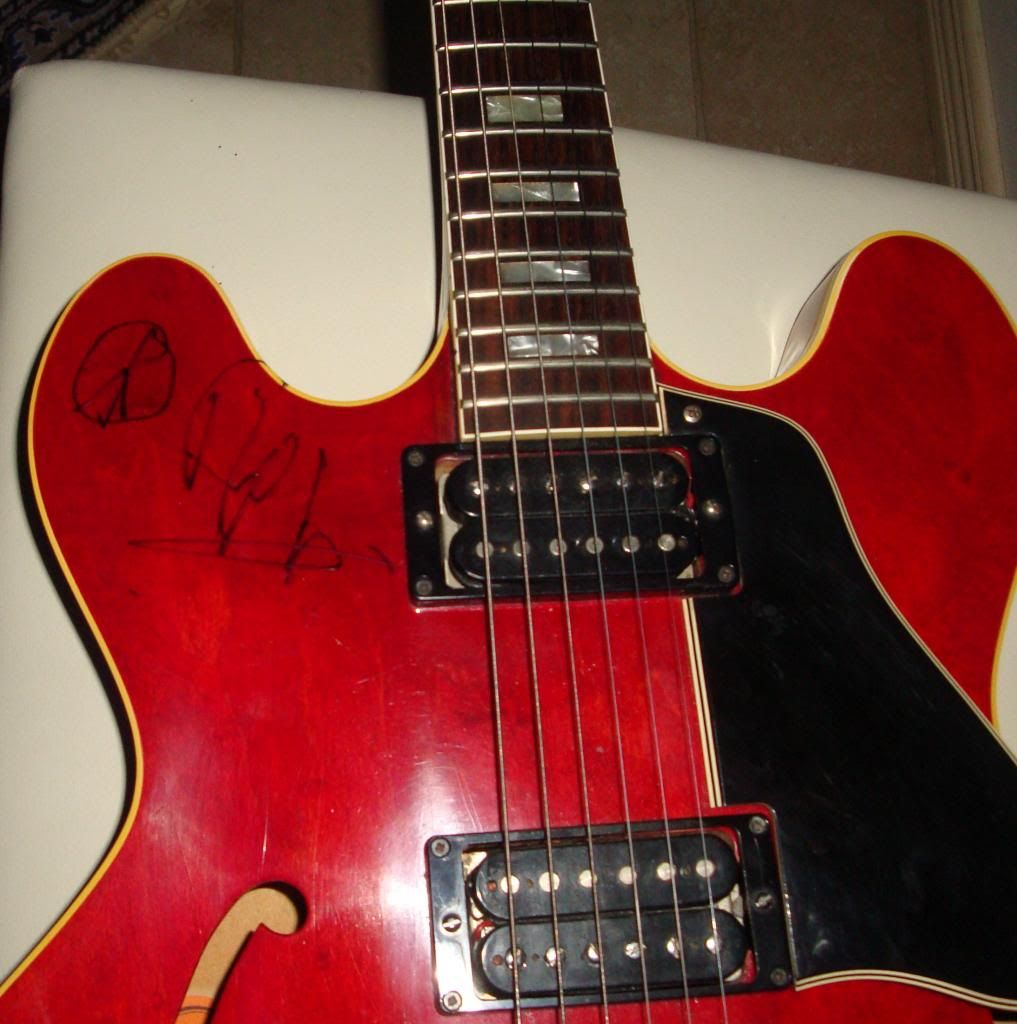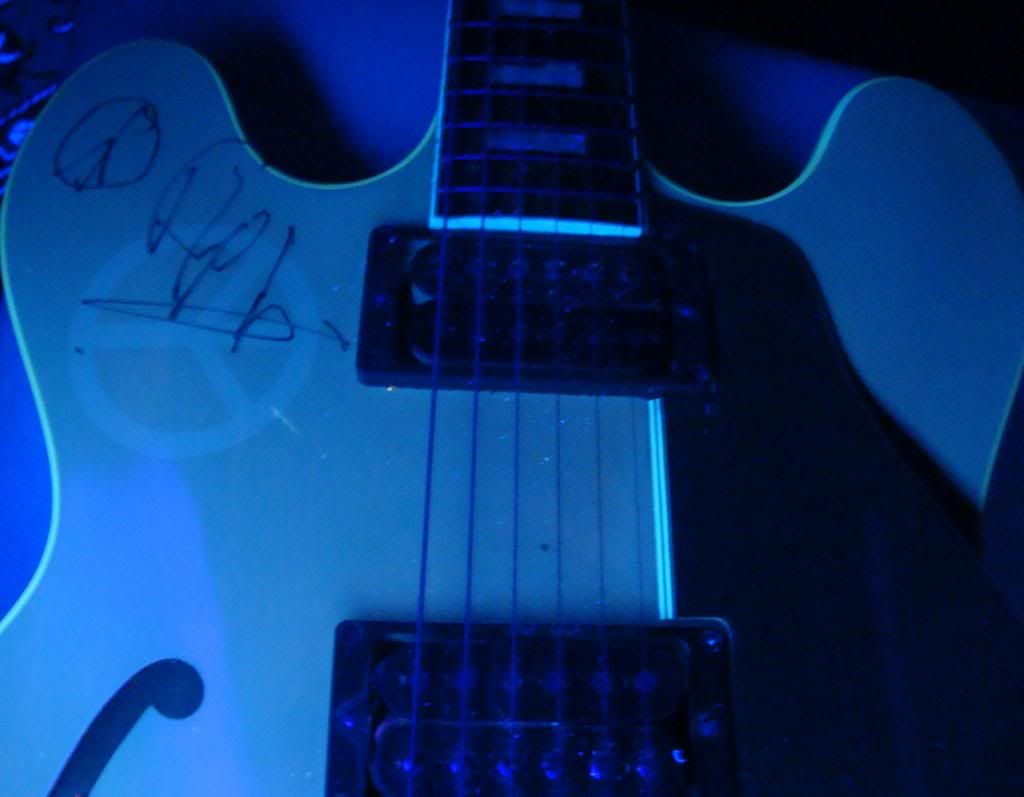 ME AND ALVIN 1993