Joined

Apr 19, 2014
Messages

658
Reaction score

585
Here is the project. It's a Gibson Les Paul, likely from the later 70's or so. The current owner has owned it for something like 30 years and while he hasn't played it in a while he has a very sentimental attachment to this particular guitar. He was fully aware of its history and some of its defects and told me about them before he even brought it in as he wasn't sure I would take on this project. What can I say, I'm a sucker for a tough project……and this is a rough one. Here it is pretty much as it came in. I pulled the strings and bridge while I examined and talked over the scope of work with my client.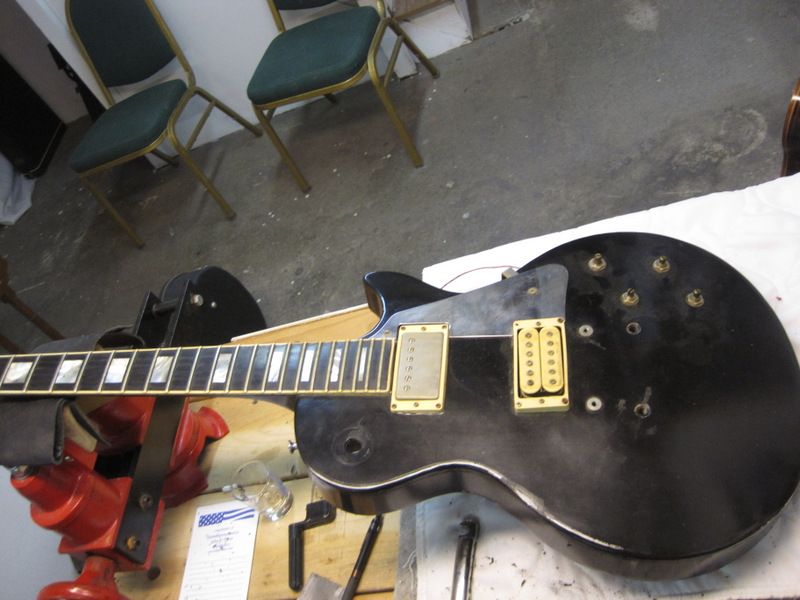 Lots of ugly black paint all over….even the bindings. And that still couldn't hide one obvious flaw that was sort of resistant to photography but was easily seen as soon as the case was opened, this guitar was one of those that was cut up into pieces at the factory and then put back together by someone. Judging by the deluxe bindings top and back this one was going to be a black beauty. In this pic if you look where I scraped the paint off the binding you can see the cut.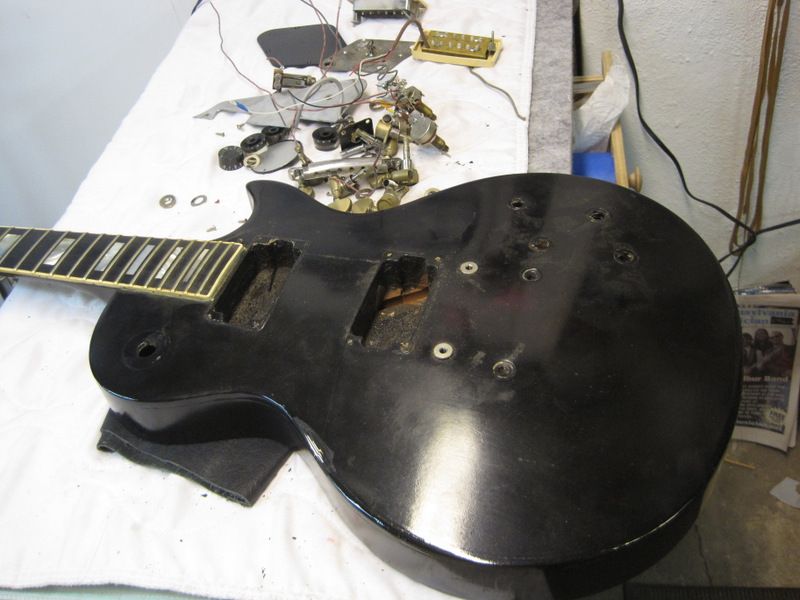 I could see other issues……right off the bat there was something really odd about the headstock besides its obvious lack of adornment. The hardware and electrics were beyond salvation. This quickly went from a re-finish job to a full on restoration…or maybe resurrection might be a better term. He agreed and told me to use my best judgment on all matters, he just wanted this guitar to finally look as good as it sounded. So the first real order of business was to strip off the finish. A job that seemed to go on forever…..they must have put 2 qts. of lacquer on, Perhaps at different times. But it was a thick, amateurish mess. Here you can get a good view of the cut where the body was put back together.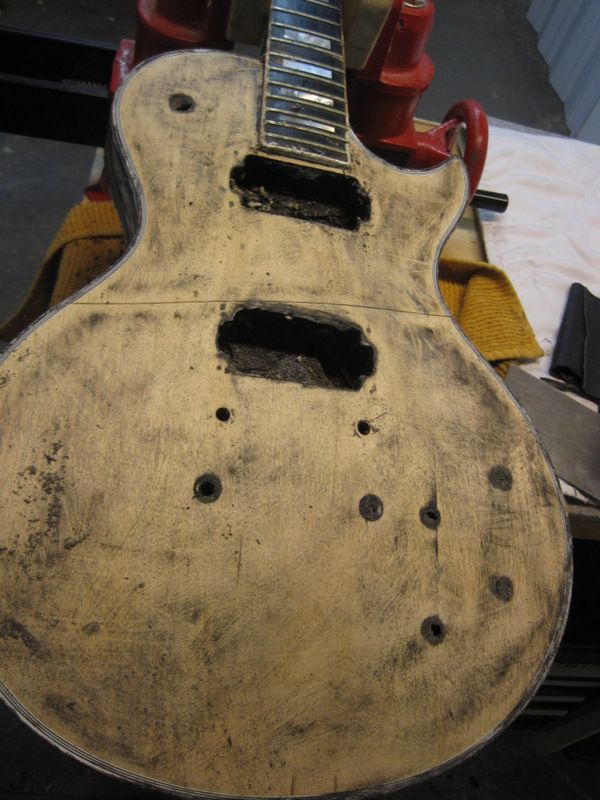 And here is the view from the back. Not any prettier back here.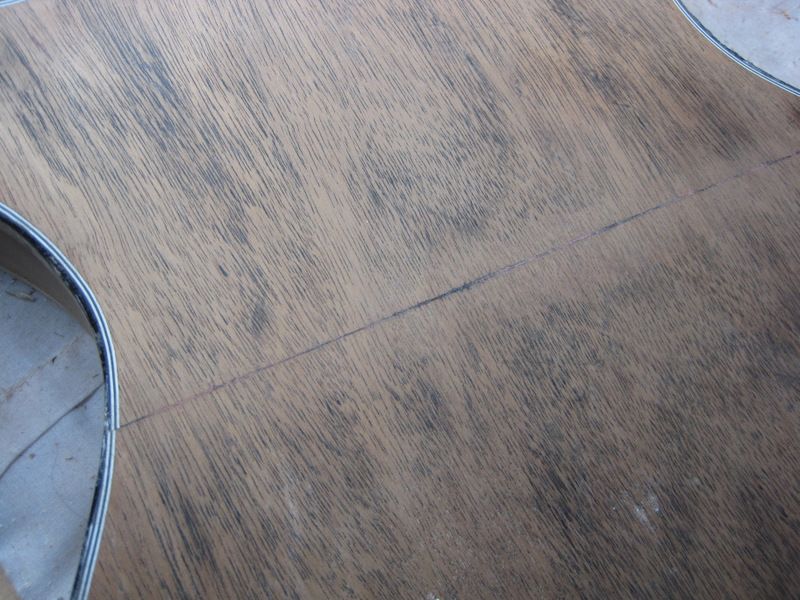 Any missing binding was simply filled with what appeared to be some type of epoxy. Whatever was used to glue the body back together most likely.
Here we can see the absolutely awful prep work at the base of it all. Bad enough old Lester here was cut up like the magicians assistant but look at the marks left by the ¼ sheet sander. Looks like 80 grit was it…that's good enough. The edges of the bindings were all tore up by someone trying to sand the ABS plastic round. Yeah that didn't work out so nice either…so they just filled it with paint.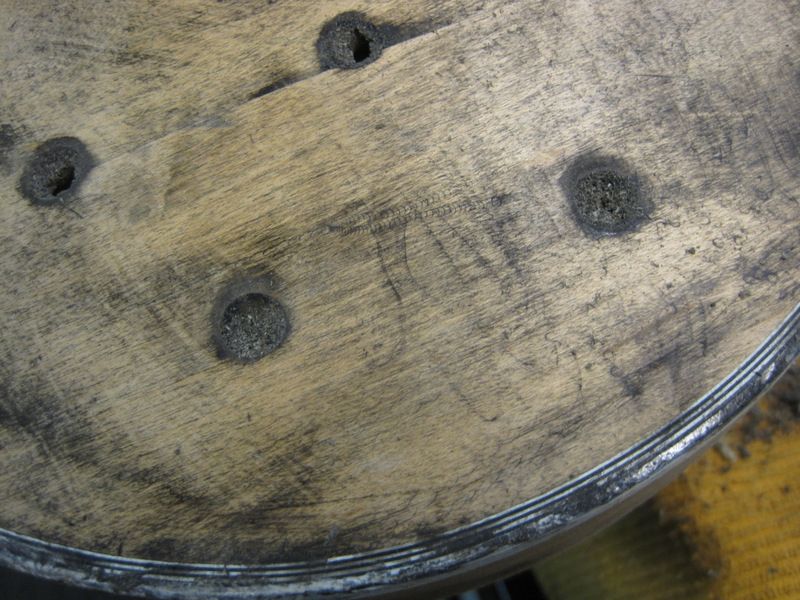 Now we can start to see what was wrong with the headstock. I had initially thought it was a broken neck repair gone wrong. I was partly right….it was a repair gone wrong, just not a break. The headstock had been sawn off as well and put back together not quite right.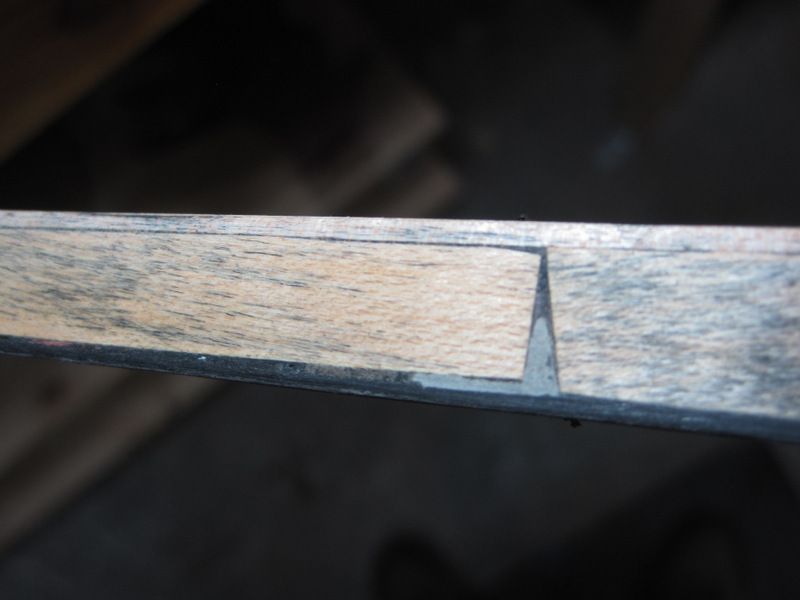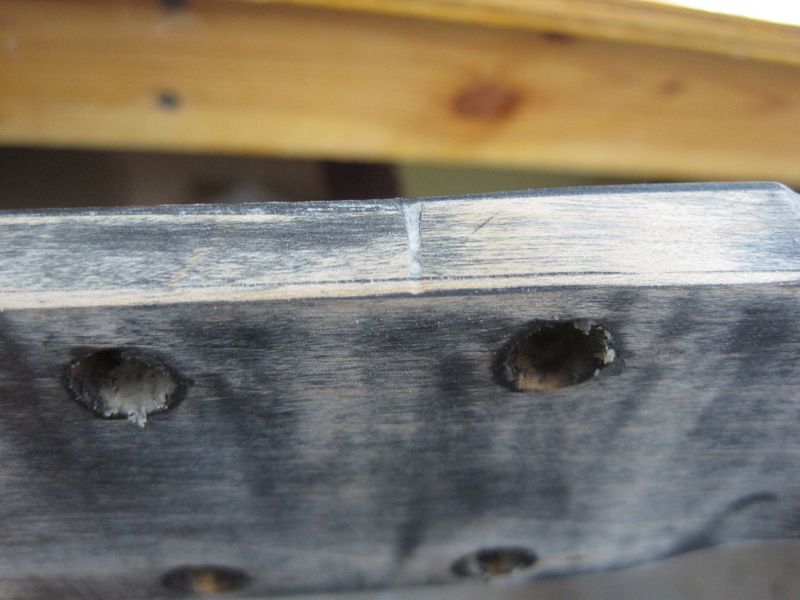 Here was a large part of the problem with the headstock. It was from a different guitar, you can see a sunburst finish here where I stripped the paint. This would also explain the lack of binding or large pearl inlay that should have been here.
It played and stayed in tune as it was and I was going to leave it until I noticed something disturbing. A back veneer had been used as part of the graft and as I striped the paint my putty knife caught the bottom of the veneer and lifted it. Looks like there was nothing but lacquer that had seeped in actually gluing a portion of the veneer down. That was it. This needed to be fixed. And in for a penny, in for a pound. I just couldn't see leaving the rest of the repair as it was with a slight twist so the whole thing was coming back apart and being put back to spec. Here you can see the lacquer in the joint after I popped the back veneer off.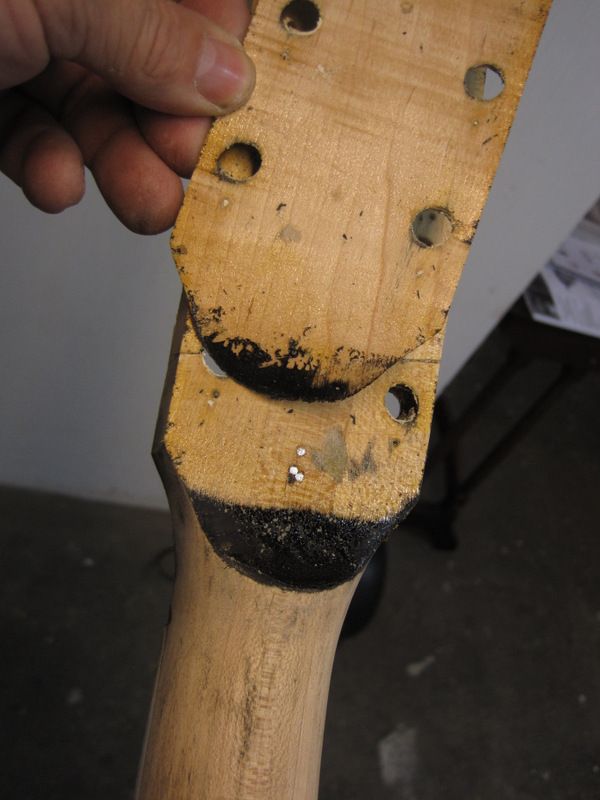 Now you can see where the head was sawn off and put back together. Hey I guess at this point I should just be happy that both the neck and the donor head were Maple. There are quite a few holes and broken screws in the center as well that were lurking under the veneer. Not sure what that's all about.
The whole mess was done in epoxy too……ARGH! Makes this harder than it had to be. Would have been one thing if the original repair had been straight and solid but taking apart epoxy is a bummer. And then you need to get to clean white wood again because nothing will stick to epoxy that has been heated and taken apart, at least not all that long. It was then that I found the true seeds of a bad repair. Two fluted concrete nails with their heads ground of were used as dowels. To make matters worse they were centered on the glue joints in the neck lamination, visibly breaking the joint in a few places. Nice!
Here is the donor head. You can see where the faceplate didn't make solid contact with the wood and was sorta kinda filled with epoxy.
To complicate matters more a twist had been put into it due to misalignment of the nails in the different pieces and then partially sanded out. This left me with the only true surfaces left being at a 90 degree plane. One being the top edge of the donor head and the others being the walls of the tuner holes. So I made a fixture to hold the pieces so I could machine them back true and also hold them in the correct alignment for reassembly. The only thing I had for a reference was the tuner holes so that is what I indexed in my jig. By using a set of attached side rails I could use my joiner to true up the faces of the donor and get back to flat and true. And get rid of all that nasty epoxy.
When I made my jig and loaded all the parts into it to see how it all stacked up another problem arose. Manufacturing tolerances at the Gibson factory are not as tight as most might like to think. The two parts we are trying to mate were made on different jigs….and well a picture is worth a thousand words.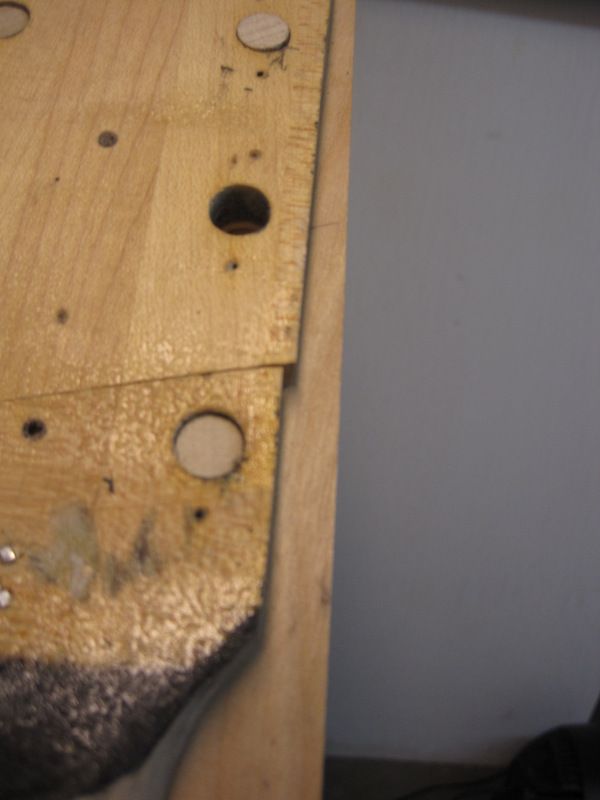 I glued some maple wings onto the places that needed it so the two parts could mate properly and be reshaped to fit the face veneer. In this shot you can see how much twist was in the original repair.
So here we are with the two parts of the headstock glued back together with nothing but the face veneer holding them when the jig is removed. It is very fragile right now and you can see the wings that were added so the overall shape can be restored.
This obviously needed some reinforcement. And I still had the split joints from those damned nails to deal with. So I cut in some splines and glued them in. Then I carefully carved and shaped the splines and the lower part of the headstock back to flat and true.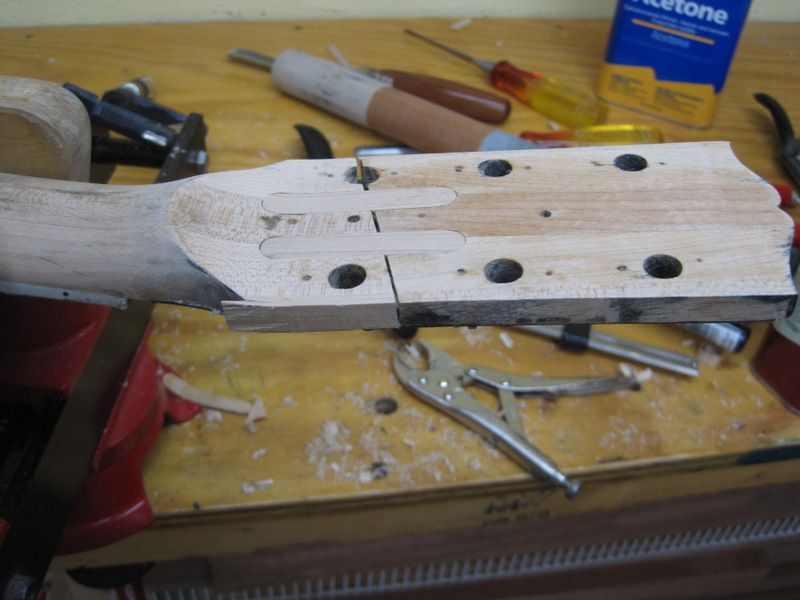 This left the headstock way too thin…by 5/16"! So I cut and fitted a new piece of maple and glued on to replace the missing back of the headstock. Here it is all shaped in. All I need to do is drill the tuner holes through it and it's almost perfect. Once it's finished you won't ever know. And all this was done with hide glue…so if this happens to need worked on in the future it will be easy to do so.
Stay tuned for more pics as the project progresses.