Joined

Oct 13, 2010
Messages

15,872
Reaction score

31,470
It's been a year since the superstar DJ took his own life. Now a film that he helped make offers an insight into his view of his final years
It's 2006 and in a bedroom in the Swedish capital, Stockholm, a fresh–faced blond teenager called Tim Bergling eats junk food and plays video games with his friends. He's grown up in a close–knit community in his hometown. Life is good, and his friends all agree: Tim is a sweet, shy boy with a joyful sense of discovery.
Like many kids his age, that sense of discovery extends to music. He loves technicolor dance acts like Daft Punk, Swedish House Mafia and Eric Prydz. Curious about this high-energy electronic pop, he starts making his own beats and realises that he has a talent for catchy melodies. After sending these beats to big-time EDM figures like Laidback Luke, who loves what he hears from the young Swede, Tim's life changes forever.
Just five years later, aged 21, Tim Bergling is known globally as Avicii – the superstar DJ and producer, a brand worth millions, and the instantly recognisable face of an exploding genre. When he is asked, "Have you made it?" during a backstage TV interview, he demurs in typically humble fashion. "I think you've made it," the smiling TV host says. Tim smiles back and simply says, "You do? Alright, good."
Avicii took over the 2010s with tracks like Levels, Wake Me Up, and Sunshine, paving the way for a new era of cross–genre collaborations with big names like fellow superstar DJs David Guetta and Tiesto, as well as Nile Rodgers, Coldplay and Madonna, who all spoke fondly of this enthusiastic, young music lover .
He dominated the charts: his 2013 song Wake Me Up was (at the time) the
most-streamed song
in Spotify's history. Between 2012 and 2016, Avicii
earned
nearly $90m (£68.7m). By the spring of 2018,
his song catalogue
hit 1.7bn total on-demand (audio and video) streams, and he'd sold 11.6m digital tracks.
EDM – Electronic Dance Music - is a hybrid of French house, American techno and British rave that grew into a high–energy style of electronic pop, drawing on
the ethos of PLUR (Peace Love Unity Respect).
A global phenomenon by the 2010s, EDM staged a cultural takeover of North American festivals once devoted solely to rock, hip hop, and pop, and became a multi–billion dollar industry of its own – Ultra Music Festival in Miami and Electric Daisy Carnival in Las Vegas had a combined attendance of more than half a million people in 2018.
DJs in the EDM world are comparable in terms of wealth and fame to basketball players and Hollywood actors –
many have become enormously wealthy superstars,
some earning upwards of $30–40m (£23-30m) a year. With adoring fans, huge financial rewards, and the extravagant jet–set lifestyle that comes with that fame, it's no surprise that many young DJs aspire to join this powerful league of festival headliners. Few commanded the love and respect both inside and outside the EDM world quite like Avicii – but the personal price he paid for such global success was huge.
After playing hundreds of shows and developing issues surrounding alcohol abuse and anxiety, Avicii was hospitalised while on tour in Australia in 2014. Diagnosed with acute pancreatitis,
reportedly caused by
excessive drinking, he later
had surgery
to remove his gallbladder, and was prescribed
a cocktail of medications,
including the addictive opioid Percocet. After two more years of non-stop touring, struggling with physical pain, emotional pressure and
prescription drug dependence,
Avicii announced his retirement in 2016 and stepped out of the spotlight to focus on a new, more peaceful chapter of his life and songwriting career.
Sadly, this new chapter was never written. In April 2018,
Avicii was found dead
in his hotel room in Muscat, Oman. His family gave an emotional statement to the press: "He could not go on any longer. He wanted to find peace." The cause of death was later confirmed as suicide. He was just 28 years old. Avicii's death rocked the global EDM scene. Questions were asked. How did no one recognise the pain of this very public figure? Was the dance music industry itself responsible for his demise? And what could have been done to save his life?
Clues are provided in
Avicii: True Stories,
a film that follows Avicii through the last few years of his life. As with so much of his career, he had a clear vision of the film and saw it as an extension of his creative legacy, part-funding it and approving its release before his death. Director Levan Tsikurishvili worked closely with him, with access both on and off stage. Alongside the heady euphoria of his shows, we see Avicii's turmoil as he lies in a hospital bed, his health seriously compromised by the relentlessness of life as an A-list DJ.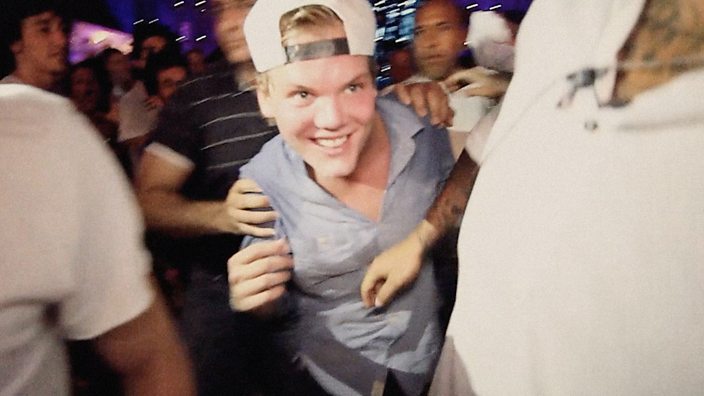 BBC Three
Avicii fighting his way through a crowd of fans
"Everybody knows Avicii but very few people know Tim,"
Levan said
at the time of the film's original release in 2017. "Being a worldwide superstar artist is not as easy as it looks on Instagram." Avicii also used the film to shine a light on how he felt the dance music industry treated the physical and mental wellbeing of artists – something which
insiders say
is changing since his death.
In 2016, the organisation Help Musicians UK published a
report
titled "Can Music Make You Sick?" and the results were alarming: more than 71% of musicians polled had suffered from anxiety or panic attacks, and 68.5% said they had issues with depression. In dance music, "Avicii's death catapulted mental health into the spotlight," says Tristan Hunt of the Association for Electronic Music (AFEM). Subsequently, mental health and wellbeing was one of the keynote topics at 2018's Amsterdam Dance Event (ADE) and International Music Summit (IMS) in Ibiza.
Staged annually, ADE and IMS are the dance music industry's most prestigious international conferences, and its keynote speeches can set the tone of debate for the coming year. Giving the keynote speech at the latter, BBC Radio 1's Pete Tong spoke about Avicii. "We [DJs] weren't supposed to die chasing the dream," he laments. "In my 40 years of being around [the dance music] world, I can't think of a single person who has achieved success who hasn't paid a personal price via health, relationships, divorce, broken homes, addiction, depression, and anxiety."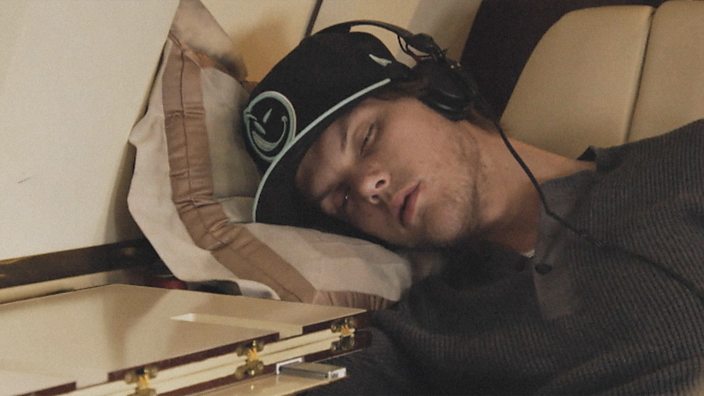 BBC Three
Throughout the film, Avicii displays moments of complete exhaustion
It's a conversation that's been happening in the dance music underground, too, not just in Ibiza. In Tottenham, north London, techno music venue The Cause operates in conjunction with mental health charity Mind and male suicide charity CALM, splitting its profits and using programming within the space to raise awareness.
In
an interview,
The Cause co–founder, Stuart Glen, cited Avicii's story as a prominent example of how the dance music industry can exacerbate illness. "The industry is hard work," he says, "with plenty of late nights and social pressures. This can put a lot of strain on people. Avicii is a prime example, a man at the very top of his game, who on the outside looked like he had everything, yet clearly needed help."
A telling moment in Avicii: True Stories comes shortly after his first hospitalisation in 2014. Told by doctors at his bedside that he will be in considerable pain, Avicii and his team discuss how to continue the world tour in spite of the news. After being discharged from hospital, he's driven on to the next commitment. As he visibly struggles against the effects of the medication, a member of his team asks if he would do some phone interviews that afternoon. They need to promote his next show. A seemingly exhausted Avicii stares out of the window, struggling to keep up with the conversation, but he agrees to the interviews.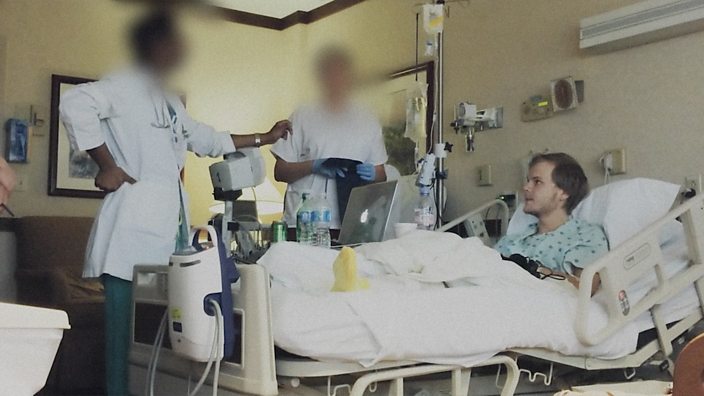 BBC Three
Doctors explain a treatment plan to Avicii during his second spell in hospital
Clare Scivier is a former artist manager who left the UK music industry in 1997 to become a behavioural psychologist, working closely with record labels and management companies to address issues surrounding artist wellbeing. "We have seen recent cases where there should have been more awareness," she told
UAE news platform The National in 2018.
"And that comes down to a lack of education. We may now need to discuss a longer term plan for an artist."
When Avicii announced his retirement, he was open with his fans about his struggles. "I know I am blessed to be able to travel all around the world and perform," he wrote on his website in 2016, "But I have too little left for the life of a real person behind the artist…My path has been filled with success, but it hasn't come without its bumps."
Prior to making that announcement, Avicii is seen in the film travelling and recording music with his friends around the US. In a quiet moment on the tour bus, he talks about what he's learned from the work of psychoanalyst Carl Jung. In particular, about how different kinds of personalities are better suited to different kinds of situations and relationships. He says it's made him realise that he's an introvert – hates small talk, but has "suffered it" to keep up appearances in an industry full of peripheral relationships. He's now made peace with the fact that he can't pretend to be an extrovert anymore.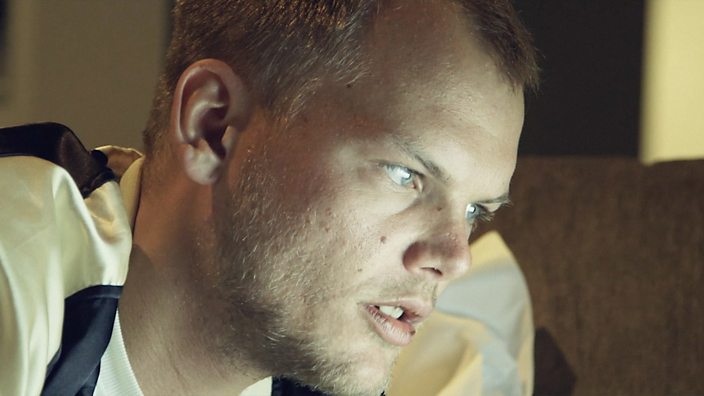 BBC Three
Avicii composes a letter to his fans to announce and explain his decision to retire
The party lifestyle that characterises the dance music industry is depicted as the cause of a clash between Avicii's genuine personality and the superstar DJ persona that he felt was expected of him.
Talking to
Associated Press
after his death, Nile Rodgers - who had a close musical and personal relationship with Avicii - reflected on the sad loss of the artist he called his "little brother". While paying tribute to his talent, calling him "one of the greatest, natural melody writers I've ever worked with", his memory of their last performance together - about three years previously - was marred by Avicii's drinking.
"It was a little bit sad to me because he had promised me he would stop drinking, and when I saw him he was drunk that night. And I was like, 'Whoa. Dude. C'mon. What are you doing? What's going on? You said that that was done'," Nile recalled. "We did a show and I was a little upset. I didn't even stick around for his performance because it was breaking my heart. But we still had a great time. It was wonderful — we were that close."
In an interview
shortly before the film's release, Avicii himself said that he couldn't take any pleasure in watching other musicians perform any more, never mind make and perform music himself. "I'm still traumatised," he admitted.
It's one of many moments in Avicii: True Stories which shows the struggle between stardom and wellbeing, and how uncensored Avicii was about his life during filming. "Tim was so honest about himself," says Levan. "All of us, in one way or another, want to share our own stories of who we are and where we come from."
On the one–year anniversary of his death, Avicii's story will start a new chapter. Carrying on his philanthropy work –
donating millions in his lifetime to various organisations
combating poverty and Aids – the Bergling family
will this month launch
The Tim Bergling Foundation, a charitable organisation dedicated to suicide prevention and combating mental illness.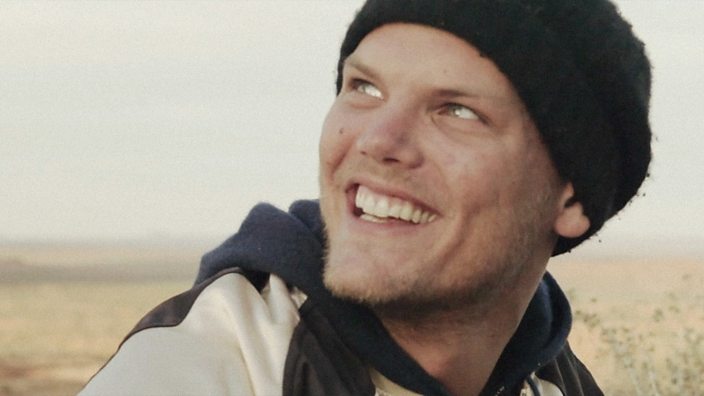 BBC Three
Avicii appeared at his happiest when on the road recording with his friends
In a public statement, the family wrote: "Tim wanted to make a difference – starting a foundation in his name is our way to honour his memory and continue to act in his spirit." Through the film, fans and newcomers to his story alike can come to know his spirit. Through the family's foundation, his spirit will live on.
"We raised awareness around the whole subject,"
Pete Tong told Billboard
one year after his IMS keynote speech. "I now know more artists, and those behind the scenes, who are striving for a healthier balance." Going forward, the EDM industry can hopefully learn lessons from the passing of this shy and talented young man, who changed a genre forever.
If you've been affected by any of the issues raised, advice can be found here.
Avicii: True Stories is available on BBC Three iPlayer.
This article was originally published on 16 April 2019