Hello, I am new and at a total loss at this point. Please help. I recently acquired a set of Pro Alnico Classic PUPs. These are the stock pickups in an Epiphone G-400 Pro. T.e pickups I received do not have a quick connect on the end. They have 5 wires: braided, red, black, green and white. The green and white came soldered together. I also received the Pots and switch which do have the quick connect assembly. I want to install them in my 07 LP. My question is this: HOW IN THE HECK DO I PUT THIS ALL TOGETHER?
I've seen elsewhere on the forum (
http://www.mylespaul.com/forums/tonefreaks/210303-why-5-pu-wires-molex-connector-2012-std-2.html
) where I can possibly order some molex connectors to connect to the end of my pickup wires (5 wire), but everything seems to be for Gibson on that thread. My guess is Epiphone is different.
I'd like to use the pots as they are push/pull for coil splitting, but I also have a set of upgraded pots in the guitar already (not push/pull) so if I can't use the push pull/so be it. So can anyone help me with any of the three options below?
1. Install the new pickups with the new pots and new switch assembly by purchasing the correct quick connect for the pickups.
2. Install the new pickups with the new pots and new switch assembly by by passing all the quick connects and going directly to the pots. (Can I solder the posts on the pots as seen in the pictures below?) If I can do this, is there a diagram I can follow somewhere of how to connect everything? Where does each wire get soldered? My original PUPs are 2 wire so these being 5 wire is a bit different for me.
3. Connect these new Pickups to my other pots (upgraded 500K pots wired 50s from Toneman on Reverb.com). I know I will loose coil splitting here but ... Again where do I connect everything being as it is 5 wire and not 2
I will be forever grateful for any direction here. Please go easy on me. Despite playing for many moons, I did my first soldering job about 2 months ago. I always spent time playing rather than modding.
Pics:
All of the parts received: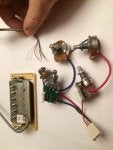 Close-up of wires from pickup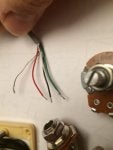 Close-up of one of the push/pull volume pots with quick connect and 5 wires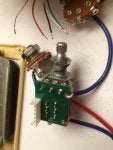 Close-up of just the push/pull volume pot with quick connect