Joined

Jul 2, 2007
Messages

2,698
Reaction score

314
I picked up this Memphis branded 335 clone, ive been having trouble finding info on.
It appears very similar to an aria pro 2 es 700 but has some variances that dont appear on the aria models. The memphis logo and inlays are mop, it has fret edge binding, 2 screw trc, bridge posts are the abr1 type threaded directly into the body, and different pickguard bracket.
The center block looks like mahogany and is wider than the bridge posts and one piece from neck joint to tail. the neck is 3 pieces with a scarf joint and seperate heel, and there is a volute. has a short tenon no extension or screw in pickup cavity.
The tuners are interesting they have a rotating sleeve between the gear casing and the key to adjust the tension. The bridge appears common on es clones from 77-79.
The pickups have been difficult to identify as well. I havent removed the covers however the base is stamped 180426 which matches maxons code as april 1978. There is no stamp or other markings on the back other than the date. it has a grey lead and removing one of the pole pieces it appears to have the a thin clear bobbin ive seen on some early maxon pickups 73-75 but nothing dating towards 78 that seems similar.
I have yet to measure the pickups. It has full size pots and green chicklet caps. Really nice guitar not sure on the value ive only seen one that is identical here
https://reverb.com/item/4301951-vintage-1980-memphis-es-335-custom-matsumoku-japan-high-quality-fretside-binding-best-335-hands-down
(link notworking copy and paste) aside from the knobs. Plays and sounds phenomenal, has the mid 60's narrow nut thats taken some getting used to.
If anyone has more info on this guitar or the pickups id love to hear it. Heres a few pics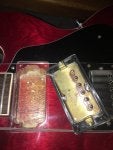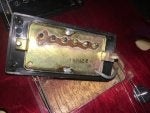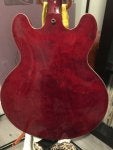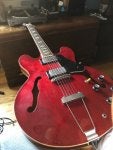 Last edited: