Joined

Apr 24, 2010
Messages

1,935
Reaction score

763
So I finished the Tom Paul kit I bought in poly.
Before I put my flame suit on, I'd share some first hand info on the Tom Paul kit I have:
- I bought the kit with the maple plug at the switch location, which cost me $500.
- The top is beautiful flame maple with really nice grain. The top is carved really nicely, when Tom Paul said that he studied Max LP bodies before, he wasn't lying.
- The back and neck is Honduran Mahogany. The neck is 2 piece separated near the headstock joint to give it more strength, with carbon fiber re-enforced near the truss rod cavity.
- The back looks to be one piece from the back, but from the side, it's got the pancake kind of construction. I guess for $500 you can't really expect real one piece Honduran.
- The neck profile is more of a 60's slim neck than a 59. It's not thin, but it does not have the nice round shoulder of a 59 neck. It still feels really good, but I wish it was a bit fatter.
- Fret board is Braz. Although it looks like 2 pieces, but it's got very nice grain.
- Bindings and headstock are nicely done, no problem there.
- Frets are nicely done, I had to do a little bit polish, but they are very good to begin with.
So overall, the quality is there, but onto the not so good stuff. They are not huge problems that can make or break the project (almost, but eventually not), but they came as surprises so I was not completely happy with the fact that I wasn't informed about these issues before I got the kit. I would be more cautious next time when I look at a kit:
- There are 2 pieces of inlays that are off center, each by about 1/16". Normally that would not really be noticeable, but unfortunately, they are right next to each other, and one is off to the bass side, one is off to the treble side. This made the whole thing looks quite obvious if you pay attention.
- The 2nd problem is that the pickup cavities are off center (fortunately to treble side only), and too close to the neck. This almost made it a deal breaker for me when I started to lay stuff on the body. First I have to enlarge the routing to be able to fit pickup rings and pickups. And because the bridge pickup is off center by quite a bit (like 3/8"), the bridge pickup almost could not conceal the cavity completely (in fact after I finished it, it still shows a bit on the treble side). And also because I had to push neck pickups down, there are no pre-made pickguards that would fit between the pickups, I am looking modify one of my existing pickguards or getting one custom made.
Anyway, I have decided from the start that this is not going to be a "replica", instead it would be a workhorse LP in a color I like.
Now, back to the main thing, the finish. First of all, I am a firm believer that the thickness of finish has much more to do with the sound than the actual type of finish itself, which is even less important on an solid body electric guitar. Second, I just don't have the facility to spray finish. So I decided I am going to try the Minwax Wipe-on Poly. It's the oil based finish. The worst I can do is to sand it all done and start over.

Anyway, here are some pictures of the progress. Here's when I got it, it's good looking, isn't it?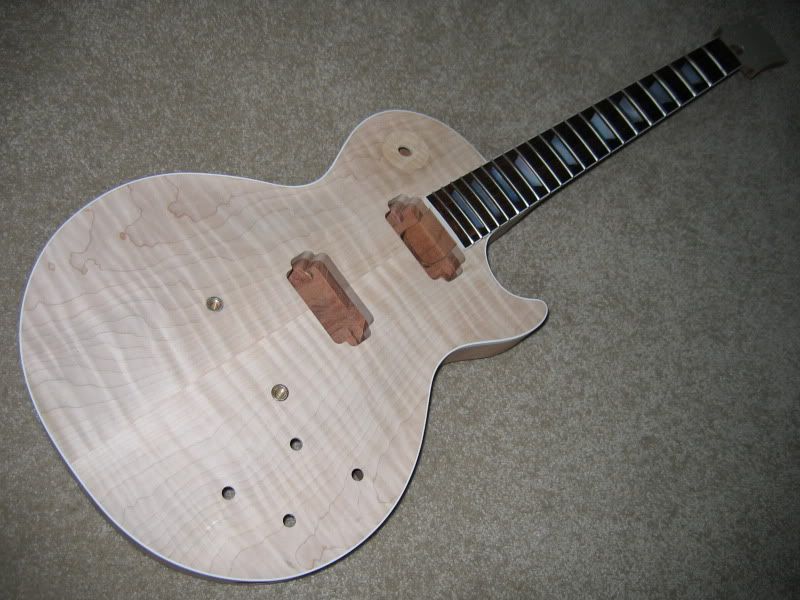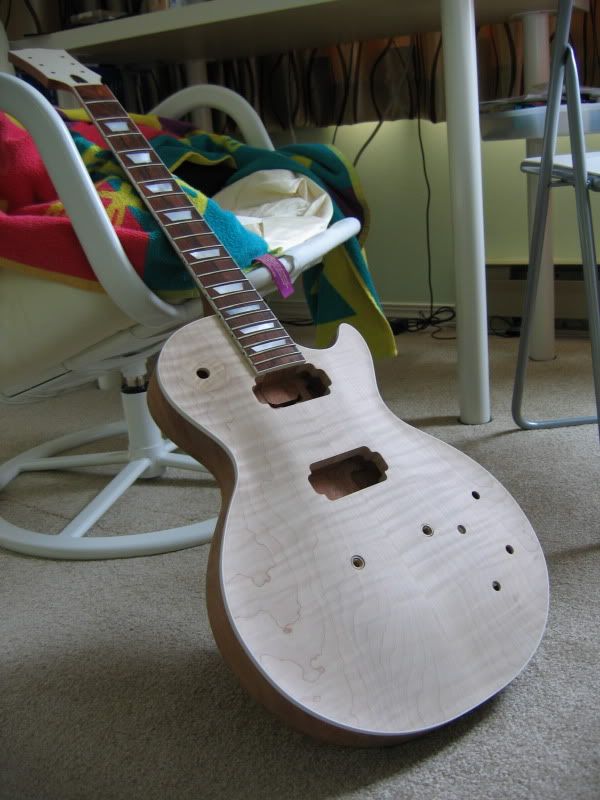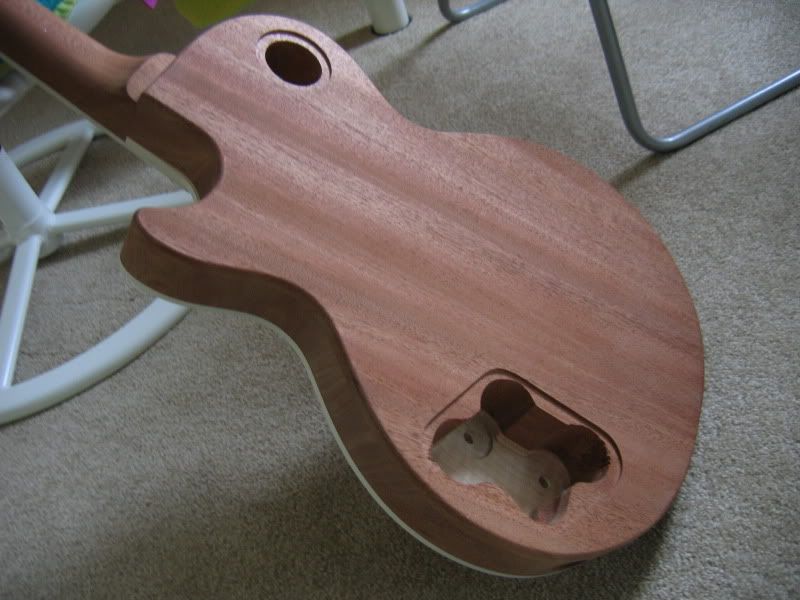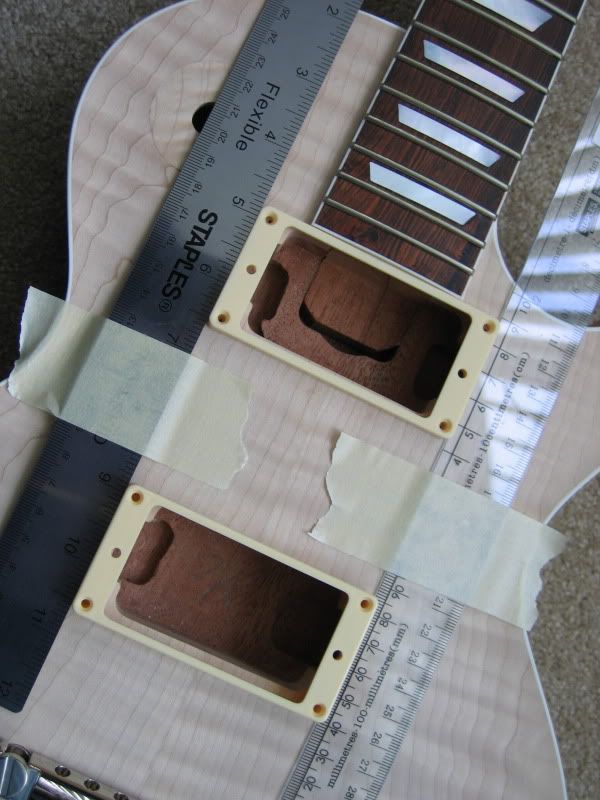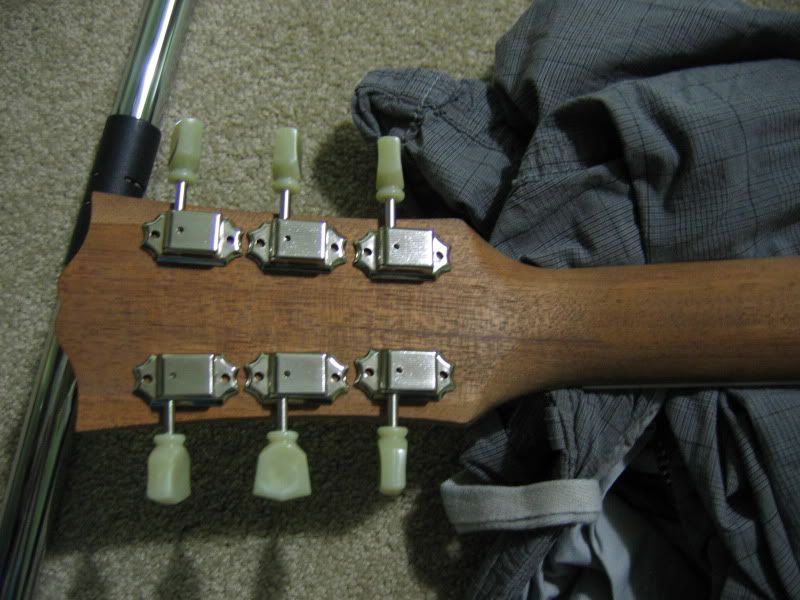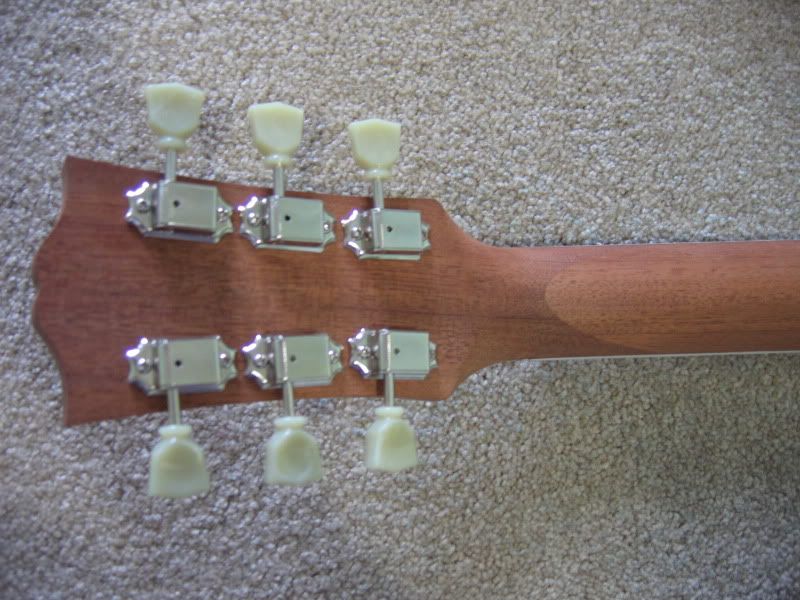 Here you can see the problem with the neck pickup cavity, it's off center, and too close to the fretboard, no room for the pickup ring, so the whole thing needs to be pushed down, here's how I use a metal pickup ring to give me an idea of how much wood I need to take off using Dremel:





Finally, the pickup is in! But I don't think the cavity would fit a covered pickup, but I never planed to have a cover in there anyway!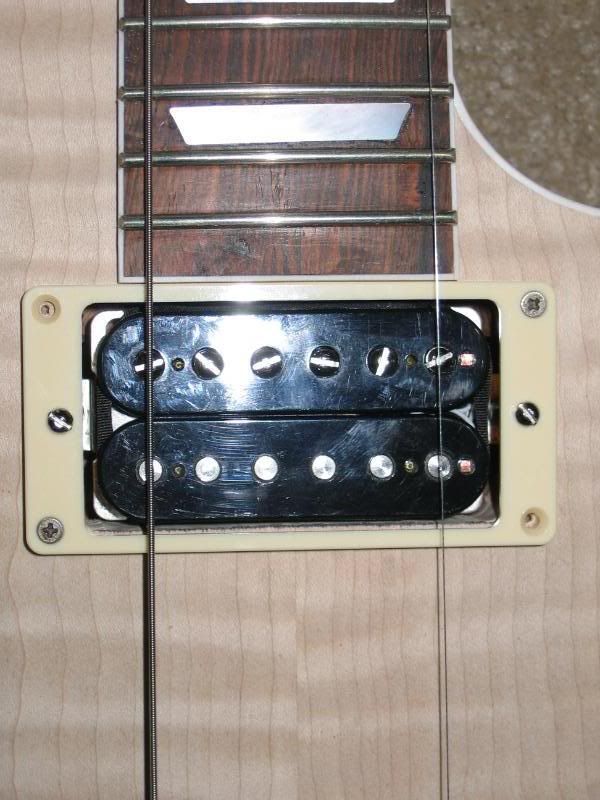 I used the tricks I learned from this forum to locate the bridge.




More to come!