Joined

Jun 4, 2012
Messages

2,509
Reaction score

3,058
The Gibson Firebird: Happy 50th!
Arlen Roth
|
03.21.2013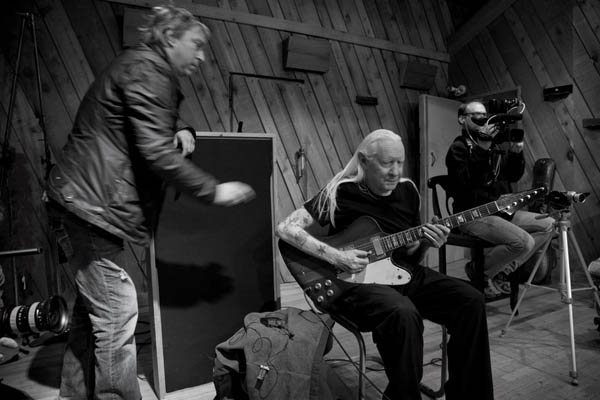 It's quite ironic that he wonderful Gibson "Firebird" Guitar is celebrating its 50th Birthday, especially since I just started doing my new "Slide Guitar Summit" album, and the first sessions were cutting a tune with none other than
JOHNNY WINTER!
Johnny has long been associated with the original "reverse" Firebird design, and he has used it extensively since his very early days. It is easily one of the coolest "new" guitar designs ever created after the initial days of the Les Paul. It's very true that with the creation of Gibson's
Firebird
and
ES
series, 330, 335, 345, 355 etc., you could argue that they actually added two more
classic
designs that can certainly be imitated, but never duplicated when it comes to electric guitar design!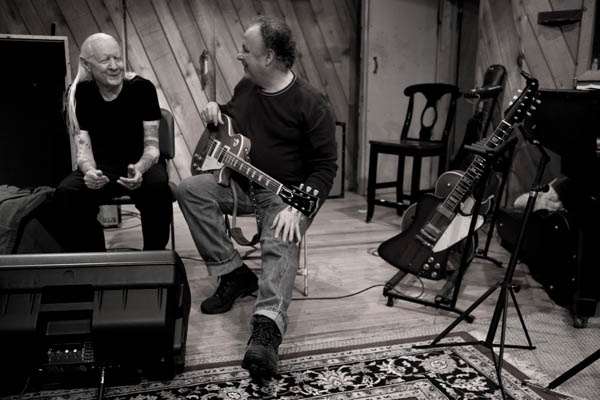 The first time I saw the Firebird, it instantly excited me. It seemed like a car of the early '60s, where it was already in "motion" just standing still! A truly great and exciting design and I sure wish I owned the one I foolishly sold about 15 years ago for peanuts! It was a Firebird III that I found in a NYC pawnshop, and it had the
incredibly
rare combination of having the "reverse" body, but with the
non-reverse
headstock! I have vowed one day to get another one somehow, and this one was also a 1963, the first year of production for the Firebird, although it's combination of reverse and non-reverse characteristics would point to it being a "transitional" guitar, made before Gibson went to its second-generation Firebird style. This style was used extensively by the great bluesman, Clarence "Gatemouth" Brown
.
Let's also not forget how incredibly cool founding Rolling Stones member, Brian Jones looked and sounded with his and how many people he exposed this incredible model to!
Besides looking incredibly cool and futuristic, the Firebird introduced the mini-humbucker to the arsenal of already great Gibson pickups that were available, and a new, crisper and cleaner tone was now available in the humbucker format, also with a sleek looking, clean design that totally befitted the guitar it called "home."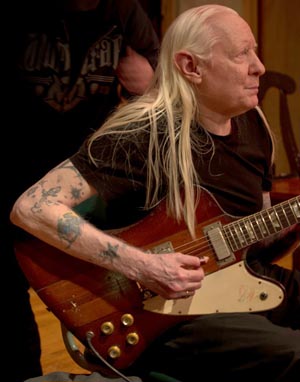 In the early '80s I wrote a book entitled
Rock Guitar for Future Stars (Ballantine),
and was so in love with my reverse Firebird III at the time, that I used it for almost all the photo examples and illustrations of technique in the book. One thing I certainly remember form owning that guitar was how uncannily it seemed like something totally "new" while at the same time something very familiar and comfortable to hold and play. It was just one of those guitars that "fit like a glove" for me, and I really miss it. I vow to get another one someday, that's for sure!
When I started sessions for my upcoming
Slide Guitar Summit
album, I was fortunate enough to do the first session with Johnny Winter. We immediately started talking about the old days, Son House, Tampa Red, me seeing Johnny at Woodstock, and of course we talked guitars, and specifically his love for his Firebird! He made it very clear to me that he loved it first and foremost for its sound, as well as its playability for slide. I got a chance to hold it, and saw that he had very heavy strings on it, and it was setup with nice high action specifically for slide! Since we were playing in open D tuning, I sure was glad I brought a guitar with equally high action and heavy strings, so I could utilize my
Les Paul goldtop '57 VOS,
a guitar that is of an unreal level of quality! Once we started recording and "trading off" on slide guitar, I immediately knew that Johnny was in his "comfort zone", and we both fell into a great groove when it came to trading off on our licks! This also served to even further "re-awaken" my desire for a Firebird, as it just sounded so incredible in Mr. Winter's very capable hands! I still miss my beloved Firebird III, and still kick myself daily for not buying another red V or VII I had found in a music shop some 30 years ago! Yes, $1000 was a lot at the time, but you can just imagine what it would be worth right now!
The thing about Firebirds is that like most truly classic guitars, they evoke a kind of feeling, a kind of playing even and there's a certain kind of "romantic" quality to them that makes them truly singular. I think it's a combination of the look and just how much it actually
sounds
the way it
looks!
That's a hard thing for a guitar to consistently do, but these masterpieces manage to do just that! The sleek design seems to perfectly match the sleek sound of those unique mini-humbuckers, and the "neck thru the body" construction also gives the guitar a kind of stability that is immediately noticeable when you pick it up. One thing that always impressed me as well is the use of the "6-inline" tuning pegs, and that unique and very cool headstock. It helps the sustain of the instrument, and of course is once again a very nice "aesthetic" continuation of the design of this guitar. The "banjo" style tuners that sort of hide" behind the headstock are also a nice touch, and they also help in keeping a minimalist, incredibly smooth design for the instrument.
As far as those "mini" humbuckers are concerned, every time I started to have "custom" guitars made for me, going back to the early '80s, I always wanted them to have at least one mini-bucker, a la, the Firebird. I always had a feeling that the clear, clean tone and nice sustain of that pickup was really my ideal tone. A kind of sound that seemed to bridge and blend all of my favorite pickup sounds into one sleek-sounding and sleek-looking piece!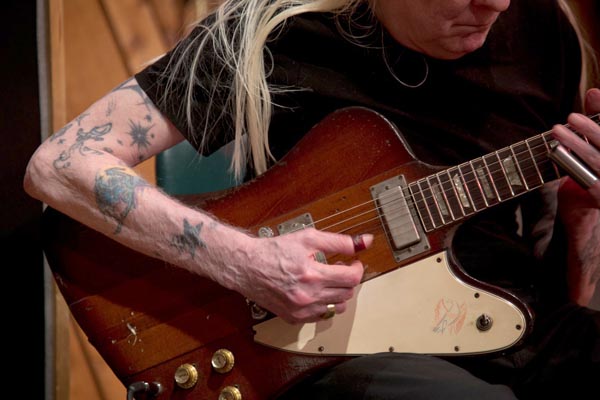 The style really speaks of the early '60s "modern" designs, and it reminds me of some of the Bauhaus furniture designs of the time. This was an era when European and especially Danish stylists of this school were coming up with far-reaching and hugely influential designs that included everything from chairs and tables to automobile dashboards and of course, guitars! I can imagine sitting in one of those classic
Eames chairs
while holding a reverse Firebird, and just blending right in! The majority always seemed to be in sunburst, but custom colors look absolutely fabulous on this guitar as well, and seem to even further accentuate the "modern" lines of this classic guitar!
It was such a pleasure to play and record with Johnny Winter earlier this month for my
Slide Guitar Summit
album project, and it only served to whet my appetite for yet another Firebird to own! Johnny and Firebirds just go "hand in hand", (I suppose like a
Firebird in hand!)
and it has a great balance and cutaway design that really lends itself so well to slide playing as well as high "up the neck" lead guitar playing. Again, as I pointed out before, along with the ES line of guitars, Gibson was able to create yet
another
classic style of guitar with the Firebird that will surely endure another 50 years with absolutely no problem!
Check out the just released 50th Anniversay Firebird
here.