Joined

Jun 23, 2008
Messages

1,699
Reaction score

1,214
Hi,
as some of you know I am a industrial designer and I work in many different fields, I have designed everything from telephones and hockey helmets to caravans and RVs. Some of you might also have seen the guitar I designed for Tom Bartlett and Kim Lafleur, the Bartlett Retrospec.
As a designer I have some projects I think it could be cool to be involved in, like a new BMW, a cool boat maybe or why not a new Gibson guitar. But to tell you the truth, that's not really who I am. I'm a vintage kind of guy and it's not often, if ever, you get a chance to design something that's supposed to be vintage or even have the smallest vintage vibe. But that was until just recently........
Two old friends of me, the twin brothers Sam & Mike Åhdén, have a huge guitar collection. They started to collect guitars, drums and amps way back in the 70's and have today a really impressive collection of vintage musical equipment. The collection includes a number of 50's Gibson Les Pauls, a 1950 Fender Broadcaster (similar previously owned by Pink Floyd's David Gilmour), a bunch of 50's and 60's Stratocasters and two '59 Gibson Flying Vs and comprises over 500 pieces in total.
The twin brothers, me and the other guys involved in this project I'm about to introduce to you share the same dedication for these old guitars and I'm really enthusiastic to share some cool news with you.
As the title say, we're now planing, designing and building a big vintage guitar museum based on this collection. My role in the whole thing is to realize the brothers' ideas, how they want the guitars to be displayed, the different types of environments and themes needed to best display all the guitars, drums and amplifiers available in the collection. So I'm a kind of creative design manager for the project and I'm super exited about everything around the project, this is really the stuff dreams are made of and a big and interesting challenge for all of us involved in the building of the museum.
Here I'll show you some photos, the first set are from a small exhibition the brothers held in the late 90's. The photos aren't as good as I'd want but they'll give you a pretty good view of some of the guitars, so without any further introduction; GUITARS!!
The Museum which is set to open in February 2014 will be housed over four floors in an SEK 18 million modification of a huge old school premises, a building that will further comprise a live stage, a music shop, restaurant and bar. Here is a photo of the building.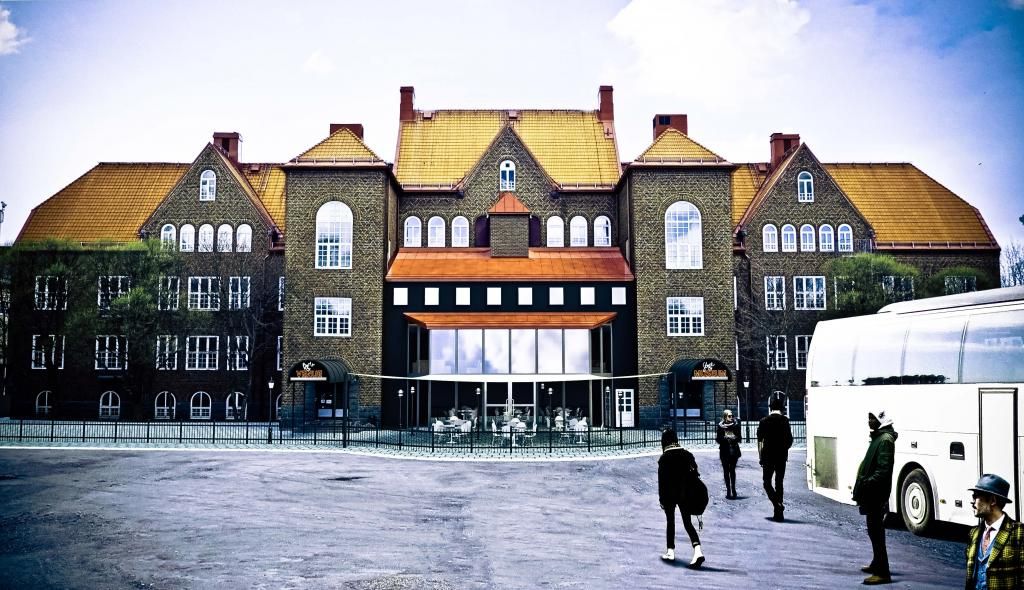 This thread at mylespaul is the first official source for information and photos from the work in progress of the museum. The reason I chose to post it here is because the museum is run by enthusiasts and I know that there are no place with as much enthusiasm for vintage guitars as here on MLP.
I'll try to update the thread with skeches and layout plans, photos from the constructiuon of the displays and such. As the project continues I think you guys can be involved, we're going to need all the help we can to try to find old photos from the Kalamazoo factory that we can use in some way and there are numbers of things and information that we're going to need some help to find so feel free to contact me or just write here in the thread.
I hope you guys will enjoy the ride, you can bet I do.
Ah, I almost forgot, the name of the museum; GUITARS-The Museum