Joined

Oct 31, 2011
Messages

352
Reaction score

521
Hey everyone, I thought i would share how i take my guitar photos, such as this one:
I've dabbled with photography for some time now, and actually have a decent eye for things as they are happening (nature, concerts, people, etc)
Where i struggled was product photography, and specifically guitars, since I am always in need of good photos, i knew i had to learn how to take good photos myself, paying for them all the time was not an option.
I naturally took to the internet for tutorials and set ups, and didn't find too much info related to guitars, so i began my trial and error process of getting things to look decent.
I began with what i had lying around, my moms camera, and a couple of my dads worklights. I hung the guitar on a blank wall, shone some lights at it, and snapped away. The results where a clear picture that showed the whole guitar. Great. But, it also had bad shadows, reflections from the wall, and the colors of the woods were often not accurate, figured woods didn't look like they did in real life. They just weren't good enough: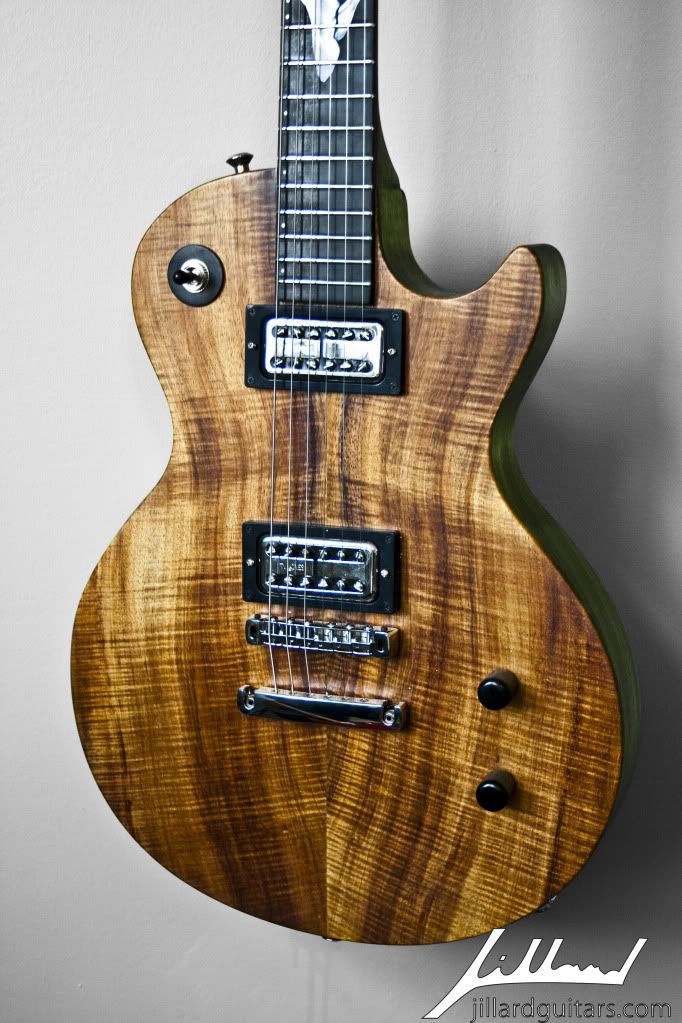 From there i moved to some better lighting, some relatively cheap LED panels ($250 or so each) that i borrowed. better, but still not enough light, and i only had two of them, so my images were flat and boring (not bad, but i wanted better):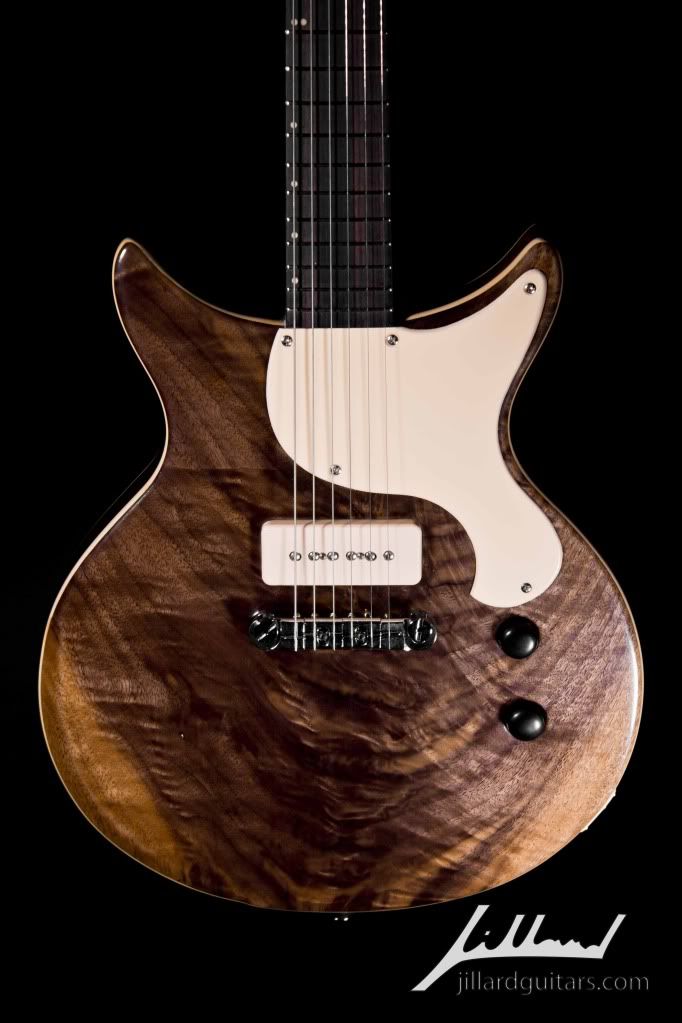 I experimented further from there, finding more simple and cheap ways to get it done. And even if you can't get the exact set up as i am going to show, you can use these ideas to get a good shot with the guitar just lying down on a sheet, or in a guitar stand in front of a wall.
I am going to share with you the best methods i have found so far, and it should give you a decent starting point, without breaking the bank. One of my main goals was to create an area in my room where i could easily leave my lights set up all the time, so when i needed to i could put a guitar in the holder, flick a switch and start taking photos, making all my shots look good, but also consistent with eachother.
Lets start with what camera I'm using. I'm not writing this tutorial with cell phones or point and shoots in mind. These days there is generally a DSLR in the house, or at least in a friends house. Granted, these cameras (and the lenses, can vastly differ in prices) So for this whole tutorial i decided to use a simple, midrange, affordable camera, and the stock lens it came with. (lenses make a huge difference, so i wanted to prove good shots can still be made with a stock lens, but if you can afford better gear, by all means)
My camera is a Canon t3i, using the stock 18-55mm lens. We will get into camera settings a bit later.
Canon/nikon doesn't matter whatever you have will likely do a good job.
Now, onto the basic setup i've been using for several months.
In my room there is a closet, i removed the doors, put up a shelf, draped black cloth from fabricland across the back, and screwed in a wall mount. really simple, took an afternoon and 20 bucks (if that). In an ideal world, the guitar would actually be further away from the backdrop, and this setup doesn't allow for the full body+headstock shots. but hey, its a start.
the guitar hangs like so:
now, here's a shot i took my the camera on Automatic, without any lights except my ceiling fan, and the flash on.
what we get is a really flat, unattractive image. The nice thing however is our background is nice and black, since the guitar is hanging far away from the background. The closer the guitar is to the background, the more you are going to see it. Which is why i would ideally like a bit extra space on my set up, but i currently don't have the luxury.
Alright. now we need some light. The more light the better. I mentioned earlier that i had previously borrowed some nice led panels, and although they got the job done, i felt i could DIY something better, for MUCH cheaper.
Enter the filmmaker's best friend: Clamp Lights.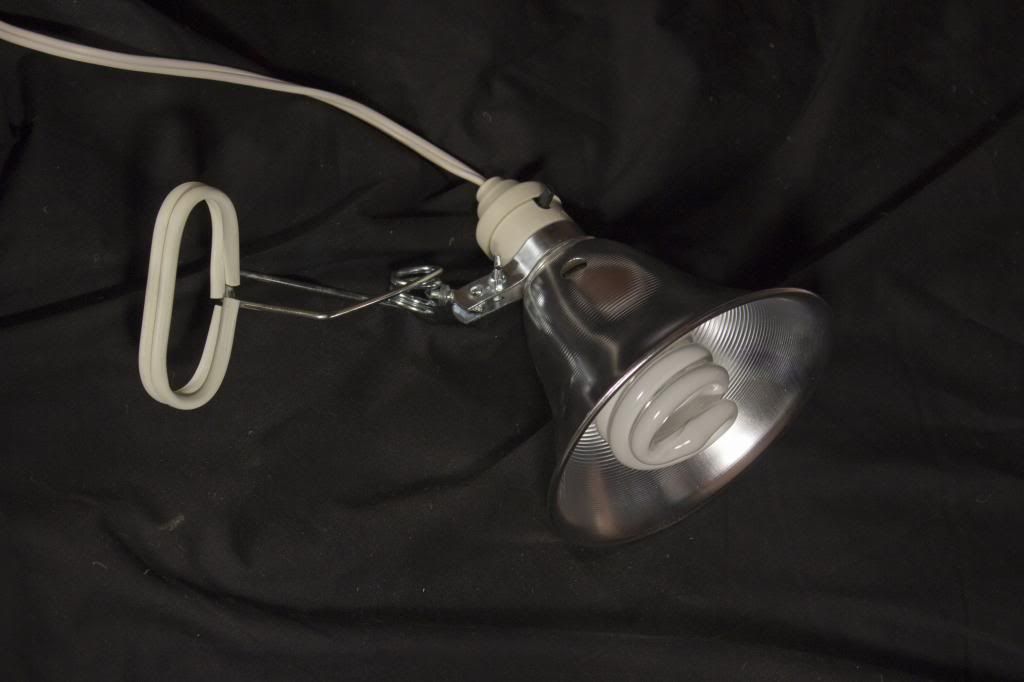 find them at most hardware/bigbox stores. i bought two for my simple set up, a big one and a small one,$14.94 and $12.84 respectively. These things are great. they are cheap, durable, and fit pretty much everywhere. They have a decent amount of light spread, and easily take most bulbs. I'm going to picking of a lot more of these for other set ups.
The bulbs I am using are all 23 watt CFL bulbs, which is the equivalent of about 100w of a regular bulb. When you buy your bulbs, look for what color temperature they are. Measured in degrees kelvin, the color temperature is how yellow or blue the light is. Pick whichever temperature you want, but they should all be the same, or else things will get wonky later on. My bulbs are called 'bright white' and are 3500K (pretty much in the middle, house lights are really yellow, the sunlight is really blue, these are fairly average)
Knowing the kelvin number will help when setting the white balance on your dslr.
anyways, i slapped a bulb in my large clamp light, and grabbed something we probably all have, a spare guitar stand. (clamp lights are awesome)
and i positioned it pretty much as close to the guitar as i could while still casting light on it's entire surface, and not being in the way of my shot.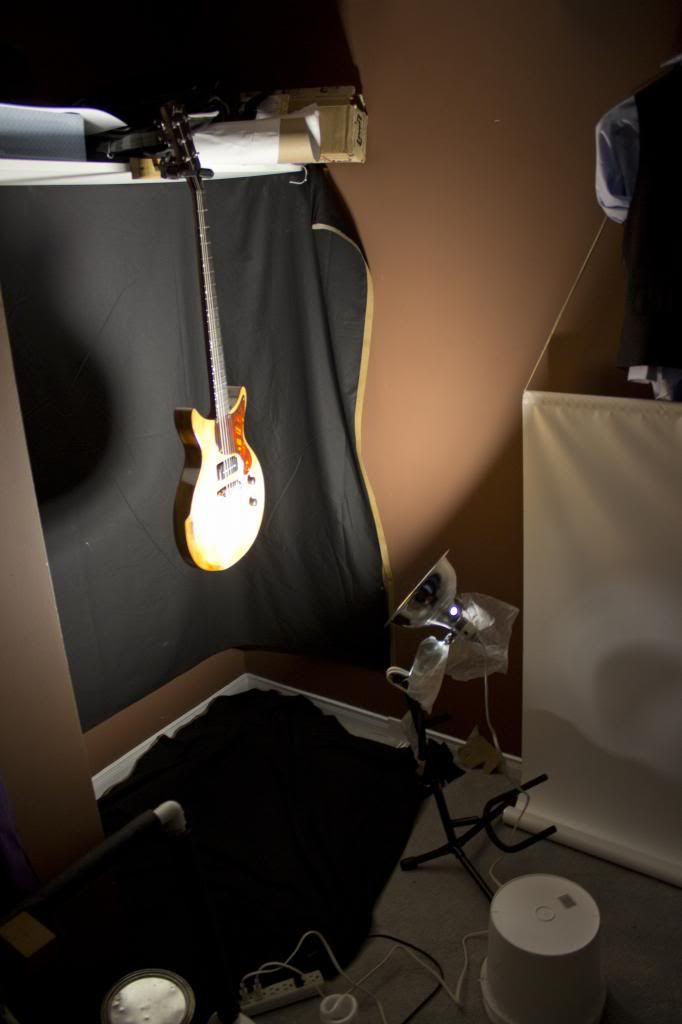 i turned the flash on my camera off, i don't need it anymore. and set my white balance to as close to 3500k as i could to get my colors accurate to real life. I dropped my ISO down to around 100, since i am expecting lots of light. (lower iso requires less light to properly expose a photo, which will create less grain in the image)
I bought four of these bulbs for $19.96
For most of my guitar stuff i use shutter priority mode, i set my shutter speed to be relatively fast to reduce blur (or you could use a tripod), but i check to make sure my image is still exposing well. When i'm using a zoom lens i try to stand further back, and zoom in until my guitar fills the frame. I'm sure on the science behind it, but i think it helps make the background darker. and it also requires a higher aperture number, which means more of the guitar will be in focus)
This was the result.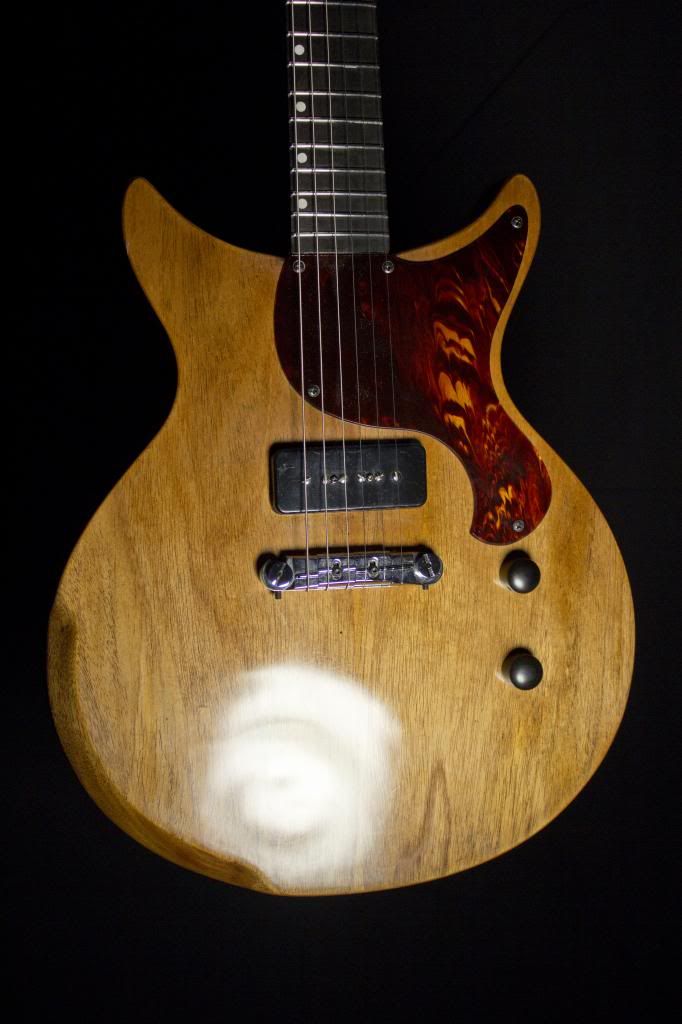 as you can see, the face of my guitar is fully exposed, the color is much better than it was with just the flash, but the light is very harsh, and were getting some strong shadows behind the pickup and knobs.
To start to remedy this, we are going to diffuse the light. (spread it out and soften it)
a cheap way to do this is with wax paper and some masking tape.
and this (using the same camera settings as before) already makes a huge difference.
the glare and shadows are not nearly as intense, and the light is beginning to wrap around the edges of the guitar.
If you look at the previous image, the guitar still looks very flat and 2d. The reason for this is that the sides of the guitar are not seen. To remedy this i took my small clamp light and put it above my guitar, pointing downwards to the side/front of the guitar, avoiding putting any extra light on my backdrop.
These two photos, one with the light off, and one with it on, show just how huge of a difference this makes.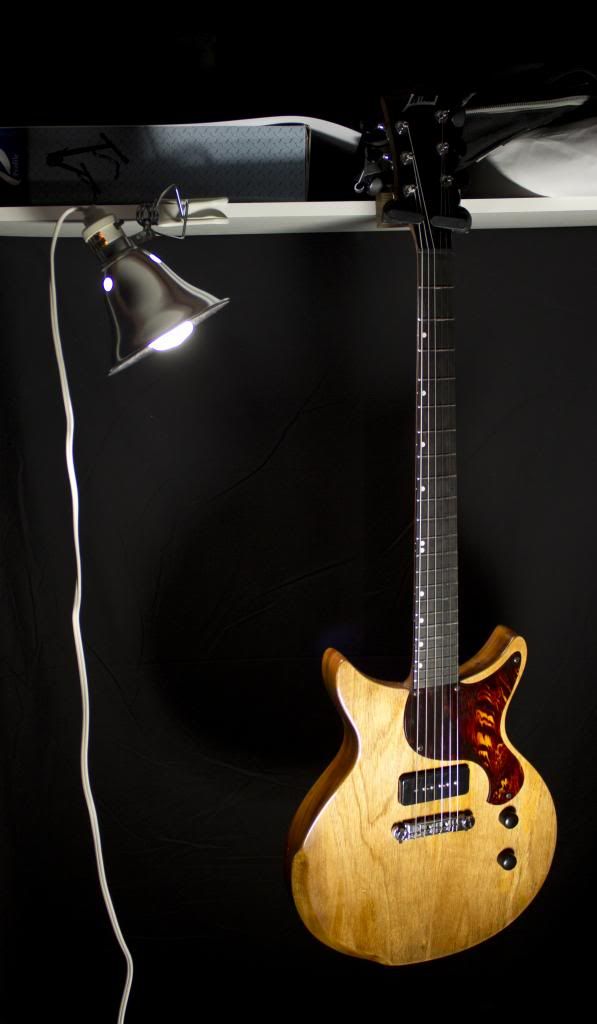 and here's what our picture looks like at this moment (still same camera settings)
I felt that my main light was still too harsh, and so was my top light. I wanted my top light to wrap into the waist of the guitar a bit more. (there is a dark spot below the horn)
so i took my wax paper and put it on my top light, but now i needed a way to diffuse my main light even more.
Bucket: $2.98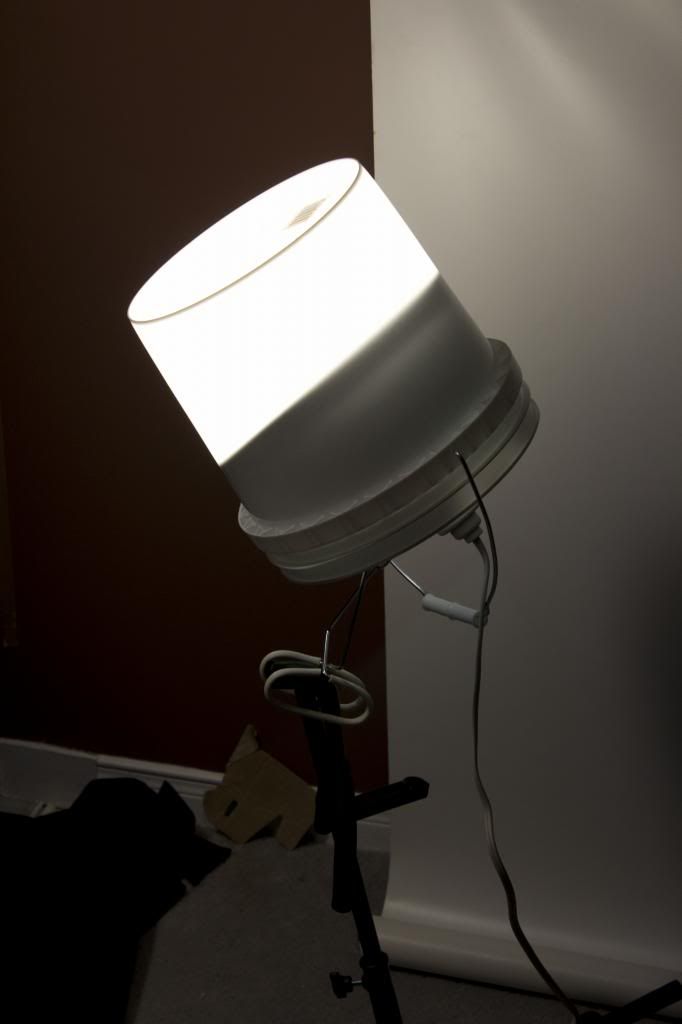 i originally bought this bucket in order to build a very large fill light using a 200 watt equivalent cfl bulb, but havn't done so yet. so for now i will use it to diffuse my current light. works well.
using these two lights i got the look i wanted for this guitar:
it's not perfect. But my shadows are nice and soft, i have some good reflections on the pickgaurd, pickup and body, and is an overall pleasing image. I mentioned before that i would ideally like my guitar to be further away from the background, that way less light would reach the background and it would appear darker.
this is by far my preferred shot from this set, and is 100% usable. but for every other guitar i tried, i needed a 3rd light.
I found an old desk lamp from my child hood, and decided to use that. I tossed another 3500k bulb in. ( another small clamp light would work just as well)
I'm positioning this light at an angle to the guitar, the purpose of it it to catch the edges of the bridge, pickups, pickgaurd, knob, frets, and the bottom edge of the guitar.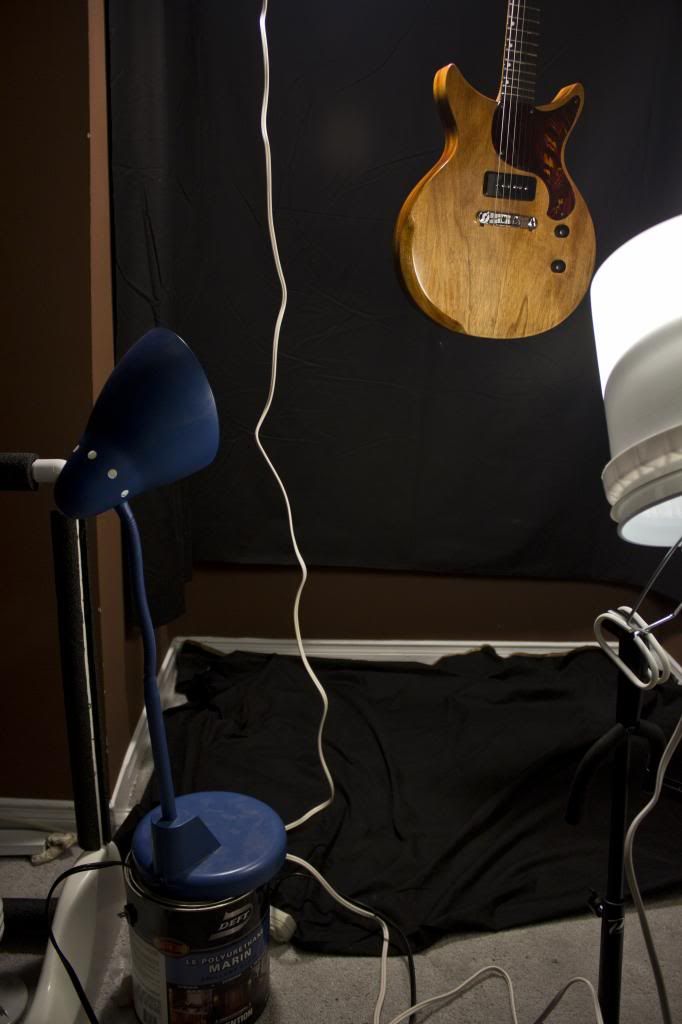 This was the result: i also think this is a pretty good shot, if maybe a little overexposed and a bit too much light from my third source ( a lower wattage bulb may have been better, or a more direct light, instead of the reflective cone of the lamp) and still my background is a bit lighter than i want.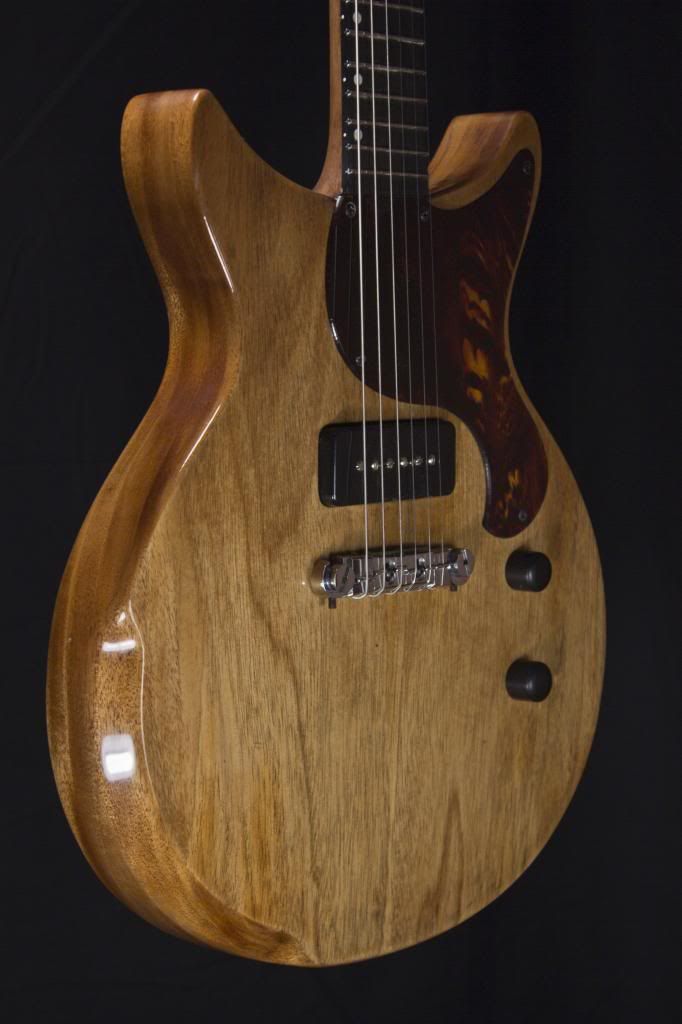 but it worked fantastic on my other guitars, including this knock-off of a squire my brother bought 10 years ago when he played bass for a week.
exact same setup:
you get the idea. I really didn't spend any time editing these photos as i usually would, and i would usually use another lens for these shots. but you can get professional quality shots with a stock camera, and around $70 worth of lights and fabric. (better photos than when i had $500 worth of led panels and stands.)
Those of you who do photography will recognize this as basically jsut being a 3 point light set up. (fill light, key light, 3/4 backlight?) But im hoping for those of us who get overwhelmed by these sorts of things, this tutorial simplified it a little.
by no means am i a professional photographer, i just hope i can help you guys out in this small way. and if you have more knowledge than I do, please chime in. If you have any questions I can try to answer them.
Cheers,
Jay Jillard =]
p.s
Merry Christmas